Hartt Composers' Seminar PRO Info Session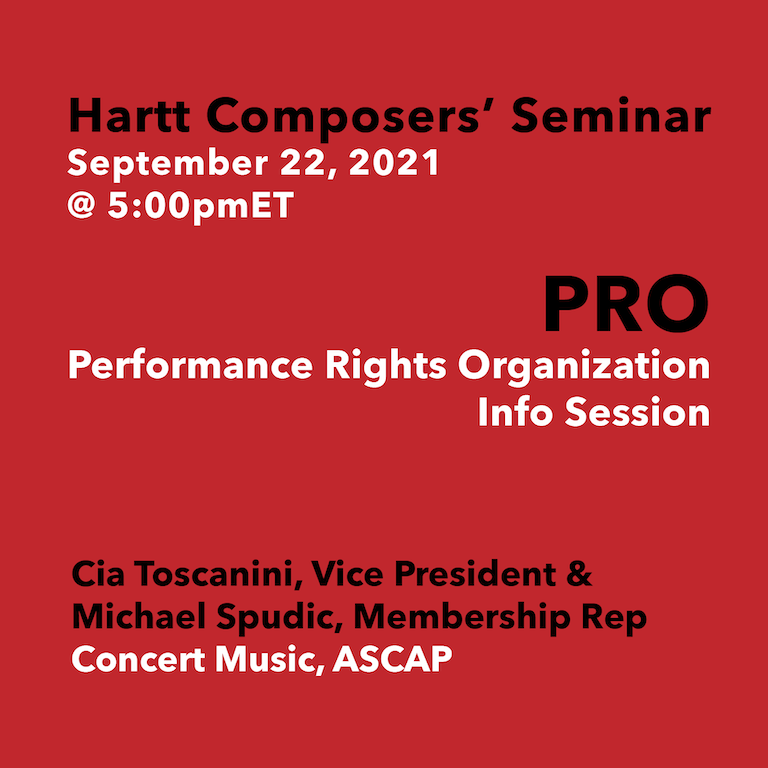 Hartt Composition is excited to welcome Cia Toscanini, Vice President, Concert Music, ASCAP and Michael Spudic, Membership Representative, Concert Music, ASCAP, for a Performance Rights Organization (PRO) Info Session this Wednesday, Sept. 22 at 5 p.m. in Hartt's Composers' Seminar.  
The session will take place remotely, free of charge. All members of the University of Hartford and Hartt School communities are welcome. Complete Zoom details are:
Topic: Hartt/CompSem/ASCAP/Cia Toscanini & Michael Spudic
 Time: Sep 22. 2021 5 p.m. Eastern Time (US and Canada) 
Join Zoom Meeting 
Meeting ID: 893 5370 4097
Passcode: HtASCAP1!
Guests are invited to read more about PROs before the session at the following websites: ascap.com and bmi.com