2022 Theodore D. Veru Symposium April 7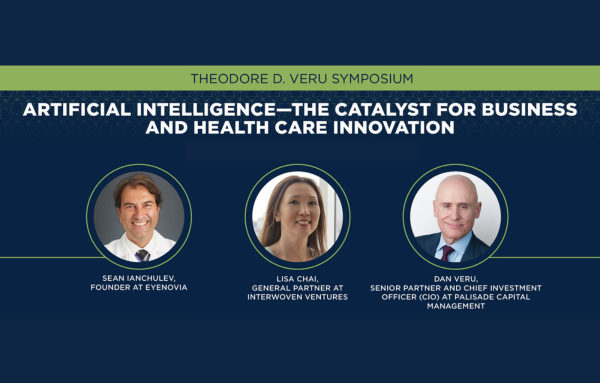 The Veru Symposium was created by University of Hartford Barney School of Business alumnus Peter Veru '85 in commemoration of his father, Theodore. This revered symposium has brought some of the world's best marketers, economists, analysts, and investors to campus to share their knowledge and expertise. Guest speakers include Dan Veru, CIO of Palisade Capital, Jason Trennert, chairman and CEO of Strategas, and Tom Jessop, president of Fidelity Digital Assets.
This year the Barney School of Business invites the University of Hartford community for an exciting discussion on the future of finance, featuring prominent leaders in asset management, economic policy, and digital assets. Following the discussion, we invite everyone to join us for a networking session and cocktail hour in Auerbach Hall.
Please RSVP by April 6.
Thursday, April 7
5:30 p.m. Panel Discussion | Wilde Auditorium* and via livestream
7 p.m. Cocktail Reception | Stanley Black & Decker Commons, Auerbach Hall
FEATURING
Dan Veru, Palisade Capital Management Chief Investment Officer; Cochair, Board of Directors; Member, Investment Committee and Operating Committee
Jason Trennert, Chairman and Chief Executive Officer, Strategas
Tom Jessop, President, Fidelity Digital Assets 
About the Speakers:
Dan Veru serves as Palisade Capital Management's chief investment officer and is co-chairman of Palisade's Board of Directors. As CIO, he oversees all of Palisade's investment strategies; is chairman of the Environmental, Social, and Governance Committee; and is a member of the Investment and Operating committees. Veru is a frequent contributor and guest on CNBC, Bloomberg News, and Fox News, and has contributed to various financial publications.
Jason Trennert, Chairman and Chief Executive Officer of Strategas, is one of Wall Street's top thought leaders on the subject of markets and economic policy. His research pieces are read by leading institutional investors and corporate executives across the globe. Widely quoted in the domestic and foreign press, Trennert is a regular guest on business news programs broadcast by CNBC, CNBC Italia, Fox Business News, and Bloomberg TV, among others. He is the author of three books about investing and the investment business.
Tom Jessop, President of Fidelity Digital Assets, oversees daily business operations while directing the company's long-term vision to create a full-service institutional brokerage capability for native digital assets like Bitcoin and tokenized securities. Previously, as head of Corporate Business Development, Jessop led a team focused on identifying and executing strategic opportunities including acquisitions, divestitures, strategic investments, and partnerships.
RSVP using the link below.