UHart Celebrates Class of 2022
Congratulations, Graduates!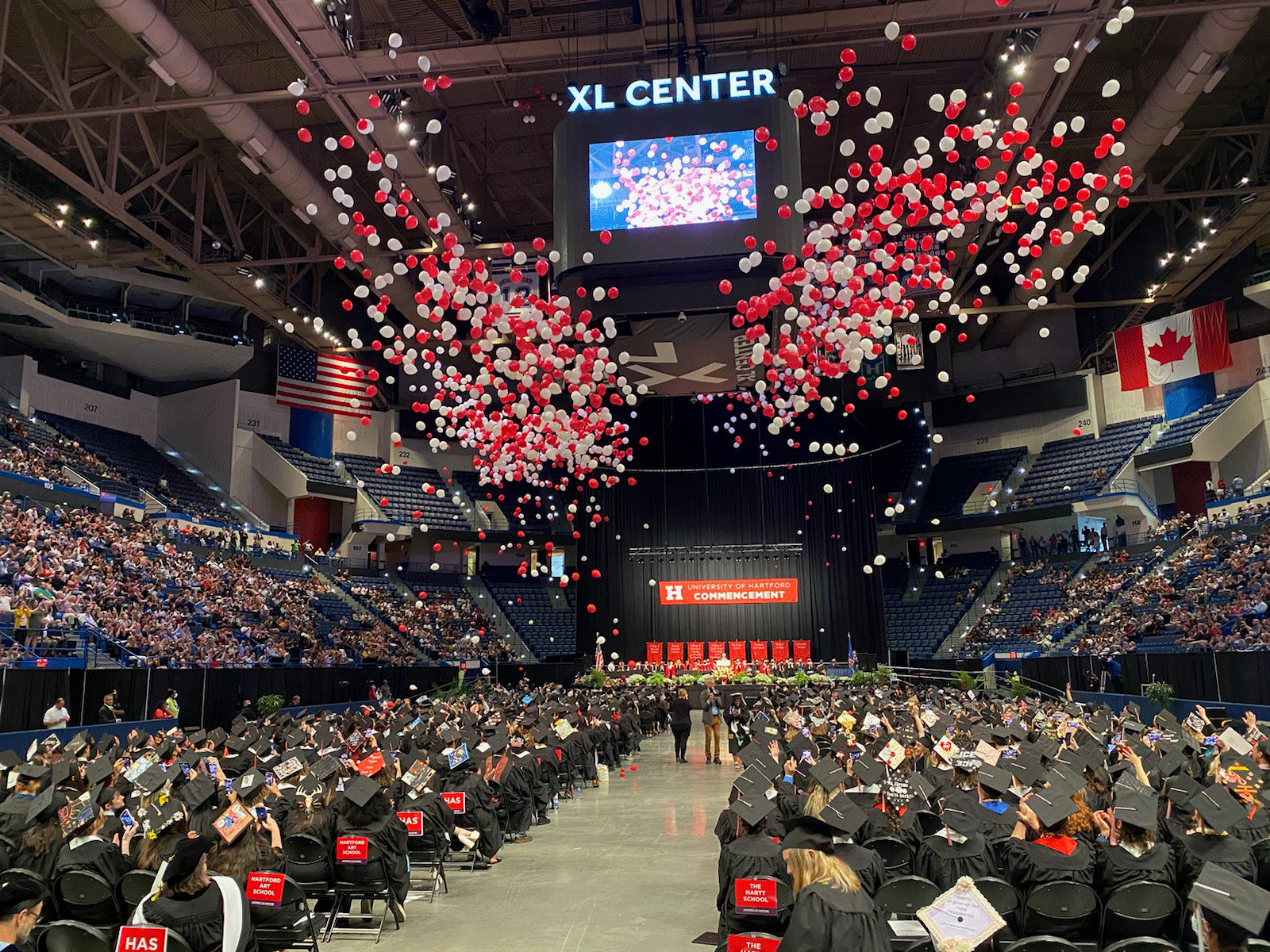 More than 1,200 University of Hartford graduates representing 34 states and 32 countries received their degrees during two separate Commencement ceremonies at downtown Hartford's XL Center on Sunday, May 15. 

"Look what you have been through already," Karen S. Lynch, president of CVS Health, told graduates during the afternoon Commencement address—"911, a financial crisis, strife at home, war overseas, the opioid crisis, COVID, 24/7 news that scares you nightly, and social media that can, frankly, annoy you daily.

"Graduates, if you can handle that as you have," Lynch continued, "you can handle anything that's ahead of you. You are at the front door of the rest of your life. Don't just turn the doorknob—kick that door down. I know you can, and I know you will."

Lynch, in honor of decades of accomplished leadership; her enlightened commitment to a better health-care system; and her elevation of diversity among business executives, was awarded an honorary Doctor of Commercial Science degree. Lucille Nickerson, a former vice president and corporate secretary at Aetna and the co-founder and president of Nickerson-Zegarelli Consultants, whose contributions to the broader community are equally inspiring, received an honorary Doctor of Humane Letters degree. Nickerson is chair emerita of UHart's Board of Regents. 
You are at the front door of the rest of your life. Don't just turn the doorknob—kick that door down. I know you can, and I know you will."
Karen S. Lynch, President of CVS Health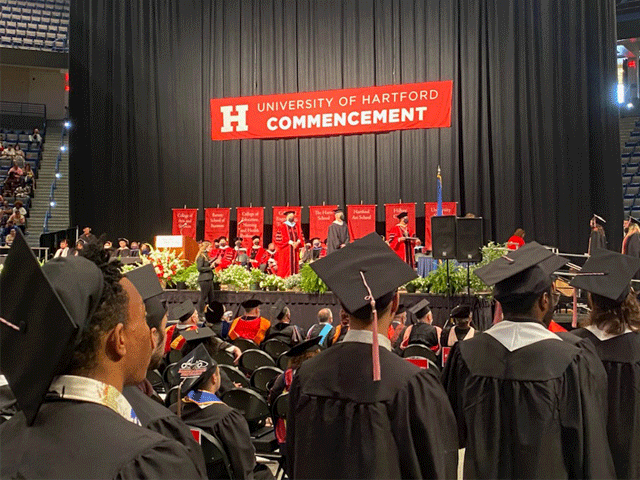 Earlier in the day, master's and doctoral degree recipients heard from Greg Toczydlowski (M'95), executive vice president of Travelers and president of its Business Insurance division.

"The dividends I have received back from the University of Hartford graduate degree have been voluminous," Toczydlowski said, "and I'm confident yours will be too." He offered graduates a choice between hearing two different approaches to his graduation remarks: reading from a prepared speech at the podium or an address solely from his head and heart. The vote was overwhelmingly in favor of the latter.

"In today's intense world, where experiences are all about understanding your customer, your patients, your patrons, whomever your constituents are—and may be—executing based on their needs and their preferences is critical," Toczydlowski explained. "You graduates today are my customers and I'm going to give you a choice."

He told graduates that they "have a choice every day. Stand tall. Stand above your challenges. Be ready to attack whatever you can do to help society attack in a very favorable way. Or you can go back on your heels and get plowed over."

Among the day's inspiring participants was Rabbi Philip Lazowski (Hon. '16), a Holocaust survivor, who delivered the Invocation during the morning ceremony. 

"You as graduates must strive to be very concerned with the level of evil to which people can descend," Rabbi Lazowski said. "Injustice, hatred, ignorance, and prejudice are the ingredients that produce tyrants, tyranny, and war. On you is laid the obligation to make a difference in this world, no matter how hard it may be."

Graduating from college is "an accomplishment that not everyone is privileged enough to get yet," Student Government Association President Valentina Jimenez '22 mentioned to classmates in her charge to the Class of 2022. "We are among the fortunate few."

This Commencement marked the final one for UHart Provost Fred Sweitzer, who is retiring after 37 years on campus in a number of different roles. An accomplished teacher and a nationally recognized scholar, Sweitzer came to UHart in 1985 following a 10-year career in social services to lead the undergraduate program in human services in the College of Education, Nursing and Health Professions.