FSAE Races at Michigan International Speedway for the International Competition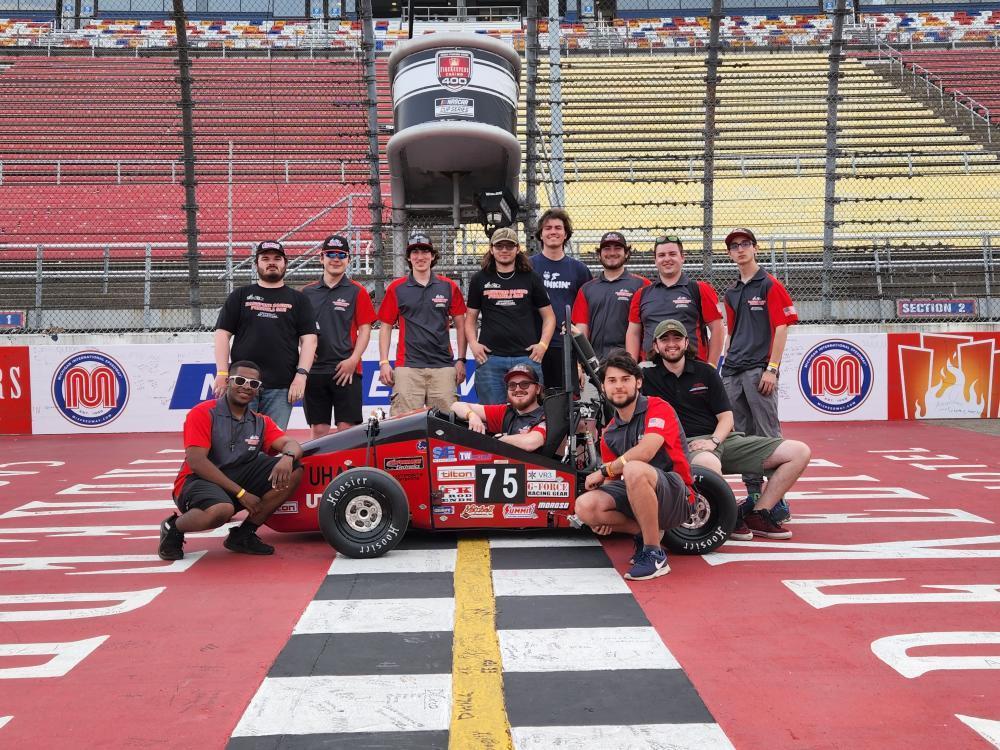 UHart's Formula Society of Automotive Engineers (FSAE) organization recently attended the international competition located at Michigan International Speedway. FSAE is a collegiate engineering and design program where students create and build a formula race car during the year. After development, students race the vehicle at the international competition against other teams from around the world such as Germany, Brazil, Venezuela, Mexico, and Canada. This year's competition was held in-person from May 18-21.
The teams participate in business, cost, and engineering design events where they are judged by automotive industry professionals. Then, they compete in driving events, which are skid pad, acceleration, autocross and the 22km endurance race.
The university team consists of students primarily from CETA, but there are also members from Barney, the Hartford Art School, and Hartt. 17 of the 25 members drove to Michigan for the event. 
Students returned to the competition with full force, placing 75th out of 99 teams. Of the 99 attending teams, only 31 completed the endurance race, UHart FSAE being one of them. Usually, the race cars are unable to finish due to various complications or breakdowns. Professor Sean Kraut has been the technical advisor since 2019, and he shared that "Our team has only been able to complete the endurance race 4 times since the year 2000 (2000, 2011, 2017, 2022)."
Kraut also explained that "Our business, autocross, and acceleration events were the best in over a decade, and improvements were made in all other events when compared to our last full-attendance competition in 2018." He went on to commend the students for their hard work and dedication. "The students learned a lot from going to Michigan, and I am sure that they will surpass this year's results next year."