As Seen on Fox 61: UHart Nursing Programs Poised to Address Industry Shortage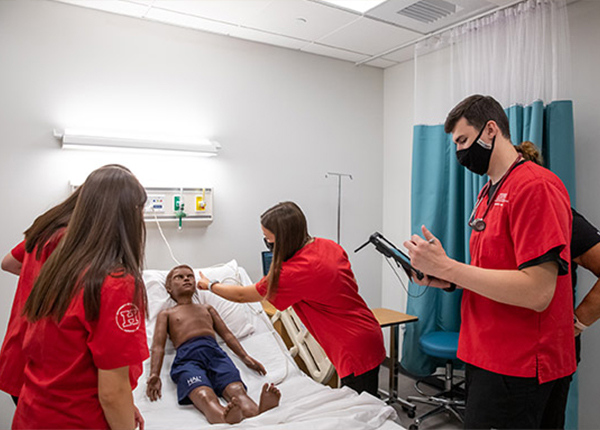 With Connecticut experiencing a nursing shortage, the University of Hartford is continuing to grow its nursing program for undergraduate students, as well as experienced professionals seeking additional educational opportunities. 
Fox 61 News recently gave viewers a look at UHart's nursing labs, simulation centers and other educational spaces, while interviewing nursing student Nevaeh McKinney '23 and Cesarina Thompson, Dean of the College of Education, Nursing and Health Professions. 
Nursing student enrollment at UHart is up by 45% for the upcoming fall semester, while the University has also launched a new and fully online Doctor of Nursing Practice program (DNP) for the new school year. The DNP program will prepare nurses at the highest level of practice, while allowing them to continue their full-time employment. They will then be qualified to take on leadership roles at health-care organizations, or teach in education programs--which will allow more students to enroll, and further give the health-care workforce a boost. 
"While the pandemic has created, or in some cases intensified, significant challenges faced by nurses and other health-care professionals, we have not seen interest in nursing as a career waning in the past couple of years, as had been anticipated across the profession. The heroic work of nurses and other health-care professionals, despite the many challenges they faced, likely contributed to this growing interest," says Thompson. 
"Like most who enter the health-care profession, our students typically express their desire to help others as the reason they chose to pursue nursing. Additionally, many students are drawn to nursing as a result of a personal experience they had either as a patient themselves or caring for an ill family member."
UHart leadership is eager to contribute to the industry and bolster the state's nursing workforce. The University's recently opened Francis X. and Nancy Hursey Center for Advanced Engineering and Health Professions has transformed the West Hartford campus, as well as the nursing program, and is home to state-of-the-art technology and specialized equipment to meet the evolving needs of health and engineering professionals.