Remembering Richard Freund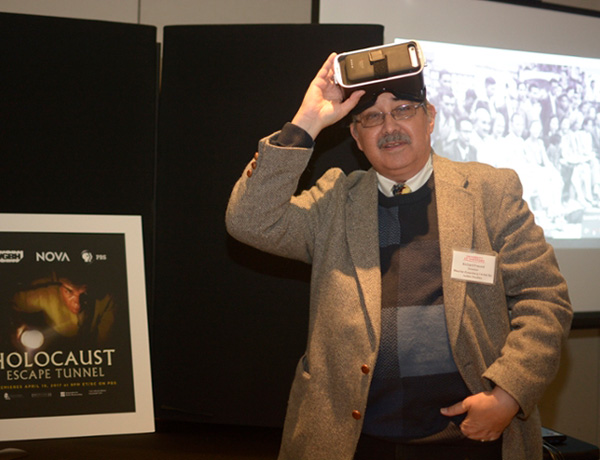 Richard A. Freund, who made national headlines over many years pursuing the field of biblical archaeology and trying to solve humanity's greatest mysteries, died peacefully on July 14 in Charlottesville, Virginia.
Freund was a member of the University of Hartford community for two decades, directing the Maurice Greenberg Center for Judaic Studies and serving as a professor of Jewish studies and history in the College of Arts and Sciences from 1999 to 2019.
He directed over a dozen archaeological projects at Bethsaida, Mary's Well in Nazareth, and climbed the caves of Qumran in search of the Dead Sea Scrolls, all located in the State of Israel. Later in life, he traveled to Spain to discover the Lost City of Atlantis, which got him featured in a documentary produced by James Cameron.
Overall, Freund's work was featured in over 20 documentaries from the likes of National Geographic, Discovery, and the History Channel. In one of many memorable moments, he presented St. Peter's key, found at Bethsaida, to Pope John Paul II in 2000.
"I am heartbroken about the loss of Richard," says Susan Cardillo, assistant professor of communication. "He was a great scholar, mentor, and friend. I had the good fortune of traveling with him to Lithuania in the summer of 2018 and it was an experience I will never forget. He was fun and extremely knowledgeable about Lithuanian Jewish culture. The students called him dad as he was always concerned that we were all having a great learning experience. He will be greatly missed."
"I will remember Richard most for his archaeological work that was so meaningful to people," states Katherine Black, interim provost and vice president of academic affairs. "I am particularly grateful that he always involved students in his excavations, where they had opportunities to work side-by-side with him all over the world. We will miss his energy and enthusiasm, and his wonderful ability to use his archaeological findings to tell people's stories."
In lieu of flowers, donations may be made to Rodef Sholom Temple in Newport News, Virginia; the Betram and Gladys Aaron Professorship of Jewish Studies at Christopher Newport University; or the Dana-Farber Cancer Institute in Boston.