Tickets Available for Garmany Chamber Music Series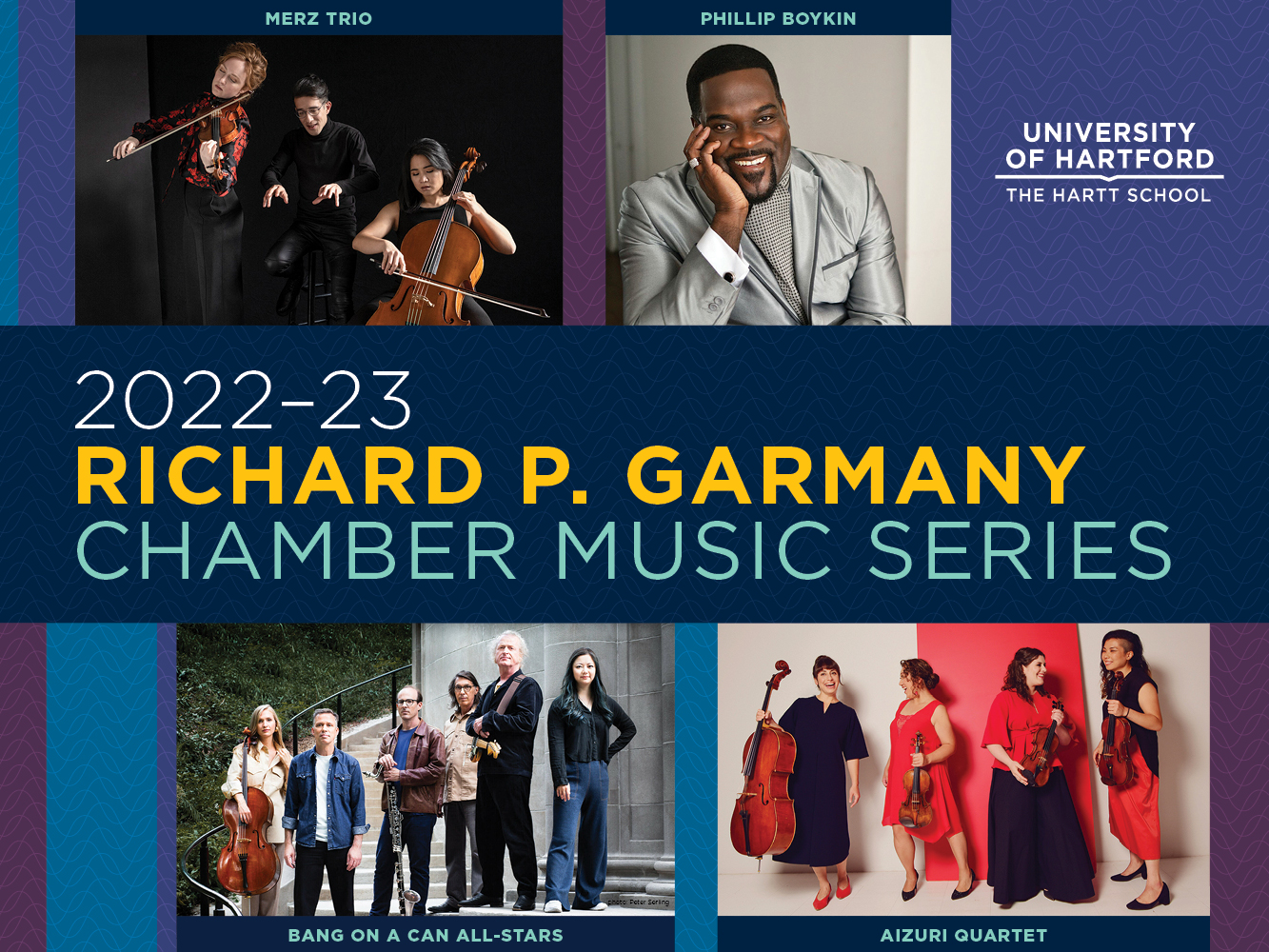 Tickets are available now for the 2022-23 Richard P. Garmany Chamber Music Series at The Hartt School, as the series celebrates its 14th season. 
The Merz Trio, a Boston-based piano trio, will commence this year's program with a performance on Thursday, Sept. 22, in Hartt's Millard Auditorium.
Hartt School alum Phillip Boykin, a bass-baritone currently featured in the Broadway revival of "The Music Man," will take the stage at Millard on Thursday, Oct. 20
A concert by contemporary music sextet Bang On a Can All-Stars, featuring retired faculty member Robert Black, is scheduled for Thursday, March 9, at Lincoln Theater.
Rounding out the series will be the Aizuri Quartet, an all-female New York-based string quartet, on Thursday, March 30, in Millard. 
All performances are set for 7:30 p.m.
Tickets for each concert are $25 for the general public. Admission is free for University of Hartford students, faculty, and staff. Purchase tickets or register for individual shows here, or call the box office at 860.768.4228. (UHart community member discounts will activate on the online registration form after entering your email and other information.)
Steve Metcalf has again stepped into the role of curator for the current series, and is joined by Hartt faculty member Gilda Lyons, who has been named executive director.
Since its founding in 2009, The Garmany Chamber Music Series has established itself as one of The Hartt School's signature activities. The series is recognized as one of Connecticut's premier live music attractions, presenting four concerts annually, and is dedicated to bringing the widest possible range of distinguished small ensembles and recitalists to the UHart campus. The series is generously supported by the Richard P. Garmany Fund at the Hartford Foundation for Public Giving.
The series has routinely played to capacity houses in Millard, and has attracted national attention for the quality and diversity of its offerings. One critic hailed the series as a "who's who of American chamber music."
Metcalf, founding curator of the concert series, oversaw the program for the first seven seasons. The series was then passed to Larry Alan Smith, who took the reins in 2016 and held them until his retirement at the end of the 2021 academic year, at which time Metcalf stepped back into the role.