Inside World Space Week at UHart: Students Attend Rocket Launch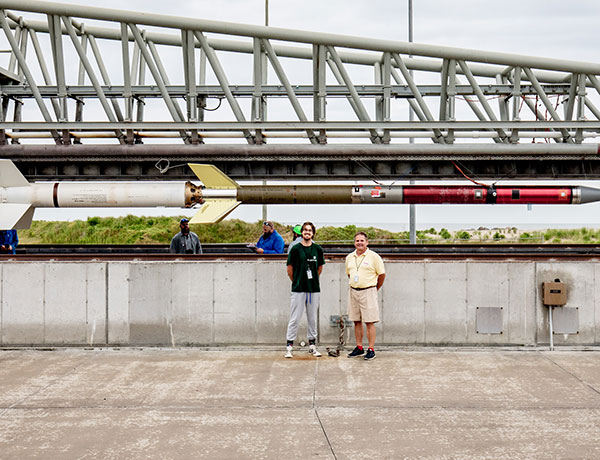 Nicholas Comeau '22 has seen plenty of rocket launch videos, but nothing compared to what he experienced this summer: witnessing one in person at the "RockOn! 2022 Student Sounding Rocket Launch" in Virginia.
It was all made possible by the NASA CT Space Grant Consortium, which is now accepting applications from other students who want their own out-of-this-world opportunity. Applications are due Oct. 13, and students are encouraged to apply now during World Space Week.
UHart's RockOn! team offers project-based learning as students work together to build a sounding rocket payload or RocketSat. The project is led by Professor Enrico Obst and organized by the Colorado and Virginia Space Grant Consortium.
When asked about the program, Obst explains, "My favorite part about RockOn! is the hands-on experience that students get while utilizing the integration of software and hardware on an aerospace mission."
Last semester's aerospace mission was split into two objectives: constructing the sound rocket payload and constructing activates to be attached at Wallops Flight Facility. To build the experiment, each team received a box of the required parts and tools and followed step-by-step video guides demonstrating how to build the rocket. After completion, teams had a chance to be selected to attend the actual launch.
This year, UHart's team was selected. Comeau shared insight regarding his experience at this impactful event.
"The actual launch of the sounding rocket made the whole trip worth it. Seeing videos of rocket launches will never be able to depict all the moving parts that must be considered with a rocket launch. Viewing it in person is the only way to attest to the beaty in the controlled violence that is needed to propel a payload into earth's orbit," Comeau says.
Watch a video showcasing the rocket launch here.
Comeau went on to explain that the trip offered multiple networking opportunities, and attendees even got to chat virtually with an astronaut who was aboard the International Space Station.
If students are interested in the aerospace industry, the College of Engineering, Technology, and Architecture (CETA) provides various opportunities to fly deeper into the field. The aerospace engineering program is just one way students can obtain hands-on industry experience.
To learn more about the RockOn! Workshop, contact Obst at obst@hartford.edu.