Newest Group of Graduates Honored at Fall Commencement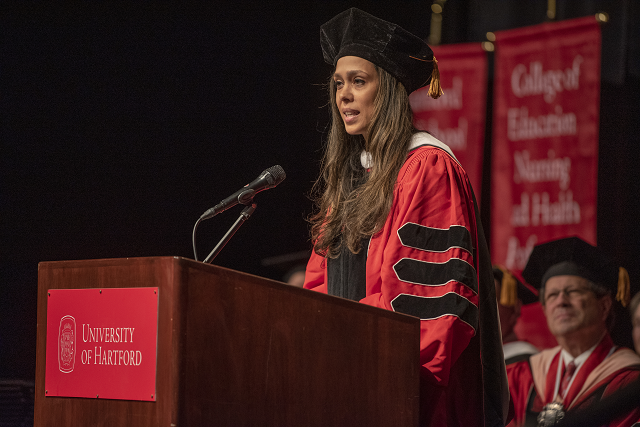 "Our most important job in this lifetime is not to shape ourselves into some ideal we imagine ... but to find out who we really are and become it," City of Hartford Chief Operating Officer Thea Montañez told University of Hartford graduates on Sunday.
Approximately 250 September 2022 degree recipients and January 2023 degree candidates were celebrated during two separate Fall Commencement ceremonies held on campus in UHart's Lincoln Theater. See photos of moments throughout the day in a Hartford Courant gallery.
Graduates were encouraged during the Commencement address by Montañez to be among a new generation of leaders getting involved in governing and government.

"I began experiencing the city as a young adult in a way that I hadn't growing up," she explained. "For the first time, I saw its beauty through its scars. I began to realize that the same causes of our pain and suffering were also the sources of our strength and courage. And ironically, the problems I had grown up trying to escape were all the same reasons I wanted to stay—because I now saw those same problems as opportunities for me to do work that mattered."
Montañez equated her current role as COO for Connecticut's capital city to "chief problem solver" and described it as the hardest work that she has ever done. "But it's not a role that's unfamiliar to me," she told graduates. "I've been training for this since I was that 10-year-old little girl, whose job it was to problem solve on behalf of her family."
As chief operating officer of Connecticut's capital city, Montañez manages an annual budget of $600 million and oversees day-to-day operations of more than a dozen departments and 1,400 municipal employees. She is a proud first-generation college graduate, having earned her bachelor's degree from Syracuse University.
UHart's Fall Commencement ceremony was first introduced in 1996. With students finishing their degree requirements at different times of the year, including September or January, some find it very difficult to return to the area months later for Commencement in May. That's especially true for international students. Fall Commencement provides these students with a formal ceremony that celebrates their hard work and academic accomplishments.

In 2016, based on the growing number of students wishing to participate, Fall Commencement was split into two separate ceremonies, one for graduate students in the morning and a second for undergraduates in the afternoon. Despite its presence on the first Sunday each December, Fall Commencement has never been delayed or canceled due to weather in its 26-year history.