WFSB Highlights Student Nurse Blood Drive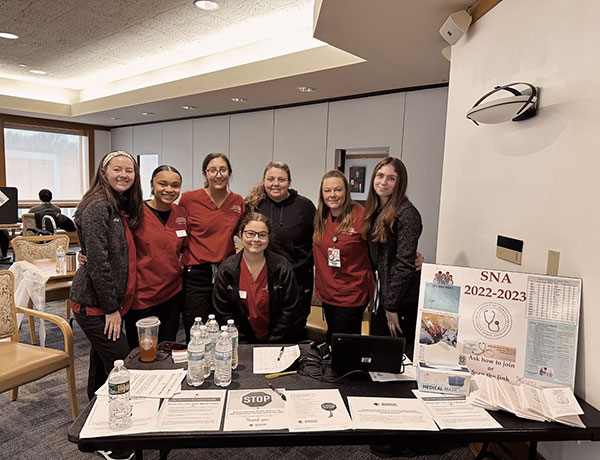 Hoping to bring awareness to obstetrics health and a nationwide shortage in blood donations, the University of Hartford Student Nurse Association held a blood drive on campus Jan. 23.  
WFSB (Channel 3) aired a segment on the initiative.  
The group hopes to make the event an annual program in honor of Maternal Health Awareness Day, which the SNA referred to as Obstetric Health Awareness Day to be more inclusive of members of the patient population who sometimes need massive blood transfusions as a result of obstetric complications. 
UHart held its blood drive in conjunction with other colleges and universities across the state, according to Monica Panaitisor, assistant clinical professor of nursing at UHart's College of Education, Nursing and Health Professions.
The SNA hoped to collect 36 pints of blood, and surpassed the goal with 39. Each pint can save up to three lives, translating to a possible 117 patients' lives being transformed by the day's efforts. 
Jennifer Martin '24, SNA president, said it was important to spread awareness of obstetric health due to disparities in care, and the many conditions requiring significant blood transfusions. She added that a stable supply of donated blood can play a large role in reducing the maternal mortality rate. 
After running the blood drive on campus, the SNA also took part in a virtual round table event that evening about maternal health, featuring two patients who benefited from large blood transfusions.