Barney Takes Students on a "Biz Crawl"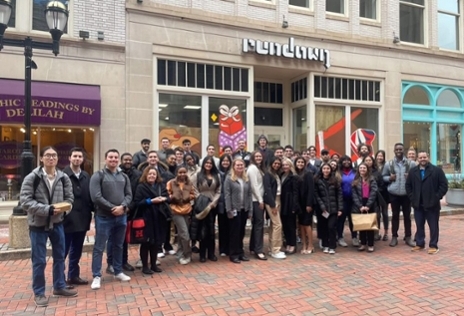 On Friday, March 3, the Barney Leadership Council took a group of students to downtown Hartford to explore several small businesses in what they called a "Biz Crawl." Pratt Street in Hartford is full of unique, successful, and innovative locally owned and operated businesses.
Students learned about entrepreneurship and small business management at Bloom Bake Shop, which offers a variety of fresh baked goods, coffee drinks, and grab-and-go bouquets as well as a variety of retail items sourced from other local small businesses in-store. 
They then learned about marketing and the power of social media at Hartford Prints. They design their own apparel, and Hartford/Connecticut goods including stickers, patches, art prints, magnets, cards, and more.
Lastly, they learned about luxury branding and customer service at Stackpole Moore. Aside from featuring designer clothing lines that are made in the U.S.A. and Europe, the store also hosts several custom-made clothing options as well as formalwear for both men and women. 
The MetroHartford Alliance then took students for a tour down the hustling and bustling street. They are an investor-based economic development partnership focused on business development and growth, retaining and attracting jobs and talent in targeted sectors, ensuring a strong urban core, and promoting the Hartford Region. They were able to explain all of the current Pratt Street businesses to the students, as well as discuss the up-and-coming ones.
Students were able to network with owners, managers, and other employees, asking them questions about the day-to-day operations of owning a small business. This is another example of Barney preparing students to be Career Ready by providing experiences outside of the traditional classroom.