Barney's Beta Gamma Sigma Announces Scholarship Recipients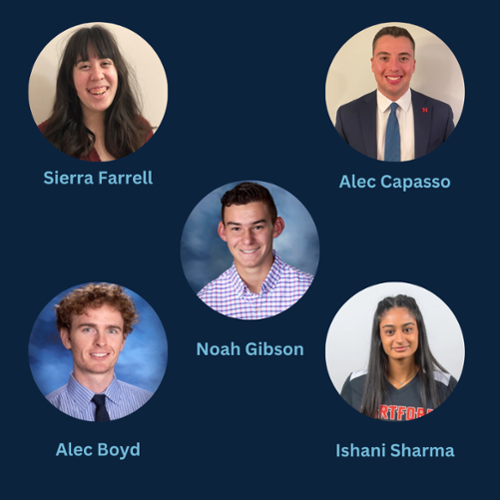 Beta Gamma Sigma is the international honor society serving business programs ranked in the top 5% and accredited by The Association to Advance Collegiate Schools of Business (AACSB) an endorsement that Barney proudly holds. Membership in BGS is therefore the most selective and highest recognition a business student anywhere in the world can receive.
Barney's chapter of Beta Gamma Sigma is pleased to announce this year's five scholarship recipients. Students are nominated by faculty based on criteria like academic standing, professional promise, and contribution to the Barney School of Business.
Awardees:
Noah Gibson is in his third year of the 3+1 program in the Barney School of Business at UHart. He is graduating with his bachelor's degree this May and is expected to graduate with his master's degree in May 2024. He is a Risk Management and Insurance major. During his time in college, he attended truck school on top of a full course load of classes and obtained his commercial driver's license. Since then, he has been working 30 hours a week for his family's small business, C.S.B. Inc, hauling heating oil, water, and dirt. On top of going to school and working, he is active on campus at UHart. He has been a member of the rugby team for three years now, and this year he has served as both president and captain of the team. His career aspirations are to do what he loves. He would like to challenge himself with the work that he does. His ultimate career goal is to have fun and enjoy what he does, no matter the career path. He is thankful for this scholarship and will continue to put his best foot forward when it comes to his character and the work that he produces. 
Sierra Farrell is currently a senior in the 3+1 Program with an expected graduation of 2023 for undergrad and 2024 with her MBA. She is a double major in Business Analytics and Economics and Risk Management and Insurance with a Spanish language minor. At the moment, she works as a Barney Ambassador and a manager for the Barney Career Closet. She will also be working with Travelers as a PMDP intern in the summer and part-time during the fall. She hopes to one day practice law in the insurance field. She chose insurance as her major and consequently her career path because of the exceptional educators she had in my introductory classes. The expertise and passion she saw in her professors drew her into insurance and she found that she loved it, unexpected as a love for insurance is. 
Ishani Sharma graduated with her bachelor's in Business Management and a minor in Accounting in 2022. She is now working towards her MBA with an expected graduation in May 2024. Her career aspiration is to start her own business. She decided to study business to gain versatile, software and networking skills that she can apply in the field of business which has various career opportunities. Beta Gamma Sigma means so much to her and she feels very proud to be part of an honor society where she is recognized among the most outstanding students of business at institutions accredited by AACSB International.
Alec Capasso recently graduated from UHart with his undergraduate degree (BSBA) with a major in Finance and a minor in Entrepreneurial Studies over the winter and is currently pursuing his MBA at UHart. The business world has always fascinated him and he is looking forward to starting his full-time career at Travelers this summer as a Financial Consultant. On a personal note, in his spare time, he enjoys working out and has been a certified personal trainer for over a year. He would like to thank BGS for providing him with access to resources that have helped to enhance his education at UHart.
Alecsander Boyd is expecting to graduate in May with a double major in Business Analytics and Managerial Economics and Finance. He is currently working as the Chief Operating Officer of a FinTech startup called Ryskex. A few of his career aspirations include starting his own business, writing a book, and owning a gym specifically catered towards private training for athletes. He was motivated to choose the majors he did for two main reasons. Firstly, he wanted to get exposed to data analytics because that is the way the world seems to be headed. It seemed important to build a robust foundation of technical programming and statistical skills. Secondly, he's particularly interested in applying these quantitative models to topics in economics and finance. Economic decision-making and finance (specifically market dynamics) are the bedrock on which the majority (if not all) of advanced civilizations are built. His career journey thus far has entailed a few internships: a financial analyst position at an InsurTech startup called Carpe Data; a role in business intelligence and analysis at Hartford Steam Boiler; and most recently a role in investment operations at Western Asset. Upon graduation, he will be attending graduate school in the UK to study Economics. Scholarships, like the ones that BGS awards, have enabled him to push himself scholastically as well as in extracurricular activities. This means that he was able to focus all his attention on his studies and playing on the soccer team at UHart. He is very grateful for receiving the Chuck and Susan Seeman Scholarship and he looks forward to the bright future ahead of the Beta Gamma Sigma chapter at UHart!
Join us in congratulating our scholarship winners!