Civil Engineering Students Present at Boston NEWEA Conference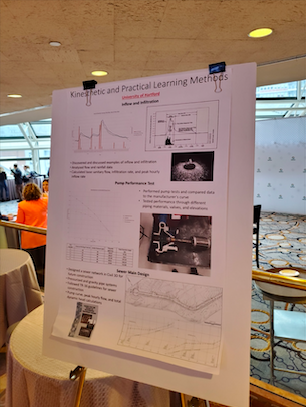 Civil engineering students went beyond the classroom this winter to present at the New England Water Environmental Association (NEWEA) Conference in Boston, MA.
The five students, Aaron Champagne, Ryan Douglas, Cailin Hesketh, Kyle Hilliard, and Michaela McNutt, are all part of Adjunct Professor Todd Brown's Water Quality Engineering class, which is an environmentally focused course that explores the physical, chemical, and biological theories of water treatment and wastewater treatment and disposal. The group applied to present class lab projects at the prestigious conference and were accepted.
"There were so many networking opportunities at the conference. Industry companies had booths throughout the conference center, and professionals would also come up to us and ask us project questions and offer internships or jobs," shared Douglas.
"Aside from our presentations, there was also a huge expo of companies, manufacturers, and vendors in the water and wastewater field."
The students, who are all graduating this spring, have already secured industry-related jobs, with Hilliard going on to explain, "It was interesting to hear client and third-party experiences from professionals who have worked with the companies we will soon be working at."
Hilliard, Hesketh, and Champagne will be working in staff engineer 1 roles at Tighe & Bond beginning in May. McNutt accepted a position at Stantec as a civil designer in water. Douglas also accepted a position as a civil designer in water and wastewater at LaBella Associates.
When asked about their UHart experiences, McNutt stated, "We feel well-prepared for our industry due to the faculty who have taken it upon themselves to offer us networking opportunities." Hesketh added, "The faculty members have your best interests in mind."
McNutt currently serves as the treasurer for the Society of Women Engineers (SWE), and all five students are members of UHart's American Society of Civil Engineers (ASCE).
The group encouraged incoming and current students to get involved on campus and take advantage of industry-related opportunities. "The more you get involved, the more you can apply what you've learned," Douglas added.
Civil Engineering students Aaron Champagne, Ryan Douglas, Cailin Hesketh, Kyle Hilliard, and Michaela McNutt.