Student Becomes UHart's First Rangel Fellow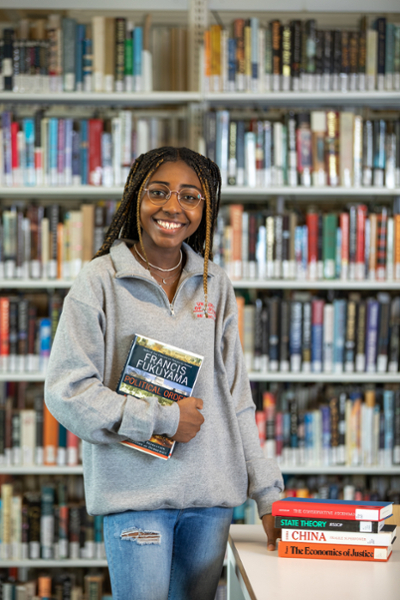 A University of Hartford student has been awarded a prestigious international affairs fellowship, becoming the first from UHart to earn the honor. 
Benedicta "Benie" Kwarteng '23 has been granted a 2023 Charles B. Rangel International Affairs Fellowship following a nationwide competition of nearly 900 highly qualified candidates. Just 45 fellows were chosen across the country. The program will allow Kwarteng, who is multi-lingual, to pursue her master's degree, work overseas and stateside with a member of Congress, and become a U.S. diplomat.
"I decided to apply to the Rangel Fellowship because it was a great opportunity that will allow me to continue my education and pursue a career in foreign service. I was mostly excited by the professional development aspect of the fellowship, which will allow me to do a congressional internship and an internship at a U.S. Embassy abroad. I know the experience will be very relevant to my own journey as a diplomat," says Kwarteng, who graduates this spring as a double major in international studies and politics and government with a minor in French.
The Rangel Fellowship, funded by the U.S. Department of State and administered by Howard University, supports extraordinary individuals who want to pursue careers in the Foreign Service of the U.S. Department of State, and aims to enhance the excellence and diversity of the U.S. Foreign Service.
The program will support Kwarteng through a two-year master's degree (she's currently deciding between Columbia University and Johns Hopkins University) and provide extensive professional development opportunities, including internships, mentors, and skills training. As part of the fellowship, Kwarteng will also work for a member of Congress on issues related to foreign affairs this summer.
In the summer of 2024, the U.S. Department of State will send her overseas to work in a U.S. Embassy or Consulate to get hands-on experience with U.S. foreign policy and the work of the Foreign Service.
Upon successful completion of the program, Kwarteng will become a U.S. diplomat in the summer of 2025 with an appointment in the U.S. Department of State Foreign Service, embarking on one of the most challenging and rewarding careers of service to her country. She will work to promote peace, prosperity, and human dignity around the world.
Kwarteng has remained highly engaged throughout her undergraduate career at UHart: She has served as a student ambassador for the College of Arts and Sciences and Honors Program, was awarded a Benjamin Gilman scholarship to study abroad at Yonsei University in Seoul, South Korea, and has served as a member of The Women's Advancement Initiative's LEAD (Leadership Education and Development) program. That's in addition to earning a scholarship to conduct research in Ghana related to her honors thesis, according to Mark Blackwell, interim dean of the College of Arts and Sciences at UHart.
"The College of Arts and Sciences is bursting with pride at the news that Benie has been awarded a Rangel Fellowship. We are proud, but we're not surprised—she has garnered so many top awards at UHart," Blackwell says. "But all along, Benie has been keen to pursue a career in international diplomacy. So the Charles B. Rangel International Affairs Program is a perfect fit for her talents and interests. Her drive, her intellect, her humility, her resourcefulness…she is a powerful force for good. I think the Rangel Program is lucky to have her."
In addition to the Korean language skills she cultivated during her study abroad experience in South Korea, Kwarteng also speaks Akan-Twi, Akan-Fante, and French—she's specifically leveraged her proficiency in Akan-Twi and Akan-Fante throughout her fieldwork in Ghana.
Though internationally minded, Kwarteng has served her communities at home, having completed previous internships at the Atlantic County Superintendent of Elections Office and at the Governor M. Jodi Rell Center for Public Service at UHart.
"The Rangel Program is thrilled to welcome Benie," says Patricia Scroggs, director of diplomatic fellowships at Howard University. "Her outstanding background, including her strong academic credentials from the University of Hartford, made her a highly competitive candidate. I have no doubt that she will excel in her graduate program and will contribute to promoting peace, prosperity, and human dignity around the world as a Foreign Service Officer."