College of Arts & Sciences Launches Interdisciplinary Environmental Science & Environmental Studies Majors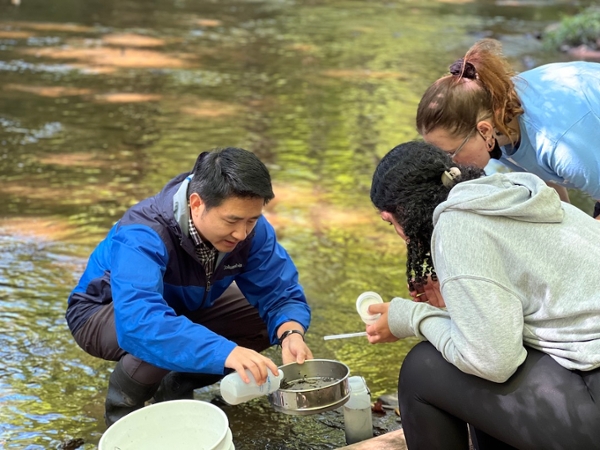 The College of Arts and Sciences has launched two new majors for the fall 2023 semester. The interdisciplinary BS in Environmental Science and BA in Environmental Studies majors will each offer students the opportunity to select from two areas of concentrations. Environmental science students can choose from environmental biology or environmental chemistry concentrations, and students in environmental studies can specialize in environmental communication or environmental policy.   
"Achieving sustainability is an ongoing goal of our society and jobs in the sustainability field are growing and are increasing in demand," says Director of the Environmental Studies Program and Professor of Biology Bin Zhu. "The environmental studies and environmental science majors will give students broad knowledge and essential training to fulfill the requirements of sustainability jobs or for more advanced degrees." 
According to the U.S. Bureau of Labor Statistics, the median pay for an environmental scientist or specialist with a bachelor's degree is more than $71,000 with eight percent growth expected through 2028, and employment of environmental communication specialists with a bachelor's degree is projected to grow 11 percent, faster than the seven percent average for all occupations with a median pay of nearly $63,000 annually. 
Zhu added that no matter which concentration students choose, there are opportunities for them to complete internships at news organizations or a government agency, or to conduct research with a faculty expert or an organization. These experiences will help prepare them for careers or for graduate school. "The interdisciplinary nature of the new majors will provide students with learning across-discipline knowledge, critical thinking, and problem-solving skills from dedicated faculty and environmental experts."