UHart Students Build Prosthetics for Kids in Kenya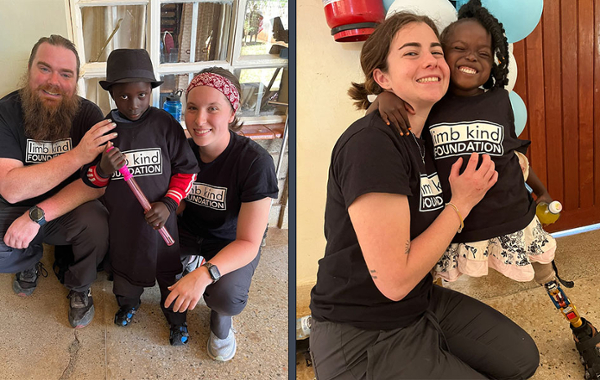 Thanks to Abigal Riley '21 M'23 and Alexia Woodruff '21 M'23, a group of children in Kenya just received the greatest gift: the ability to simply be a kid who can play with their friends and feel like they belong. 
The University of Hartford Prosthetics and Orthotics graduate students just returned from a service trip to the country where they worked with youngsters who've experienced limb loss. (They shared their experiences with Fox 61, iHeart Media and The River 105.9 FM, and the Livingston County News in New York.)
The 10-day trip involved a full start-to-finish process of outfitting them with prostheses, all the way from taking measurements, to fabricating components, to delivery, and finally, seeing their pediatric patients move with ease—and big smiles. 
"On the last day when we had a little 'Show Your Shine' event, the kids walked in and showed off their new prostheses, and they got to be stared at for all the right reasons and not any wrong ones," Riley says. "We got to see the kids work so hard to get to where they wanted to be because they have to overcome those challenges in their day-to-day lives."
Riley and Woodruff, along with Associate Professor Duffy Felmlee, traveled to Kenya with the Limb Kind Foundation to serve at the AIC-CURE International Hospital. As students in UHart's College of Education, Nursing and Health Professions who've already completed hundreds of clinical hours, they brought a significant amount of experience to the hospital. 
Felmlee said that in the P&O program, students are typically assisting in projects when abroad, but in Kenya, they were ready for the roles to be reversed. "I was their assistant, and they did great. There were even moments where they were instructing local Kenyan practitioners on certain methodologies," he said. 
While Riley and Woodruff had a specific patient caseload of 10 kids, they assisted in creating various prostheses for around 50 children, some of whom had congenital limb loss and others who lost limbs due to trauma or accidents. All care was free of charge through the Limb Kind Foundation and Cure International.
One patient named Victor made the biggest impression. "He had bilateral limb loss and a harder amputation level, but overall he was just so awesome to work with. He had previous prostheses, but they weren't that functional for him. We saw how big of a difference his new ones made when he was up and moving and all over the place," Riley recalled.
The experience also confirmed to both students that they want to work with pediatric patients, but they will first head off to a residency after graduation. Riley will complete her residency in Virginia in two children's hospitals, while Woodruff will be in Stratford, Connecticut, in a prosthetics and orthotics clinic.  
Felmlee says UHart will be involved in additional trips to Kenya, and both Riley and Woodruff hope to go again one day.
"Coming into college, it was more of a dream," Woodruff says. "So that opportunity of being chosen to go abroad and do these amazing outreach programs…I wouldn't trade it for anything. It was just breathtaking. These kids are truly inspiring."