Three HCD Students Named Top Winners of the HSO Young Artists Competition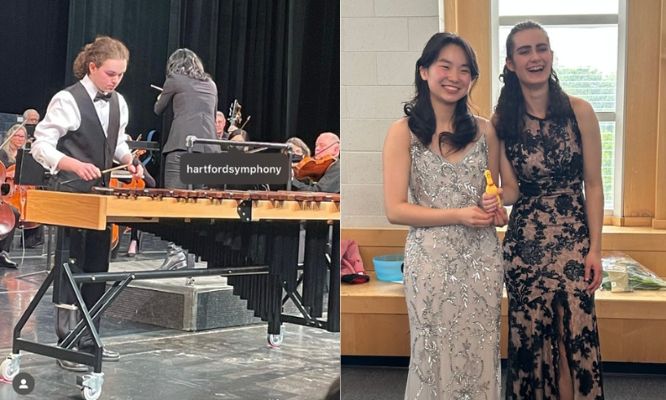 The 2023 Hartford Symphony Orchestra's Young Artists Competition announced the winners, with students from the Hartt Community Division receiving the top three positions. The finals were held on Saturday, May 20, with the five finalists performing their solos with the Hartford Symphony Orchestra.
The Hartt Community Division students selected for the top three positions were Aliza Creel, viola (student of Steve Larson), who won first place; Mindy Zhao, violin (student of Teri Einfeldt) placed second place; and Eli Gold, marimba (student of Jianpeng Feng) who received third place.
Accolades aside, this is not the first time that students from the Hartt Community Division have participated (and received such honors) in the competition. As recently as last year, students from the Hartt Community Division also won top awards. This year's winners are further examples of the talent and dedication that both students and faculty provide at the Hartt Community Division.
"To be able to have one student appear as a finalist in a competition of this level is an honor," says Thomas Scavone, director of the Hartt Community Division. "To place three students is a testament to the hard work and fine instruction that exemplifies all that is outstanding in the Hartt Community Division."
The HSO's Young Artists Competition is an elite concerto competition open to all Connecticut residents in grades 9-12. Contestants compete for cash awards and a chance to solo with the HSO at The Bushnell in the 2023-24 season. This year marks the 45th year of the competition.