2023 Dr. Martin Luther King Observance
The University of Hartford will continue its annual tradition of honoring and celebrating the life and legacy of civil rights leader Dr. Martin Luther King Jr. on Wednesday, Feb. 1, 2023, at 12:45 p.m. in person at the Lincoln Theater and via Zoom.
The theme for this year's observance is "Let's Go: Building Community Through Social Change." As we celebrate the life, leadership, and legacy of Dr. Martin Luther King, Jr., we remember not only Dr. King's inspiring words, but also his courage and his sacrifice in the service of justice. Dr. King's genuine love for humankind inspires us today to denounce and oppose inequality, poverty, hate, prejudice, and violence wherever we encounter them in our society and in the world. There's much more to do…together, across generations. Progress requires action. Let's Go!
The observance will include performances by the Hartt Saxophone Ensemble, University of Hartford Magnet School, and UHart Gospel Choir; and the presentation of the 2023 MLK Beloved Community Awards.

The 2023 Annual University of Hartford MLK Observance Program is presented in collaboration with the Office of Diversity, Equity, and Community Engagement and the Alumni Board of Directors' Alumni of Color Task Force.
The annual MLK observance program is free and open to the public.
2023 MLK Keynote Speaker: Rosa Alicia Clemente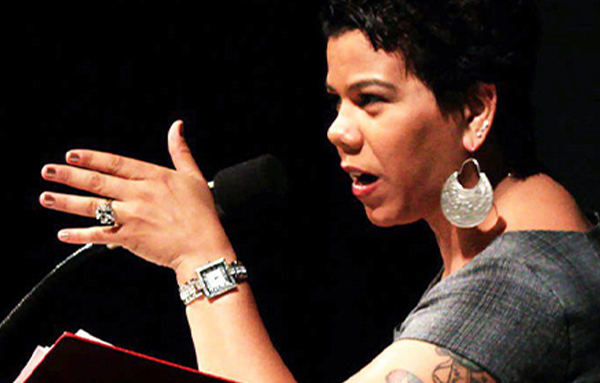 Rosa Alicia Clemente is an award-winning Black-Puerto Rican scholar-activist, cultural commentator, organizer, producer, and independent journalist. She was born and raised in the Bronx, NY. 

In 2008, Clemente made herstory when she became the first Afro/Black-Latina to run for Vice-President of the United States on the Green Party ticket. She and her running mate, Cynthia McKinney is, to this date, the only women of color ticket in U.S. Presidential history.

However, her influential work neither started nor ended there. A media-maker, Clemente was recently an associate producer on Judas and the Black Messiah, a two-time Oscar-winning film by Shaka King, Charles D. King and Ryan Coogler about the betrayal of Black Panther Chairman Fred Hampton at the hands of FBI informant William O'Neal.

As an independent journalist, Clemente has provided on-the-ground coverage of the U.S. Navy's withdrawal from Vieques, Puerto Rico, after 67 years of military control; the devastation and government failures in New Orleans and Mississippi after Hurricane Katrina; Black Lives Matters protests in Ferguson, Missouri, after the fatal police shooting of Michael Brown and more. In 2017, days after Hurricane Maria ravaged Puerto Rico, Clemente organized a group of young Latinx media-makers to cover the destruction and its political implications through PR on the Map. Under the project, she produced multiple documentaries, photo series and articles. As a writer, Clemente isn't scared to get personal, either. Her powerful first-person essays on Afro-Latinx identity, particularly her article Who is Black?, is read in classrooms across the country and has been translated into four different languages.

As president of Know Thy Self Productions, a full-service speakers bureau, production company and media consulting service, she has produced eight community activism tours. Through the production house, she also co-founded and was the national coordinator for the first-ever National Hip-Hop Political Convention in 2003, which helped bring together more than 3,000 activists to create and implement a political agenda for the hip-hop generation.

A fearless voice against injustice and violence, including high-profile perpetrators, Clemente has famously called out Russell Simmons on accusations of sexual violence as well as confronted rapper Rick Ross on his lyrics normalizing rape culture. A longtime champion for survivors in the hip-hop industry, it's no surprise Clemente caught the attention of celebrities in the #MeToo movement. On January 8, 2018, she and six other women of color organizers joined Hollywood actresses at the Golden Globes Red Carpet as part of an initiative by Time's Up and #MeToo. There, she spotlighted sexual harassment and violence against women from Beverly Hills to the South Bronx.

Currently completing her PhD at the W.E.B. DuBois Center at the University of Massachusetts Amherst, Clemente's academic work centers national liberation struggles inside the U.S. with a specific focus on the Young Lords Party, the Black Panther Party, Black and brown liberation movements of the '60s and '70s as well as the effects of COINTELPRO (Counterintelligence Program) on such movements. Clemente is also one of her generation's leading scholars on the issues of Afro/Black-Latina/Latino/Latinx identity. In 2020, she created the Black Diasporic Organizing Project, a nonprofit dedicated to combating anti-Blackness within the wider Latina, Latino and Latinx community.
About Dr. King
Dr. Martin Luther King, a Baptist minister, scholar, and civil rights activist, was an iconic and impactful leader of the American Civil Rights Movement in the 1950s and 1960s. Born in Atlanta, Georgia, he non-violently fought for racial and economic equality and justice until his assassination in 1968.
King and others were the organizers of high-profile American events such as the Montgomery bus boycott, the march from Selma to Montgomery, and the 1963 March on Washington where he delivered his famous "I Have a Dream" speech. These events and others resulted in the Civil Rights Act and the Voting Rights Act. King was awarded the Nobel Peace Prize in 1964.
Connecticut, and later, the University of Hartford played roles in King's fight for equality and justice. When he was 15 years old, he came to Simsbury, Conn. to pick tobacco and, for the first time, experienced life without segregation. In his autobiography, he wrote: "After that summer in Connecticut, it was a bitter feeling going back to segregation. It was hard to understand…"
In 1959, after the Montgomery bus boycott ended and, during nonviolent protests against segregation organized by King and others in southern states, the University of Hartford invited him to deliver its Alexander S. Keller Memorial Fund Lecture at Bushnell Memorial Hall in Hartford. King's speech "The Future of Integration," was not without controversy as he urged attendees to not turn a blind eye to the treatment of their fellow Americans.
As heard on a recording of the 1959 speech, King tells the Hartford audience, "…What we need (is) a committed liberalism - one where individuals stand up on basic principles and give themselves to the right side of this issue realizing that right is right and wrong is wrong and never the twain shall meet. This is something we must do."
Many renowned civil rights events followed King's speech in Hartford including non-violent lunch counter sit-ins, school desegregation cases, freedom riders who took bus trips to the south to protest segregated restrooms and lunch counters, the March on Washington, and the bombing of 16th Street Baptist Church in Birmingham. In July 1964, President Lyndon Johnson signed the Civil Rights Act of 1964 into law with King in attendance.
King's speech and all Keller Lectures letters, memos, programs, press releases, newspaper clippings, transcripts, and recordings, including Q&A sessions, are digitized and available for researcher use in the University's Harrison Libraries.
Dr. King's widow, Coretta Scott King, who devoted her life to furthering her husband's goals, also came to UHart to deliver a guest lecture in 1978.
There comes a time when one must take a position that is neither safe, nor politic, nor popular, but he must take it because conscience tells him it is right.
Dr. Martin Luther King Jr., (1929–1968)
Remembering Last Year's MLK Celebration
UHart was pleased have Yamiche Alcindor as our 2022 MLK keynote speaker for The Imperative of the Beloved Community event. The notion of the Beloved Community, a term coined in the twentieth century by philosopher-theologian, Josiah Royce, was popularized by Dr. King through his speeches and writings. Dr. King envisioned the Beloved Community as a society based on justice, equal opportunity, and love of one's fellow human beings and where the structures of our community reflect and uphold racial equity. 
Black History Month Celebrations & Events
In addition to our annual MLK observance, the University of Hartford community celebrates Black History Month during the month of February. Community members are invited to programs, celebrations, art exhibitions, and events all month long. Below is a sampling of popular events.
Voices of Black Trans People
Wednesday, February 8 I GSU 335 (Simsbury Room) I 12:45 p.m. | Free
Moderator: Llonia Rojan Jackson
Some Jazz, Some Blues, and Soul Food
Friday, February 10 I Konover Great Room I 5:30–8:30 p.m. | Free
Immerse yourself and be transported to a Jazz Cafe as we Celebrate Black History Month with music, poetry, and amazing food.
The Divine Nine: Defined and Demystified!
Wednesday, February 15 I Wilde Auditorium I 5:30 p.m. (reception) and 6:30 p.m. (discussion) | Free
Moderator: Llonia Rojan Jackson
Join in a discussion about Black Greek life…defined and demystified! Hear from members of the "Divine Nine" to learn about the history, culture, and the important impact Black Greek Letter organizations make in the community.
A "Read-In" for Black History Month with Markeysha Davis
Thursday, February 16 | Harrison Libraries | 4–5:30 p.m. I Free (but we ask that you register)
Join us at the Harrison Libraries for a Black History Month "Read-In" hosted by Dr. Markeysha Davis, Chair of Africana Studies. We have chosen this date to commemorate February 16, 1960 – the day that the Rev. Dr. Martin Luther King, Jr., engaged a crowd of students and community members at White Rock Baptist Church in Durham, North Carolina. 
This program is presented in partnership with the Presidents' College.
Creating Visibility and Belonging for the Black Community, a Discussion
February 20 I Shaw Center I 12:45 p.m. | Free
"What does your Activism Look Like?" Student Panel
Wednesday, February 22 I Shaw Center I 12:45 p.m. | Free
Moderator: Kristen Valentine, MLK Student Committee Member
Black History Trivia
Wednesday, February 22, 2023 I Gengras Student Union 333 | 1–2 p.m. I Free

This event honors Black History Month with the opportunity to win prizes based upon your knowledge of the holiday. Join us for this special edition of trivia night!  
"The Palette" The Annual BSU Fashion Show
Sunday, February 25 I Lincoln Theater I 6 p.m. I Tickets will be available at the box office (all proceeds go to the BSU Book Fund)
Diversity, Equity, Inclusion, and Social Justice at UHart
The University is committed to fostering a welcoming campus climate that is inclusive, and an environment where students, faculty, and staff feel safe and supported. You can learn more by exploring our webpage.