COVID-19 FAQ: Library Procedures
The safety of library staff and members of the University of Hartford community is our highest priority.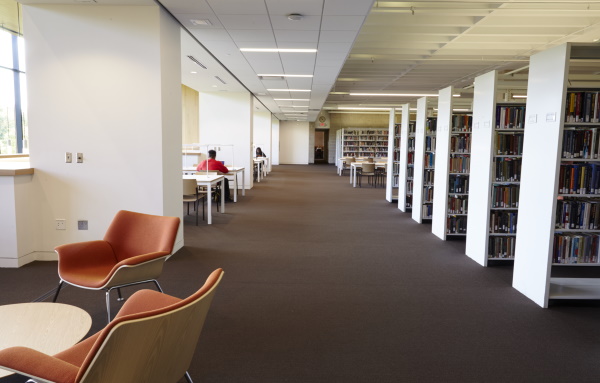 Staff will follow all state and university public health guidelines, including maintaining social distance, wearing masks, handwashing frequently, sanitizing and disinfecting staff workspaces and equipment, and self-monitoring for symptoms.
We need your help to remain open and not be a source of new infections. To protect the health and safety of all who enter the libraries, we expect that everyone will abide by the requirements of the Healthy Hawks Pledge. Anyone behaving in a manner that does not protect the health and safety of those around them may be referred for disciplinary action.
Visiting the Libraries
When will the library be open to users?
Both libraries are open Monday through Friday, and Mortensen Library is also open on weekends. See our hours page for details.  Additionally, please be prepared to show your valid University ID upon entering the Libraries.
I'm an alum/community member/other user. Am I allowed to visit the library?
At this time, library use is limited to those allowed on campus in accordance with the University's Campus Access Policy, largely limited to current students, faculty, and staff. However, we may be able to lend some materials to your local library via Interlibrary Loan, and we may be able to provide other services electronically. Contact your local library for Interlibrary Loan requests, or contact a Harrison Libraries staff member for other questions.
Will there be a limit on the number of people allowed in the library?
Not at this time.
What rules will I need to follow when using the library?
Bring your University ID. You will not be able to enter the library without it.
Wear a mask at all times.
Follow all posted policies.
Keep furniture where you find it.Our staff worked hard to make sure designated spaces are a safe distance apart. Please help keep it that way!
Keep 6 feet apart. As you move through the building, be mindful of how close you are to others. Library users who arrive in groups are expected to disperse when in our facilities, even if they are members of the same "family" group.
Face Masks
I'm fully vaccinated. Do I have to wear a mask in the library?
Yes. Everyone must wear a mask inside campus buildings, even if they have been vaccinated. See the University's Face Coverings Policy for more information.
If I forget my mask, can I still come to the library?
Yes, but please stop at the circulation desk when you enter. We have a small supply of masks and are happy to provide you with one.
I can't wear a mask due to health issues. Can I still come to the library?
Yes, though we ask that you limit your time in the library to reduce risk of exposure to other library users and staff. In addition, you must have a documented accommodation through Access-Ability Services (students) or Human Resources (faculty and staff) to use campus spaces without a mask. See the University's Face Coverings Policy for more information.


Food and Drink
May I have food or drink in the library?
To stay in compliance with required mask wearing in public spaces, you may not consume food in the libraries. Please plan accordingly. You may go outdoors, to Commons, Gengras, or other designated eating spaces on campus. You may bring a covered beverage to the library, to sip and immediately restore your mask to its proper location.
Starbucks will be open for carry out only. All seating in the Starbucks café space has been removed until further notice. 
Will water fountains be available?
Regular "bubbler" water fountains are not available, but one bottle filler is available, on the main level near the elevator, for users to fill their own covered containers.
Library Facilities
Where can I study in the library?
Open, individual study spaces will be available throughout Mortensen and Allen Libraries, re-configured to maintain safe social distancing. At each location, some furniture has been removed or rearranged. Signage will promote social distancing and other risk reduction protocols. Most study and listening rooms will not be available to students at this writing. As the year progresses we will re-assess. We encourage students to use collaborative meeting software such as Zoom for socially distanced group study sessions, or to take advantage of the University's designated open classrooms for study and taking online classes.
Yes, restrooms will be available for use. Custodial staff plan to clean them several times each day.
How much (or how often) will the library be cleaned?
In accordance with the Healthy Hawks Pledge, library users will be expected to wipe down surfaces after using them. Paper towels and disinfectant spray will be provided. In addition, our custodial teams will be cleaning restrooms and other areas several times each day.
What will happen if a library staff member becomes ill? Will the library close?
All library staff and student workers are taking the required LiveSafe survey before coming to work each day. Should someone start feeling ill while at work, that staff member will be sent home, and their workspace cleaned. Staff who may have had close contact with someone ill may also be asked to stay home and quarantine, pending the outcome of the contacted person's COVID test results and/or their own COVID test results. If multiple staff members are quarantined or ill, the library may need to close or reduce hours due to lack of staff to support library services.
We recommend you plan ahead to check out materials you may need later in the semester, in case the libraries or campus are closed and materials become inaccessible.
Library Technology
Can I use the computers in the library?
Computers will be available for use in public spaces, but due to social distancing requirements, fewer computers will be available. If you use the library computers, please take advantage of disinfectant wipes to clean surfaces after use. If you have a laptop, it is recommended that you bring it with you to the library to reduce your risk.
Will printers, scanners, and copiers be available?
Printers, scanners, and copiers will be available for use, but may not be in their familiar locations, and procedures may be different. Ask at any desk for assistance. Disinfectant will be available for users to clean surfaces. (Please take advantage!)
Electronic Resources
Will the library scan books and email them to me?
Due to copyright restrictions and time limitations, we cannot scan entire books. However, you can request book chapters and journal articles via our existing ScanIt @ H document delivery service. Visit the ScanIt @ H page for more information.
How do I access electronic resources?
If you're on campus, connected to the university's wired or wireless internet, you can access any of the online resources linked through the Libraries' website. If you're accessing resources from off campus, you will be prompted to log in with your university email username (not including @hartford.edu) and email password. For help with access, see our Off-Campus Access page. For help finding resources, contact a reference librarian.
Using Physical Materials
May I go into the library shelves?
Yes, but please keep your mask on, even if no-one is nearby. Also, staff are happy to pull materials and have them waiting for you with our Takeout Service.
How can I check out materials?
Pull your desired materials from the shelves or request them in advance with our Takeout Service, then bring your ID to the library circulation desk. Our friendly staff members will walk you through the checkout procedure, designed to minimize contact.
Can I get library materials without coming to the library in person?
One option is to use our Takeout Service and designate another University community member (must have University ID) to pick up items for you. To do so, or to discuss other options, contact the appropriate librarian below:
Mortensen Library materials:
Nick Wharton (wharton@hartford.edu, 860.768.4403)
Allen Library materials:
Lisa Wollenberg (Lwollenbe@hartford.edu, 860.768.4840)
Is the library still providing course reserves?
Yes, though procedures have been modified this semester. Instructors are encouraged to consider digital resource alternatives to physical course reserves. For more information, contact:
Mortensen Library reserves:
Ed Bernstein (edbernste@hartford.edu, 860.768.5751)
Allen Library reserves:
Mike Anderson (mianderso@hartford.edu, 860.768.4459)
Can the library buy a book or other resource that I request?
You may request the purchase of electronic or physical materials to support teaching for the fall. Please contact the appropriate subject selector to discuss your needs. Keep in mind that funding and resources may be limited. You may also wish to pursue an Interlibrary Loan request for materials not owned by Harrison Libraries.
Returning Physical Materials
Return books and printed music in the drop box outside the main entrance to the Harrison Libraries, or at the appropriate library's circulation desk. To prevent damage, return DVDs, CDs, LPs, VHS tapes, laptops, recording equipment, and accessories to the appropriate circulation desk rather than the drop box.
What should I do if I can't come in to return my library materials?
Please mail your materials to the appropriate library:
Mortensen Library 
University of Hartford 
200 Bloomfield Ave 
West Hartford, CT 06117

Allen Library 
University of Hartford 
200 Bloomfield Ave 
West Hartford, CT 06117
If you can't mail materials, we may be able to make alternate arrangements with you. Contact the appropriate librarian to discuss options:
Mortensen Library materials:
Nick Wharton (wharton@hartford.edu, 860.768.4403)
Allen Library materials:
Lisa Wollenberg (Lwollenbe@hartford.edu, 860.768.4840) 
What steps is the library taking to sanitize returned materials?
Beginning June 2021, library items will not be sanitized or quarantined upon their return. Research has shown that COVID-19 transmission via surfaces is rare, especially via porous surfaces such as paper.
Research & Instruction
How can I get research help from a librarian?
Use our online chat service (Click the yellow Ask Us tab at the top right of your screen), or contact a reference librarian directly for help via phone, email, or virtual meeting. Most meetings can take place over Zoom, WebEx, Blackboard Collaborate, or other meeting software as arranged with the librarian.
Mortensen Reference Librarians (most subjects)
       libref@hartford.edu
       860.768.4142
Allen Reference Librarians (music, dance, theatre)

How can I arrange for library instruction for my class?
Contact the appropriate librarian below. They or another instruction librarian will work with you on the content of the session as well as the format (in-person, online, hybrid). 
Most subjects:
Nick Wharton (wharton@hartford.edu, 860.768.4403)
Music, dance, theatre:
Tracey Rudnick (rudnick@hartford.edu, 860.768.4404)