In the College of Arts and Sciences, you have a wide range of opportunities to get hands-on experiences outside of the classroom. It's a great way to build your résumé and make connections both on and off campus.
Students Visit Cranberry Bog to Prep for Ocean Spray Ad Competition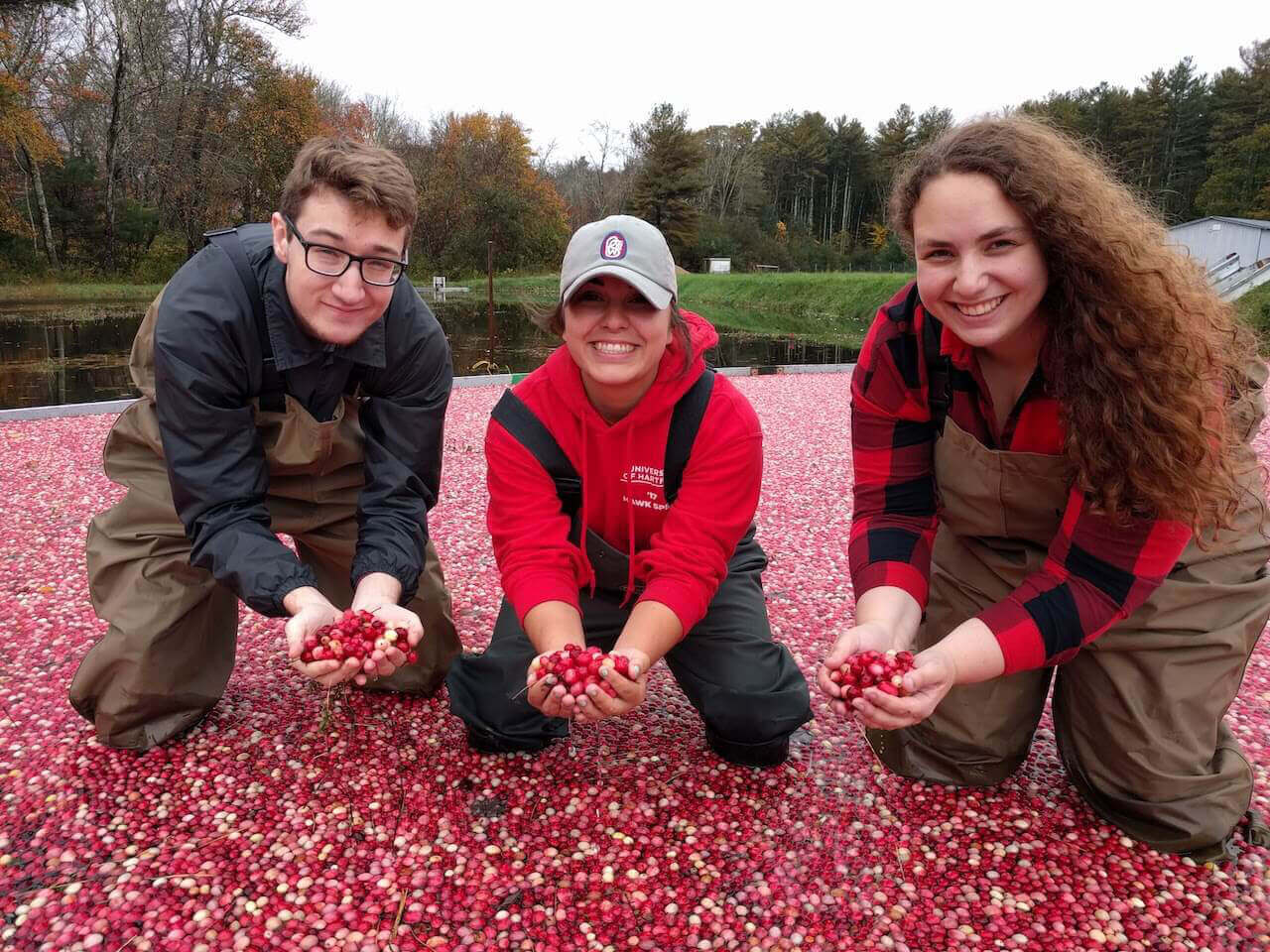 What better way is there to research a brand than getting a "hands-on" experience? That's what a team School of Communication students did when they visited Stone Bridge Farm, a cranberry bog in Acushnet, Massachusetts, before they created a fully integrated advertising plan for Ocean Spray as part of a National Student Advertising Competition. More than 2,000 students competed in the American Advertising Federation sponsored competition, which gives them the opportunity to develop an advertising campaign for an actual client. Students then pitch their recommendations to advertising professionals at the district, semi-final, and national levels.
After the bog visit where they experienced cranberry farming, harvesting, and product distribution, the UHart team researched, planned, and executed a multi-platform campaign for Ocean Spray called "Little Berry, Big Moments." The theme was based on their research findings that showed Ocean Spray is a traditional brand that was "always there" during the childhoods of millennial consumers. The focus of the campaign's message was to highlight the strength of the cranberry for delivering both health and social benefits.
The ad competition's judges were impressed with how the cranberry bog visit provided insight into the campaign, and they were excited by the "Little Berry, Big Moments" tagline, which they felt would resonate well with millennials. Congratulations to the team which included Myrani Alvarado '18, Eda Yavuzturk '18, Jeralyn Thrower '19,  Taiana St. Hilaire '19, Julie Levin '18, Allison Maskin '18, Redmond Peiro '19, Brittany Wallace '18, Bianca Ross '19, Emma Lorenzo '18, Katy Henchy '18, and Forrest Gray '19.