The Hartt School
Flute
Studying flute at Hartt exposes you to a comprehensive program designed to challenge and motivate you as a performer.
About the Major & Mentoring
To enrich pedagogy skills, the Hartt flute studio uses a mentoring system that pairs an undergraduate student with a graduate flutist.  They meet together for a minimum of two hours a week to work in duets, resolve any problems revealed in Techniques Class, and for the chance to do research and get feedback from a partner. This gives the graduate students a chance to develop and refine their teaching techniques before leaving school, while the undergraduates benefit from the additional "one-on-one" help in between lessons and get to know fellow flute students more quickly.
Pairs rotate every 4 weeks so everyone has the opportunity to meet and work together, creating a true collaborative atmosphere in the flute studio. The students are collegial and supportive, each gaining more from these additional opportunities to participate with their peers than they would on their own.
Focused on Performance
In addition to required course work, a performance major consists of three significant elements: performance, pedagogy, and career development. Solo, chamber, and large ensemble opportunities provide ample performance experience. Pedagogy classes ensure that all instrumental performance majors leave Hartt prepared as private teachers. Learn about studying flute at Hartt, including undergraduate and graduate admission and audition requirements and faculty information.
Flute Performance Class
The emphasis in this class is on polishing and performing repertoire with piano accompaniment and receiving feedback from fellow students. This time is also used for master classes by visiting artists; recent master classes have been presented by Elizabeth Rowe, Cynthia Meyers, Emmanuel Pahud, Judy Mendenhall.
Technique Class
Flute students work together on warm-ups, scale studies, exercises, stretching, and good work habits. Students also complete repertoire and book reports in which they research composers, repertoire, and important flute literature allowing them to deepen their understanding and appreciation of the music in class and providing them with a model for doing further research on their own.
Admission and Audition Requirements
Please see specific instrument audition requirements by degree below. Learn more about the undergraduate or graduate application process, in-person audition dates, and deadlines.
Any sonata by J.S. Bach (1st and 2nd movements)
Mozart's Concerto for Flute in D Major or Mozart's Concerto for Flute in G Major (1st and 2nd movements)
One contrasting work for solo flute or flute and piano
Please note: We have students who come to Hartt from across the United States and around the world. That is one of the things that makes a Hartt education so special. Some students are accepted and arrive having had extensive private study on their instruments. Others have had less experience (and perhaps less conventional training), but their natural abilities and great love of music allow them to make remarkable strides in a short period of time because of the expertise of our faculty.
Our requirements are sometimes quite specific to give applicants a sense of where they should be to enter a high-level conservatory environment. However, we encourage applicants to reach out to our faculty members to discuss audition repertoire. It may be that what you have prepared will suffice. Our primary goal is to identify potential, and if we feel that the potential is there, it is then our responsibility to provide each and every student with the tools to be successful.
If you would like to be in touch with a member of the faculty to discuss your audition repertoire, please write to harttadm@hartford.edu.
Master of Music & Graduate Professional Diploma
Mozart Concerto in G or D Major, 1st and 2nd movement

J. S. Bach: any sonata, 2 contrasting movements

Major 20th century Sonata for flute and piano

Five (5) orchestral excerpts (including the three (3) below):

Beethoven,

Leonore Overture No. 3

- measures 328-360

Brahms Symphony No. 4 - Movt. 4, measures 93-105

Mendelssohn Scherzo from

A Midsummer Night's Dream,

2 measures before P to the end
Doctor of Musical Arts & Artist Diploma
Mozart: Concerto in G or D Major - complete

J. S. Bach: Sonata in B minor, E minor, or Partita in A minor

Two 20th century sonatas of contrasting style

Unaccompanied solo exhibiting a command of extended technique

Five orchestral excerpts
Our Faculty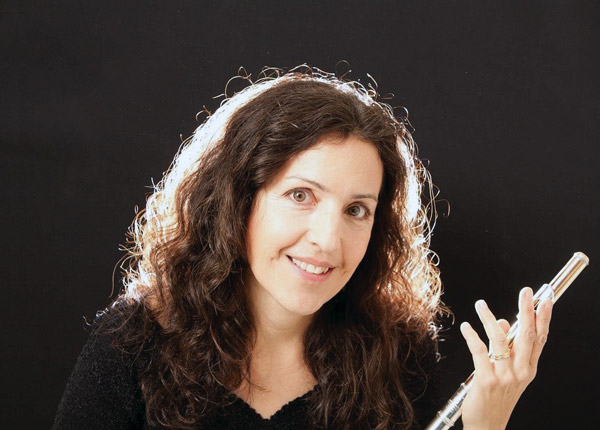 Senior Artist Teacher
Janet Arms enjoys a notable career as an orchestral musician, soloist, chamber musician, and educator. She is a member of the New York City Opera orchestra and has performed and recorded with the New York Philharmonic, the Metropolitan Opera, the Boston Symphony Orchestra in Boston, at Tanglewood, and on tour, has been guest principal flutist with the St. Louis Symphony in the US and on a month-long tour throughout Europe.
The highlights of my graduate study at Hartt have been the many opportunities to improve both my performance and teaching skills.
Allison Hughes, Master of Music, Flute performance, 2018