Music Instrumental Performance
Strong musical training and versatility are needed to make a career as a performer. As an instrumentalist at Hartt, you receive training in performance, pedagogy, and career development. Solo, chamber, and large ensemble opportunities provide experience in standard repertoire and new works. We also offer many opportunities to perform in collaborative environments such as playing in the pit orchestras for an opera, dance concert, or a musical theatre production. Performance master classes and the opportunity to work with renowned guest composers and conductors enrich your educational experience and professional network. Upon graduation, you are fully prepared to market yourself as an instrumentalist, audition for professional ensembles, and negotiate your contract. Our pedagogy training also allows you to begin your private studio at the same time.
Our diverse faculty contribute greatly to your student experience, not just by what they teach in the studio or rehearsal room, but by what they do outside of Hartt. The instrumental faculty members are all working musicians who perform with orchestras, chamber ensembles, Broadway shows, service bands, pickup groups, and as soloists and studio musicians. Their repertoire is as varied as the ensembles in which they perform it.
Undergraduate Emphases
Chamber Music Emphasis
Chamber music is aligned with the current trend in classical to smaller, more versatile groups that can embed themselves in diverse communities and remain relevant to many aspects of society. When you decide to pursue a Bachelor of Music in Instrumental Performance with Chamber Music Emphasis, you will focus on small ensemble works. Through the study of chamber music, you will learn about the history and practice of this art form, including negotiating of the rehearsal process, and how to effectively communicate with an audience and your groups alike. Specialized chamber repertoire classes provide in-depth study of the most significant works, and you will be able to explore all the elective classes relevant to creating and maintaining a successful small ensemble.
To see a complete list of degree requirements, visit the Course Catalog
Elective Emphasis
The Bachelor of Music in Instrumental Performance with Elective Studies emphasis addresses current practice and trends in the professional performing arts field. When you choose to pursue this degree, we provide you with the essential core knowledge and skills inherent in our Western Classical Music studies and broaden that to include additional knowledge and skills that are necessary and relevant for the 21st century performing artist. By choosing this degree path, you will have the flexibility to design a course that is specific to your interests and goals.
To see a complete list of degree requirements, visit the Course Catalog
Suzuki Pedagogy Degree Options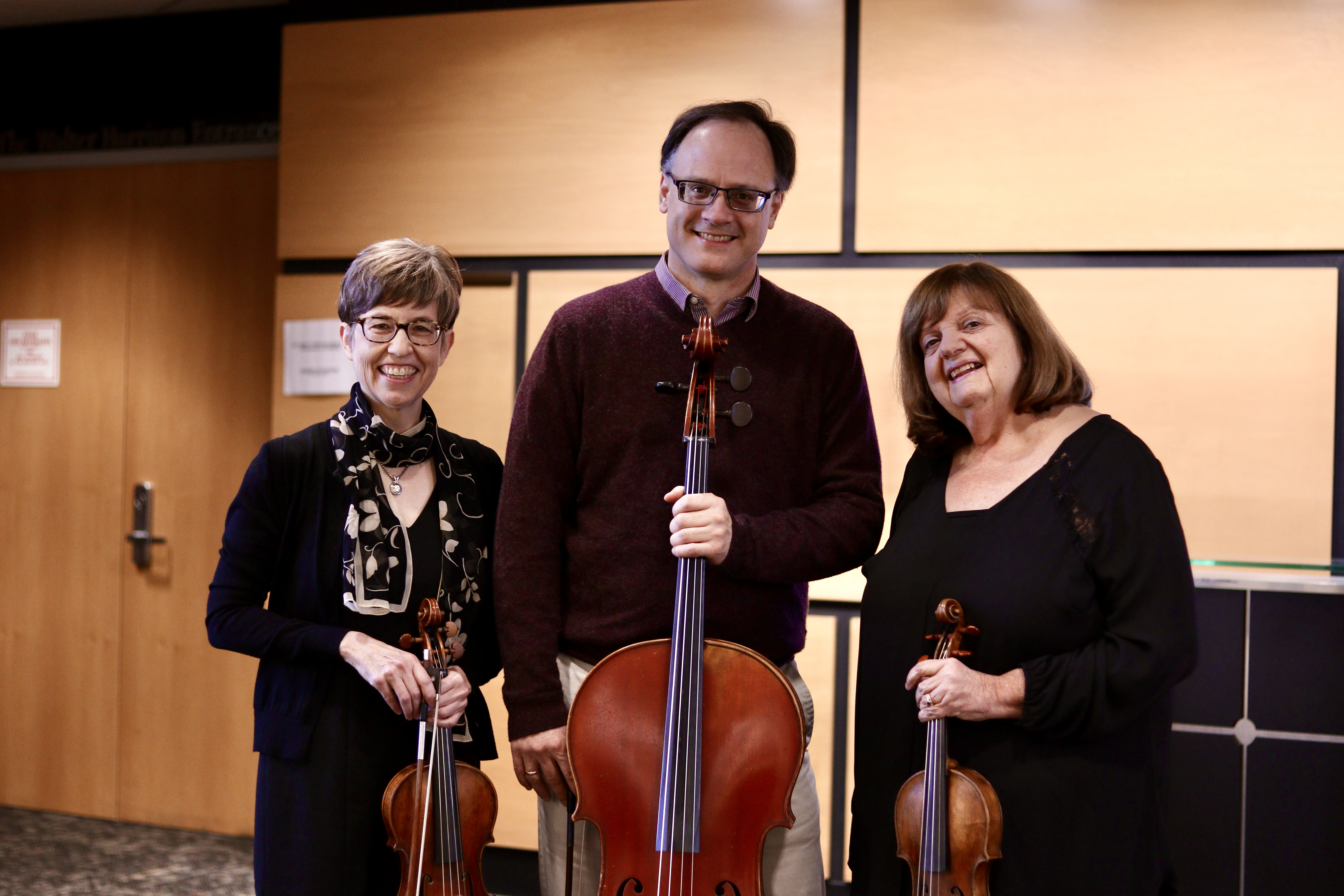 The Hartt School is excited to be the first institution in the US/Canada to offer a 5-year combined Suzuki degree program. The 5-year BM/MM degree in Instrumental Performance with a Suzuki Pedagogy Emphasis offers a comprehensive pedagogical curriculum with one of the premiere Suzuki programs in the nation. With three Suzuki Association of the Americas (SAA) registered teacher trainers on The Hartt School faculty, degree candidates have the opportunity to observe this long-standing program in action and experience various practicum opportunities between the Community Division and college. The current degree program allows for violin and cello training, with violists having the option of pursuing violin training. 
Graduates will be more marketable, and will further Suzuki education across the country, meeting the growing demand of parents desiring Suzuki instruction for their children.
Note: There is also the option of pursuing only the Masters of Music performance degree with a Suzuki Pedagogy Emphasis.
Photo credit: Seina Shirakura
Suzuki Faculty
Christie Felsing
Suzuki Violin Faculty; HCD Director of Teaching and Learning; Music Skills Specialist in Suzuki Pedagogy
View Full Profile
Applied lessons (private instruction) is the backbone of a comprehensive music education. The ultimate goal of teaching is to eventually render oneself unnecessary, to foster independence, to help students acquire the insight to be able to ask questions, to look for and find the answers on their own.
Carrie Koffman, Associate Professor of Saxophone
One hour weekly lessons focus on developing the complete player by reinforcing already-strong areas in the student's playing and addressing less developed areas that need attention. All aspects of classical and contemporary styles and techniques are learned through the use of scales, exercises, etudes, concertos, sonatas and other solo works, and orchestral excerpts.
Studio class is a collaborative forum, a kind of laboratory, which meets weekly. The experience of performing for one's peers allows for the free sharing of ideas and perspective. Often, students find that much can be learned through the comments and critiques of their instrumental colleagues. Studio class also serves as a vehicle to give and receive collegial support and discuss issues of common interest. It is required of all students studying performance.
Apart from orchestra, band, and chamber music experiences, some studios offer same-instrument ensemble playing opportunities. Skills emphasized in these courses include balance, blend, intonation, musical responsiveness, intelligent imitation, rehearsal technique, and the development of sound, interpersonal interaction through music.
Master classes by visiting performers/teachers of international notoriety are regular occurrences at Hartt. These guest artists provide comments, criticism and feedback on our students' playing, but also offer their own perspectives on their art and arts purpose in the world. All musicians are strongly encouraged to attend and/or perform at these classes.