Gain hands-on experience while supporting your educational expenses.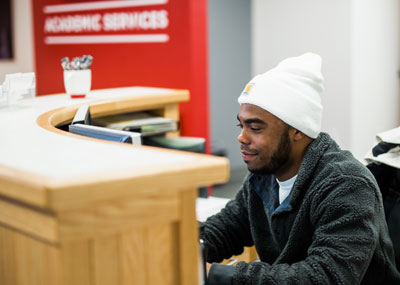 At the University of Hartford, there are many opportunities for students to work part-time on campus. We offer student employment to both Federal Work-Study students and non-FWS students.
Federal Work-Study
Federal Work-Study (FWS) is administered through the Office of Student Financial Aid. FWS is a form of financial assistance, based on the results of the Free Application for Federal Student Aid (FAFSA). Its purpose is to help students cover educational expenses through part-time employment during the academic year. Students are paid for hours worked through a bi-weekly paycheck. If eligible, you will see FWS listed in your financial aid award letter.
Non-Federal Work-Study
You may also work on campus without work-study. Many departments on campus will hire students to work and earn a bi-weekly paycheck. It is important that you let your potential employer know that you are not a work-study recipient.
On-Campus Jobs
Types of jobs and responsibilities vary greatly. Be sure you find one that is a good fit for you.
Students with Federal Work-Study, and other students who wish to obtain a job on campus, should complete the following steps.
Find a Job
Use Handshake—the University of Hartford's online resource where students can connect with employment opportunities. 

Attend the Student Employment Fair: This is usually scheduled within the first two weeks of the fall semester.

Visit Career Services. They can also help you navigate Handshake!

Visit the Office of Student Engagement and Inclusion (OSEI). They have off-campus job opportunities you may participate in.

Visit on-campus departments for specific opportunities 
Set a Schedule
You can set up a working schedule with you and your on-campus supervisor. Students can work a maximum of 20 hours per week. 
Fill Out the Paperwork
Once you have the job, make sure you have completed the appropriate documentation so that you can be paid for your time worked.
Human Resources Documentation
Federal Form I-9

Direct Deposit Authorization Form
Financial Aid Documentation
Any required documentation is listed on your Self Service account under the Financial Aid Eligibility tab.

All documentation must be submitted before you will be authorized to work under the Federal Work-Study program.