Graduate education with a professional focus.
UHart offers more than 60 graduate degree programs across a wide range of disciplines, taught by faculty whose real-world experience prepares students for career success.
Graduate education at UHart's extends beyond the campus: The University's collaborations with the region's business, nonprofit, public sector, and arts communities provide valuable networking opportunities. External partners include:
Aetna
Cigna
Goodspeed Opera House
Hartford Public Schools
Hartford Stage
Pratt and Whitney
St. Francis Hospital and Medical Center
Stanley Black and Decker
United Technologies
And UHart alumni — a diverse community of 85,000 strong across the country and around the world — provide a lifelong community of professional connection and support.
Connecticut's Capital City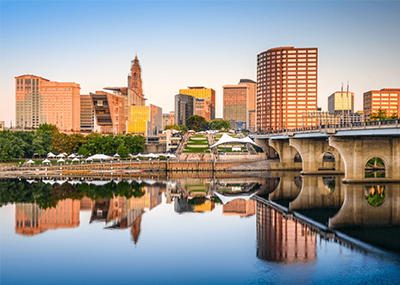 In addition to major cultural attractions, sports and award-winning restaurants, Hartford has all the diverse professional opportunities of a big city.
The friends you make at UHart last a lifetime. These people stick by your side through thick and thin and truly are friends for a lifetime.
Brian Monks, '14, M'15