STUDENT GOVERNMENT ASSOCIATION REPRESENTATIVE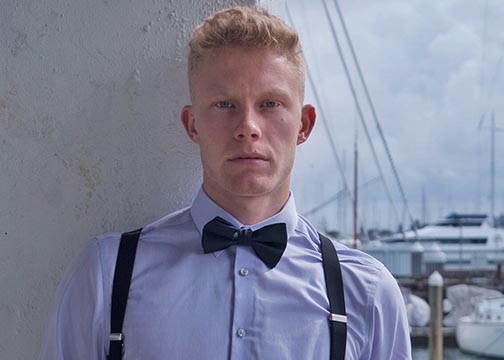 Lukas Struppe is a 21-year-old senior from Gloucester, Mass. Lukas identifies as a male and uses the pronouns he/him. He is currently studying mechanical engineering but plans on getting a job that also encompasses business and design-related tasks as he is a very broad, big-picture thinker. At the University of Hartford, Lukas has been involved in residential life as a resident assistant. He is currently the president of his fraternity, Theta Chi, where he previously held positions in public relations and as vice president of health and safety. One of his favorite jobs on campus is serving a Red Cap Orientation leader, which he has done both in 2018 and this year. Lukas has also held the public relations vice president position for the Student Government Association as well as his current role.
His best experience as a UHart student was studying abroad last fall in New Zealand, as he is a self-declared travel addict. His love for discovering and learning about new cultures, as well as meeting new people, drives this ambition. For his term as the student alumni representative, Lukas's main goal is to build more bridges between current students and alumni so that alumni have a better idea of what is going on at the University and are able to help the school evolve to improve current students' college experiences. He also wants to help develop a mentorship program to connect students to alumni who are professionals in their desired field after graduating.
ABOUT LUKAS
UNIVERSITY OF HARTFORD INFO
Pursuing a mechanical engineering degree
UNIVERSITY OF HARTFORD ACTIVITIES AND EXPERIENCE

President, Theta Chi Fraternity
Red Cap orientation leader 
Resident assistant for residential life