Chantell Boissiere-Kelly M'05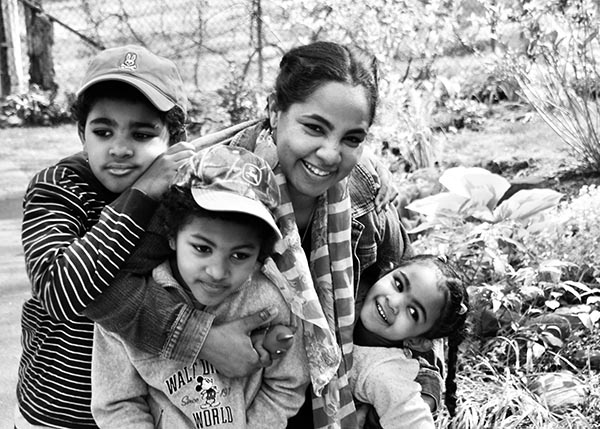 When you walk into Capital Ice Cream, there's a sign on the wall that says "A Happy Place in Hartford." Owned by Chantell Boissiere-Kelly M'05 and her husband, this shop is just one step in their dream to bring kindness and happiness to the community.
Boissiere-Kelly earned her master's in communication at UHart; after a successful career in film production for MTV in NYC and LA, followed by one in advertising, she decided to pursue her longtime dream to work with children. She currently teaches pre-K and kindergarten at Annie Fisher Montessori in Hartford, where she has taught for the past nine years. As a business owner and teacher, Boissiere-Kelly says UHart's interpersonal communication classes helped her to enhance her communication skills in a way that allows her to build strong connections with her students and their families in more compassionate and in-depth ways. These skills have also extended to how she interacts and connects with visitors of her ice cream shop of whom she affectionately calls "friends."
"I often tell my customers that they don't need to purchase something to visit. Just drop in to say hi or chat. My goal is to create and sustain a community-feel where I get to know my customer's names, what they like, and what they're up to, etc. Ultimately, I want them to know that I appreciate them and that they are always welcome."
 
You are originally from New Orleans. What brought you to Hartford?
Growing up, I visited my uncle (a former dean at UConn) and aunt every summer. I later returned to Connecticut to attend Central Connecticut State University for my undergraduate degree. When it was time to decide on a graduate school, many friends spoke very highly of the University of Hartford and it felt like a clear choice after my first campus visit. I completed my graduate degree in communication at UHart in 2005.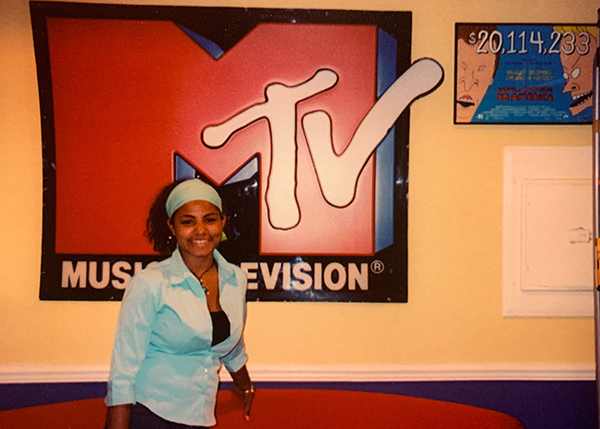 After a few years of working in the advertising field, I decided that I would pursue my teaching career and returned to UHart to take certification classes towards my teaching degree. It was a pleasure to be back on campus and it was like coming home for me. Overall, my diverse academic and work experience have played a key roll in my professional and personal development as a teacher and business owner.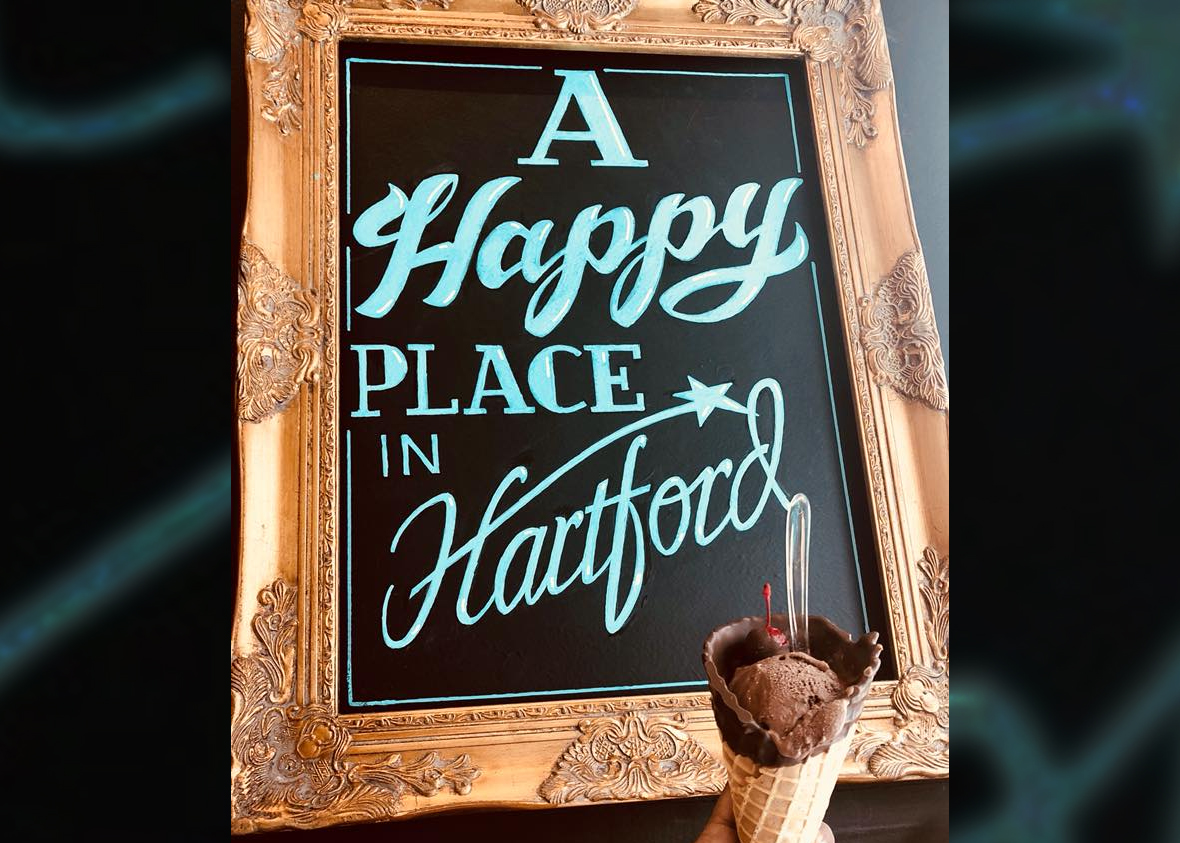 What made you decide to open an ice cream shop?
For many years, my family and I would always travel to West Hartford and beyond for ice cream. As a construction company owner, my husband has always had an entrepreneurial spirit. He often spoke of wanting to open a business in the food and beverage industry, and together, we were committed to opening a business in the city of Hartford.
We pondered a few different opportunities, but the time was never right as we began to start our own family. Years later, a space in our current building became available. We knew it was time to pursue our dream and an ice cream shop was what the area needed! More importantly, we wanted to be a part of adding to the growth of this upcoming area in Hartford in a positive and beautiful way.
As I thought about my own children and students growing up here, it was super important to me to provide a space that they could look back on in their childhood with fond memories. I wanted them to have something they could be proud of right here in their own neighborhood. This is the reason why we choose to use bright colors, to post positive affirmations on the walls, and to design it with an overall whimsical feel. We wanted to be able to evoke happiness within everyone that walks through the door. Ultimately, I want my children and the neighborhood children to be able to look at me, my husband, and my younger cousins (who work with me), and know that they can dream and it can come true too.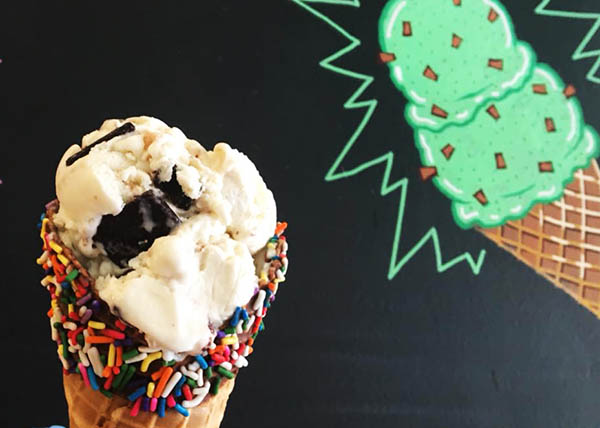 How does Capital Ice Cream give back to the community?
We started a concept that we named "Kindness Cones." Customers can contribute toward the purchase of a cone—and we contribute as well—and these are passed on to other visitors in need. They can also leave a note with a positive message that makes these cones extra special to those who receive them. These cones often go to kids, the elderly in the neighborhood, or anyone in need.
When a customer purchases a Kindness Cone, I often tell them that I wish they were here when I hand the cone out. It feels so good to be able to do that. It gives me goosebumps just thinking about their reactions—just a simple little treat can turn someone's day around just that quick. You never know the impact of one small act of kindness.
Prior to the pandemic, we also connected with a few schools in Hartford to collaborate on fundraising efforts—we are hoping to move forward with these efforts in the near future. Giving is important to my family especially in our community. We deliver toys to the Children's Medical Center in Hartford with our own children and we lead a sandwich ministry in our church where we make and deliver sandwiches monthly for the House of Bread in Hartford. With the pandemic at hand, continuing this service became a bit of a challenge, but we were committed to making it happen. As such, we delivered the products to our team, made sandwiches together via Zoom, picked up the sandwiches, and delivered them. We want to make sure that our children grow up knowing the importance of giving back and have the experiences that they hopefully carry with them into their adult life.
I have a fond memory of a fundraising event my team and I hosted as graduate students at the University of Hartford. I'm certain that these experiences at the University and many others, play a role in my desire to continue to help others.
 
How did you learn to make your own ice cream?
We started out making ice cream in our kitchen. We had a KitchenAid® ice cream maker and we would always try different recipes with an assortment of ingredients with the hope of making our own. Unfortunately, we later found that the location we had chosen was not large enough to house the production of ice cream, so we had to think of a smart alternative. One of the things that I learned in my business classes at UHart, is that you have to be flexible and strategic in your business planning. You have to make decisions that will ensure the future success of your business. After much careful thought and a lot of research, we decided to partner with another local ice cream maker, so that we could learn a lot more while growing our business. This particular partnership also allowed us to stay true to our effort in having a locally-made product where we could still have input in production and flavor ideas as we felt appropriate. Our ice cream partner is very open to our ideas for flavors. So, while we don't have the space at this time to produce in-house, we are able to collaborate in a way that feels authentic to us.
Does the way you connect with your customers and create that community feel come from your communication courses at UHart?
Absolutely! I still have books on my shelf! There are certain things I learned in my interpersonal communications classes that, to this day, have helped me to understand communication on a more in-depth level. These classes helped me to understand and appreciate different perspectives, patterns, and people in a profound way. I've found that because of this, I am much more in tune with the feelings of others which allows me to be more compassionate and empathic. I'm certain that this has resulted in more positive interactions and outcomes with family, colleagues, students, and customers. My classes at the University of Hartford definitely broadened my knowledge and understanding of these areas and I am forever grateful of the impact it has had on my life.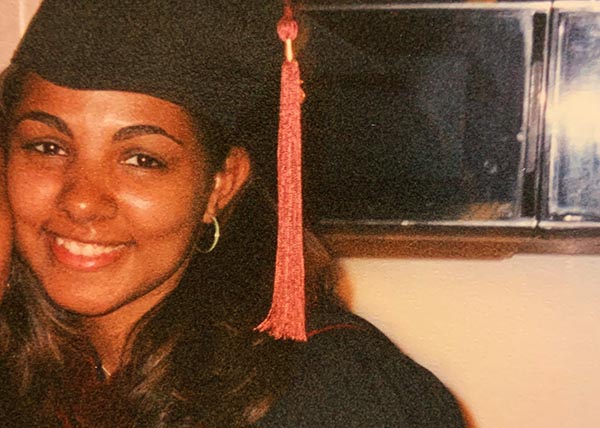 Are there any moments at UHart that stand out to you?
I loved that I felt very connected to my professors and found them very accessible. It was easy to connect with them outside of lectures and they really cared and invested time in their students beyond the classroom environment. I really appreciated the extra time they took with me and I value being a part of a community whose professors really cared about their students.
You are also a part of UHart's Women's Business Center—can you tell us more about that?
Being a part of this program makes me feel like I've come full circle with UHart. Starting out as a student to now working alongside them as a professional in my career is quite the honor. They consult me on many different areas of my business which is very helpful. I have had the opportunity to work with some students (interns) and it has been a great opportunity to share my past experiences academically and professionally with them. My hope is that it inspires them to be able to see that if they stay focused and do the work, that anything is possible.
What are your future plans?
My goal is to take Capital Ice Cream beyond just dessert. I would like to expand it to a place where we can host birthday parties, celebrations, and classes for kids. Working with children is my passion, so I would love to be able to offer affordable art, music, and self-esteem building workshops that everyone can enjoy!
Chantell Boissiere-Kelly M'05 and her husband opened up Capital Ice Cream, a premium ice cream shop in Hartford, in 2017.
Welcoming UHart community members for National Ice Cream Day in 2019.
We want to hear from you! If you have a story to share, or want to share a fellow alum's story, let us know!