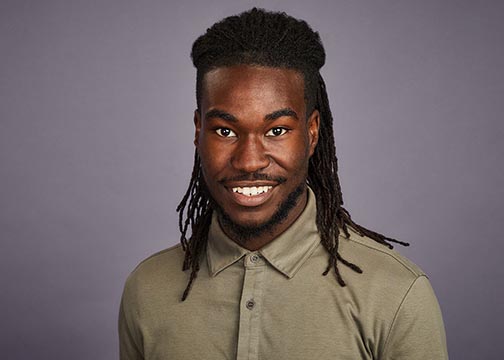 When Keirheim Gentles '17 first visited campus, he remembers "it just felt right." UHart had the class sizes he wanted and was not too close or far away from his hometown of New Haven, Conn. After taking an advanced placement psychology class in high school, Gentles decided to pursue a degree in psychology upon arriving at UHart. Along with his studies, Gentles was also a musician and continued to play his saxophone—as an extracurricular and in the UHart pep band. He was also able to write and record music in the sound studios in Dana Hall. Along with being a member of the pep band, Gentles was also a was a resident assistant (RA), in a fraternity, and in the philosophy club. He also excelled academically during his time at UHart. "I really hit my stride at UHart. It was the first time I got straight As," Gentles commented.
Anywhere I am, I consider myself to be a chameleon—you can't tell that I don't belong.
During his sophomore year, he was able to study abroad in London, England, for six months. This study abroad experience was a transformative experience for Gentles and allowed him to recognize his ability to adapt to new situations. "Anywhere I am, I consider myself to be a chameleon—you can't tell that I don't belong," he says. His adaptability has helped him successfully navigate life and become successful in his endeavors.
In 2017, Gentles traveled to California with a friend and vowed to himself that he would make a plan so he could return. During that same time, Gentles and two of his UHart classmates—Ben Moliere '17 and Hipolito "Lito" Carvalho '17—started the company A.L.I.E.N Entertainment. A.L.I.E.N was a second job and passion project for the trio until the COVID-19 pandemic hit and allowed them to focus more time on it. "The silver lining to some of the changes my partners and I have endured has been some additional time to really focus on growing our business," Gentles says. He and his partners were able to double their clients from August to September and have the capacity to continue to grow their client base.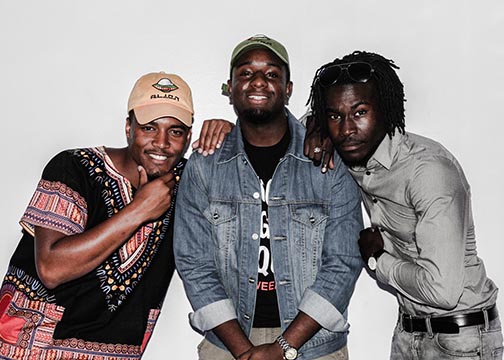 A.L.I.E.N stands for Artist Living in an Extraterrestrial Nation. It's a community for artists to network and explore ways to produce, market, and expand their art independently. The idea was born out of the company founders' experience at UHart, having access to recording studios and a chance to create and produce music throughout their years on campus. 
Moving to California provided an opportunity for Gentles to test himself. Despite moving right before the COVID-19 pandemic in November 2019, he has been able to grow and focus on his business and explore the music and acting world. "Acting has become a really exciting second love of mine and I enjoy watching where that can take me," he says. 
Keirheim's music can be found on Spotify under the name "Kreim."
We want to hear from you! If you have a story to share, or want to share a fellow alum's story, let us know!