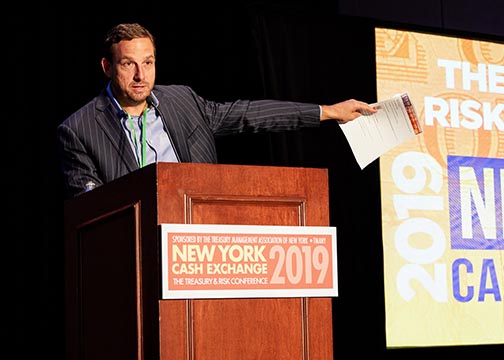 The relationships fostered during one's college years can have a tremendous impact on students' lives—David Miller '99 knows this firsthand. "Network as much as you possibly can, talk to everybody, and get along with everybody—there's no reason to not get along with everyone. Put yourself out there and don't live in a bubble," Miller advises.
UHart fit all of Miller's requirements for a university when he was applying to colleges—a school outside of his home state of Florida, a smaller school, and a program in computer engineering such as what was offered in what was then called Ward College (now CETA). When he visited UHart for the first time, he fell in love with the area and decided to enroll.
However, Miller quickly realized he did not want to go into computers. He decided to explore business courses after seeing a new entrepreneurial program advertised on campus, and not long after, realized he found his groove within the Barney School of Business. He excelled in his classes, including finance, economics, and marketing—ultimately graduating with a 4.0 GPA in his core classes and receiving the Herrmann Family Book Award, as well as the Core Course Award in the Department of Economics, Finance, Insurance, and Actuarial Science. "Studying what you are passionate about makes a big difference," says Miller.
During Miller's first year, he moved into the Regents Apartments. His new roommates were involved in the radio station on campus, WSAM, and encouraged Miller to join them—something which had a tremendous impact on Miller's overall experience at UHart. He started to disc jockey, followed by his own radio show, and eventually became the general manager of the station.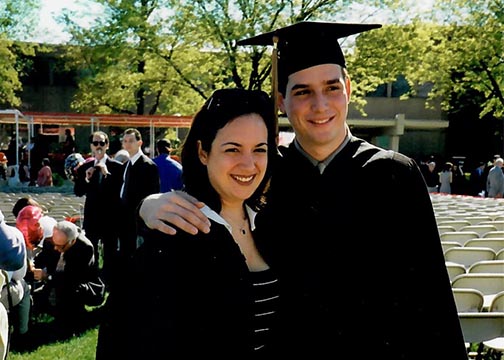 Miller shared his DJing talents beyond the University—through a connection and his experience at the radio station on campus, Miller was booked as a DJ at the Cool Moose Cafe (now The Half Door)—at the time, it was the place to go in Hartford to have fun. It was at the Cool Moose that Miller met his wife, Natalie Lafiura '99. A month after meeting, they ran into each other at the Commons on campus and have been together ever since. In February 2021, the couple celebrated 18 years of marriage.
Throughout his UHart career, Miller continued to make connections impacting his life. Miller was introduced to Peter Veru '85, who was a bond trader in New York City, and the pair became friends. Miller aspired to be a currency trader and Veru gave him a chance to spend the day at the desk with professionals. Miller would continue to visit Veru in the City for experience in the finance world.
Veru recalls, "During my career on Wall Street, I noticed many professionals would bring students in from their alma maters to learn about the business from the front lines.  There is nothing that can take the place of inspiration and motivation through real-life experience. When I founded the high-yield department at the Toronto-Dominion Bank, I realized that I was in a position to do something for someone from the University of Hartford. David obviously took to the experience and his success has only furthered my conviction that mentoring is in the interest of everyone involved."
Seeing a UHart alum successful in this role motivated Miller and helped him get started in his own career. Since then, he has worked for and with great people and takes advantage of the chance to learn from everyone around him.
"Networking is one of the most important aspects of my career—building relationships with people is so critical, and making people feel important," says Miller. He strives to create connections and trust with each and every person he conducts business with—making sure there's a mutual feeling of value and importance. These are all lessons he learned while at UHart that have stuck with him through his professional career.
We want to hear from you! If you have a story to share, or want to share a fellow alum's story, let us know!