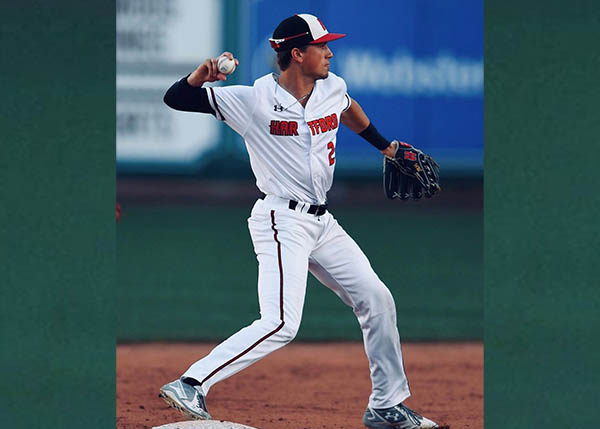 When thinking about members of the Class of 2020, perseverance comes to mind—and recent graduates like Jackson Olson '20 have done just that. Like many during the pandemic, Olson found ways to adapt, and found success along the way. Though his final semester was not one he would have hoped for, Olson remained more focused and motivated than ever, completing his UHart degree with honors. Not only was he named an America East Baseball Scholar-Athlete—the fourth in UHart's program history—but, with an impressive cumulative GPA of 3.82, he was also among the Hartford Hawks seniors who received the America East Presidential Scholar-Athlete Award.
You have to be able to adapt to any situation that is thrown at you. If you can adapt and accept a situation as it is—and enjoy the moment—you are going to be successful.
What brought you to UHart?
I was talking to a few schools for baseball, and then Coach Justin Blood called me. He is one of the best coaches in America—he is unbelievable and he knows what he is doing. He told me, "We love how you play and we think you would be an amazing fit with us." That was the first time a coach had shown that much interest in me. After the call, I told my dad, "This is it. I'm going here." I committed two weeks later.
Throughout your UHart career, you excelled in the classroom and on the field, balancing a rigorous schedule. What do you credit your success to?
I started UHart telling myself that I'm not getting a B and that was my mentality since my first year. I like to set mini goals for myself—paying attention to every assignment, big or small—but I also set a long-term goal of graduating with a high GPA. Obviously, GPA doesn't mean everything, but when you're in school, you might as well get a good one—getting a good education is the reason you're there.

The major thing that everyone is always going to talk about is time management, but it's not just that. Between practice and schoolwork, you also have to have a social life, branch out, and have fun. If you just stick to playing your sport and studying, you're going to get burnt out after your sophomore year. No one can do that schedule, so you have to find friends that you can have fun with outside your sport and school. Finding that mix is what really helped me get the grades I got and play on the field as well as I did.
How did your time at UHart further define your path?
At first, I was very timid and shy, especially my first and second years. I didn't really know how to express myself and didn't talk a lot. I realized my senior year that I want my friends—the friends at Hartford and the friends I want my entire life—to accept me for who I am. I have a very eccentric and outgoing personality that I had never shown before, and I'm grateful for such a supportive network of friends. Now, I've been able to express myself on social media, on platforms like TikTok and Instagram, and I've gotten a pretty good following there. It's fun to be yourself. It's like I have this weight lifted off my shoulders that I wish I had started as a first-year student—but I'm happy that it happened at some point along the road.
At first, people's reactions on social media were not all positive, more like, "This is just stupid…a college baseball player posting videos in your mirror on TikTok." But I realized I liked it—I liked creating content. Now I'm gaining traction on both Instagram and TikTok and that's where I feel my path is going—especially if I don't play professional baseball.
What was your most memorable experience?
The NCAA watch party. All of us had worked so hard and that was the first time we were on a pedestal. It was also cool for the players who came before us to see UHart on TV. Seeing that made it feel real—I thought, "We are in the NCAA tournament!" We had a memorable season, but that set the tone for the history of Hartford baseball.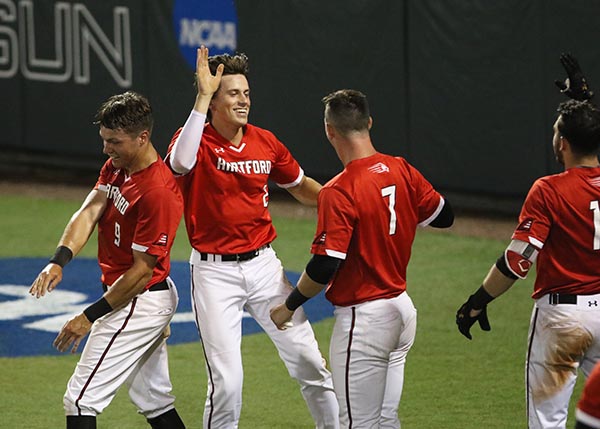 What was it like being a part of Hartford Baseball history and winning the America East championship?
That was unbelievable. That whole season was magical. We started off with a really tough record playing the southern teams, along with Oregon State, who had won the national championship that year. But the last three weeks of the season was a dream to everyone—we went into each game saying, "We're not losing this game." When we found out we were going to play at Stetson University in the NCAA regional tournament during our watch party, we all went crazy! The regional didn't go how we wanted, but we stayed pretty close in the games against South Florida and Stetson. It was an exciting ride and to be able to be the first ones to do that in Hartford Baseball history was what made it all so magical.
Having your final season canceled due to COVID-19 must have been difficult. What was your reaction?

That whole week was weird and we didn't really have time to think about it with so much going on. When it was canceled, my teammates and I just looked at each other in disbelief. It sunk in later that night when all of us were together and we had to leave the next day. We all thought we were done with college sports and all the upperclassmen cried—it was pretty emotional.
As I was getting ready to leave campus, I thought, "What's next…this happened but what am I going to do? What is my next step?" I think a lot of people didn't ask themselves that, sulking for a while, and setting the tone for their entire quarantine. I told myself, "No. I'm going to make something good out of this."
So, what is next for you?
My main goal is to play professional baseball. I also want to try doing something with social media and sports—being a social media manager for the MLB would be awesome. I honestly hate planning too far ahead—I believe in living in the moment. That's how I live my life.

In terms of a job, I want to be somewhere I am happy and living my best life—I think that's going to be in content creation and social media. Lately, I've been doing lives on social media—I can talk for hours and have so much to say, so I've thought about starting a podcast and a YouTube channel. The podcast would be more about motivating people, overcoming obstacles, and how to adapt, especially in the times that we are in right now. It's about showing who you are and brightening people's day and that's what I try to do. I try to make people's lives better—people have said that I have saved their life through social media and that my videos enlightened their day.

What advice do you have for current UHart students?
A year ago, I would have said to have fun, work hard, and be your best self. Today, there is just one word: adapt. You have to be able to adapt to any situation that is thrown at you. If you can adapt and accept a situation as it is and enjoy the moment, you are going to be successful.
We want to hear from you! If you have a story to share, or want to share a fellow alum's story, let us know!