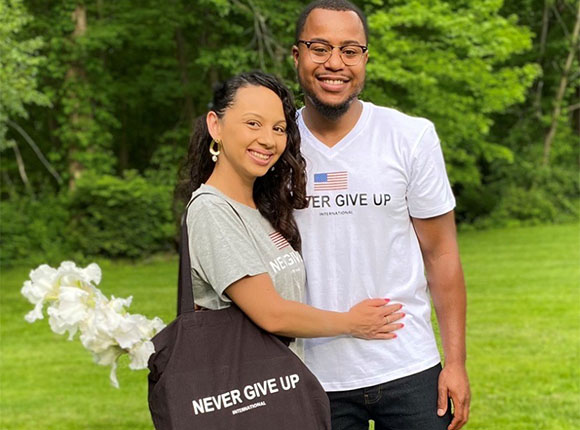 Jonathan (Calvin) Ortique, '11, is a born problem solver. His degree in Mechanical Engineering Technology serves him well when tackling complex issues at the CT Department of Transportation Office of Rail. But his passion to help people reaches far beyond his day job. As the founder of Never Give Up International, Ortique is up for the challenge of helping people in marginalized communities in South Africa to realize their full potential.
What was your major and why did you decide to study it?
 
I graduated from the University of Hartford with a Bachelor of Science in Mechanical Engineering Technology.  I chose this degree program because I have always been a problem solver and my favorite subjects in grade school were Math and Science.   
 
Were you involved in any clubs or organizations on campus?   
 
While attending UHart, I was involved in the Black Student Union (BSU), formerly Brothers and Sisters United, and since my freshman year, I have been a member of Alpha Sigma Phi Fraternity.
Where do you currently work? 
 
I currently work for the Connecticut Department of Transportation in the Bureau of Public Transportation, Office of Rail, as Transportation Rail Officer.
Can you share more about Never Give Up International? What is this initiative, how did it come to be, and why should the University of Hartford community connect with this project?   
 
Never Give Up International was founded by myself and a colleague in South Africa in response to the COVID-19 pandemic.  I am the Director/Founder of the 501(c)3 international relief organization here in the US.  I was inspired by the resilience of the people of South Africa, despite economic turmoil—particularly for small business owners—caused by strict lockdowns. In very hopeless times, the magnitude of which I have never personally had to endure, I was inspired to be a beacon of encouragement to those who were thinking about giving up. We began by using social media to reach the masses with encouraging inspirational content, shared stories, and free marketing for local vendors who continue to fight to make a living.
 
After seeing an overwhelming response, we founded non-profit organizations in both South Africa and the US to provide programs and resources to uplift communities, starting with the youth in the Eastern Cape of South Africa. We partner with primary schools in underserved communities in Gqeberha (formerly known as Port Elizabeth) to provide empowerment and skills development programs to youth. We are currently raising funds to build a pre-school in a severely impoverished shack community with no infrastructure, referred to as Bayland, where public school is not available for children until the age of seven. This school will provide jobs to local unemployed teachers in the community and enable women in the community to enter the workforce well before their children reach public school age. 
How did UHart prepare you for your career and/or work with Never Give Up International?  
 
Attending the University of Hartford empowered me to step out of my comfort zone and realize that it is possible to create real change in the world around me. 
 
I credit my Capstone project professor, Dr. Ivana Milanovic, for pushing me to overcome my fear of public speaking. Since graduating, I was invited to present our capstone project research to top executives at Taylor Guitar in La Jolla, CA. I was also selected for the American Public Transportation Association (APTA) Emerging Leaders Program, which is a national professional development program for top public transportation professionals in the US. This opened the door to presenting my research on Recruiting and Retaining Bus Drivers to the APTA Workforce Development Committee.
 
If it weren't for the University of Hartford, I wouldn't have had the confidence and leadership abilities necessary to start an international relief organization that has impacted thousands of people in North America and Africa. 
 
It was the co-op program opportunity at UHart that pushed me to intern for the Connecticut Department of Transportation which ultimately led to my current position. The list goes on. 
 
What is one thing you love about UHart?   
 
One thing I love about the University of Hartford is the diversity of the people that attend the school. I was very fortunate to meet people of so many different ethnic backgrounds which exposed me to different perspectives and contributed to the way that I think and generate ideas. I am happy to learn that the school has grown even more diverse since I graduated in 2011. 
We want to hear from you! If you have a story to share, or want to share a fellow alum's story, let us know!