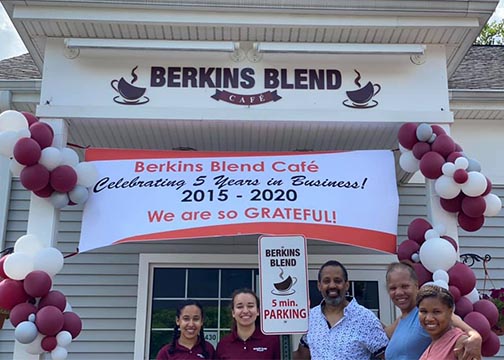 Tell us about your business?
We own a gourmet internet café. Berkins Blend Café was founded on Juneteenth (June 19) in 2015. We explored several businesses prior to landing on a coffee shop. We wanted to create a space where people could stop in and really feel like they were part of our family.
Our community is our family!  
Why did you choose to open your business and why this specific type of industry? 
Doug and I were laid off from our corporate jobs the exact same week in November 2014. Doug (the quitter) was done with corporate America and really wanted to open his open business. He picked coffee—he's quite a coffee snob! 
How did your time at UHart impact your knowledge and decision around opening your own business?
I received my master's degree in organizational behavior and knew how important it was to create an organization where all people who encountered us felt safe.
Do you have any advice for new entrepreneurs? 
New entrepreneurs should not be afraid to make mistakes and be willing to ask for help. The entrepreneurial community is very supportive!  
More about Hawkins and Berkins Blend Cafe:
Andréa Hawkins met her husband, Doug Barber, when they both were laid off from their jobs in corporate America during the same week in late 2014. In that pause was great opportunity. Hawkins reflected, "Organizations are not buildings and technology; organizations are people. What would make people want to get up and go to work in the morning?"
Hawkins and Barber decided to pool their experience—combining their names Bar(ber) and Hawk(kins)—and opened a coffee shop, Berkins Blend Café. Just as the coffee shop opened its doors, Hawkins accepted a job offer to return to work in the business world and she has been balancing a fast-paced, full-time career in consulting with growing Berkins Blend Cafés ever since.
What is your "go-to" drink at Berkins Blend Café?
My favorite is a Chai tea latte with oat milk, although if it's a hot day, I find an Italian soda refreshing.
How is Berkins Blend Café continue to serve as a place to bring community together, especially during the pandemic?
Fortunately, we have our patio space open, and we are at half capacity inside, so we can continue to serve our customers safely and really enjoy being able to create the community and connections that people crave. We've always viewed the business more as a social enterprise than a coffee shop and this time really accentuates the need for those businesses in our community.
In addition to the coffee shops, you are the founding partner of Leading Culture Solutions. Can you talk a little bit about your work there?
Absolutely. I'm really enjoying my work in this space and I have been doing quite a bit of strategic planning and culture transformation work focused on diversity, equity, and inclusion lately. I developed a proprietary model, the 4 L©️ Model, which provides a roadmap, activities, learning, and outcomes to help organizations make progress on their cultural competency path. I've been sharing this quote by Alvin Toffler with all of my clients, "The illiterate of the 21st century are not those who cannot read or write, but those who cannot learn, unlearn, and relearn." I believe there is a newfound awareness of social and racial inequities. I want to help people become more aware of how to become allies and affect positive change in our communities and the world.
We want to hear from you! If you have a story to share, or want to share a fellow alum's story, let us know!