The Emeriti Association of the University of Hartford is comprised of retired faculty who have been granted emeritus status by the Board of Regents and administrators who have been granted membership by the Emeriti Association.
Emeriti Association members have a relationship that spans over fifty years with UHart. Along with the memory they carry, comes a commitment by our members to strive to keep the University financially healthy, interesting, knowledgeable, able to handle the intricacies of a challenging world, and dedication to the well-being of our students and the contexts in which we live. While many students will pass through their time here without a glance backward, others will treasure their association with us for a lifetime, assured that some of us are still here, upholding the standards of the University and its continuity. We had a fruitful relationship with many of our students: we remember them and they often remember us. We are a resource that can be available for student recruitment, contact with alumni, and development of community constituents.
Each year we provide scholarships for worthy UHart undergraduate students and encourage students to apply.
October 22, 2020 Plenary Meeting
Our next meeting is scheduled for October 22, 2020 at 10:00 a.m. via WebEx. You will receive an invitation to the meeting approximately 1 week before the session. Sean Parke will present "An Introduction to Archives and Special Collections."
2020 Scholarships
The Emeriti Scholarship Review Committee selected finalists for awards and they were approved by the Executive Committee.
Margaret Hofbauer, a Physical Therapy major, will receive the Walter Harrison Scholarship. She has a GPA of 4.0 and will be a Senior in the fall.
Juli Dajci, a Mathematics, Psychology, and Politics and Government major, will receive the Humphrey Tonkin Scholarship. Juli has a 4.0 GPA and will be a Senior in the fall. Juli was previously awarded an Emeriti Scholarship for the current academic year.
Kyleigh Olivier, a Fine Arts Dance major, will receive an Emeriti scholarship. Kyleigh has 3.83 GPA and will be a Junior in the fall.
Plenary Meeting October 24, 2019
Molly Polk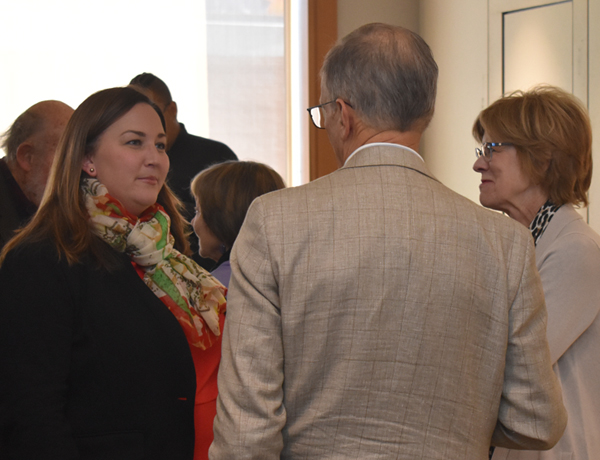 Molly Polk, Vice President Marketing and Enrollment, presented detailed information about initiatives being undertaken to address the issues and threats related to marketing and enrollment in higher education today. She presented the many new UHart efforts to boost enrollment and shared statistics about where students are coming from both within the US and from other countries.
The website has been redone and launched (Link to the new UHart site).
The new UHart magazine is exciting and has been receiving good reviews. (Link to the magazine site)
2019 Scholarship Recipients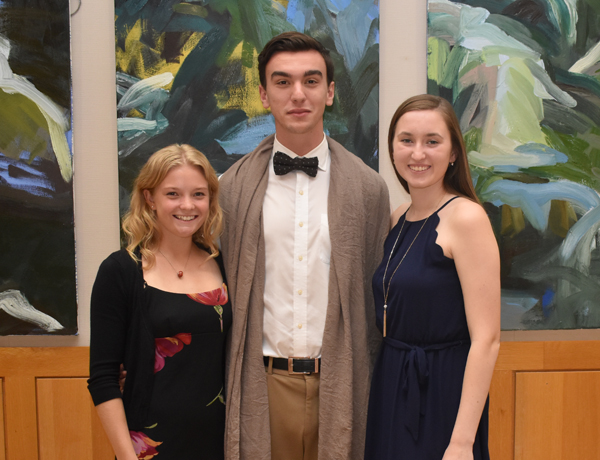 From left to right:
Walter Harrison Emeriti Scholarship - Alesha L. Heacock
Third year in BS/MS program, ENHP, Health Sciences Prosthetics and Orthotics, 4.00 GPA

Humphry Tonkin Emeriti Scholarship - Juli Dajci
Sophomore, Arts and Sciences, Politics and Government, Psychology, Mathematics, 4.00 GPA
Emeriti Scholarship - Quimby Wechter
Junior, ENHP, Health Sciences Pre-PT, 4.00 GPA
Fred Sweitzer, Provost and the business meeting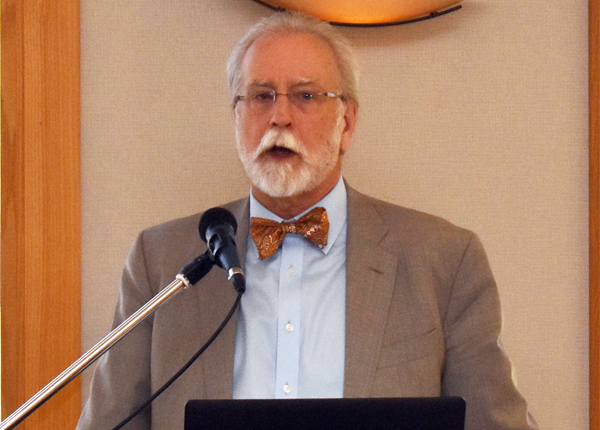 Provost Sweitzer talked about who is coming to college, market fluxuations, what teaching in the 21st century means for both students and faculty and the importance of interaction. What is needed is coherence - students should always understand what they are learning, why they are learning it and how it connects to career, civic and other outcomes. Goals being worked on are: continue building and revising program portfolio; improve recruitment and admissions processes at the graduate level; improve curriculum at the course, program, college, and university levels; promote and support excellence in teaching and learning; expand and clarify faculty roles; recruit and retain faculty and staff; refine annual faculty evaluations.
John Schloss, Nominating Committee Chair, thanked Bob Wallace for his many years of service as the leader of the Emeriti Association. John then led the election of officers. Leo Smith is our new Chair. Ralph Zegarelli is our Vice Chair. Mary Dowst continues as our Treasurer. Paddy Cairns continues as our Secretary.
2019 Annual Reception for Scholarship Awardees and Donors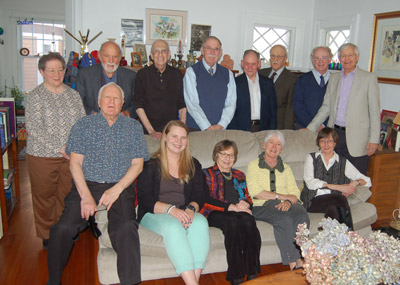 On April 10, 2019, Regina Miller hosted her annual reception for scholarship awardees and donors. 2018 scholarship awardees Samantha Chasse and Quimby Wechter attended. Leo Smith provided a status on Emeriti scholarships noting that: we had 36 applicants for the three $2,000 awards; as of 2020, at least one reference must be from a faculty member of UHart and for the first time Quimby Wechter will be a repeat awardee.
Please support the Emeriti Scholarship Fund
One of the most rewarding undertakings as an Association since our founding is our Emeriti Scholarship Program. Our student awardees are both dedicated scholars and contributors to the University community and beyond.