Youth Chamber Music
Chamber music performance is among the most enjoyable experiences musicians can have. Participants are consistently challenged by repertoire, part-interdependence, and musicianship skill development in a healthy, nurturing environment.
The chamber music program at HCD is open to string, piano, woodwind, and brass students. Ensembles are organized by interest, age, and ability and are coached by our exceptional faculty.
Performances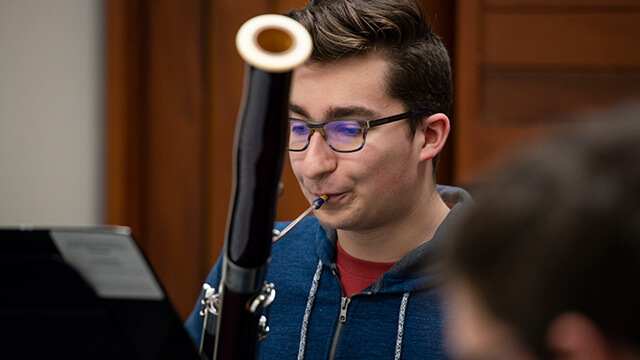 Instrumental ensembles meet for at least 24 coachings throughout the year and perform in recitals in the winter and spring. Outreach performances are available based on coach recommendation and availability.
Honors Program
Annually, up to 3 high school level chamber ensembles are selected as Honors Ensembles. Groups include a woodwind quintet, brass quintet, and string quartet, but may also include other ensembles. Honorees must demonstrate a high level of musicality and dedication in their chamber ensemble work.
The ensemble must be performing high-level literature.
The ensemble must have completed weekly coaching sessions and be recommended by their coach.
The ensemble must have successfully performed at the semester-end School Chamber Music Recital.
The Ensemble must maintain a high level of performance throughout the year, both before and after Honors status is awarded.
Preference will be given to those ensembles that have participated in additional performance(s) beyond the required recitals and held weekly rehearsals in addition to weekly meetings with their coach.Any group that has not performed on Community Division recitals during the fall and spring semester will not be considered for Honors status.
Prior to auditioning for Honors status, ensembles are required to have performed a minimum of three additional performances outside of The Hartt School as organized by the Community Division to promote the school. Ensembles with only two performances will be considered if they have scheduled their third performance.
Any current chamber ensemble that is performing high-level literature will be eligible to seek Honors status. Students receive tuition reimbursement upon successfully completing the aforementioned requirements.
Each ensemble must perform two contrasting movements of current repertoire not exceeding 15 minutes of performance time.
Tuition
| Full-session tuition | 2 members | 3–5 members | 6+ members |
| --- | --- | --- | --- |
| HCD private-lesson students | $675 | $526.50 | $290 |
| All other students | $675 | $675 | $345 |
Adult Chamber Music
The chamber music program has expanded to include players of Baroque instruments. All adult musicians of the community are invited regardless of their skill level or experience. Everyone is welcome!
Open House
Join us on Saturday, February 22 from 3–5 p.m. for the Adult Chamber Music Open House! Attendees will have the opportunity to view a performance by two current adult chamber groups, followed by the chance to split into their own groups for a sight-reading activity. RSVP required as music will be selected based on attendees.
RSVP Deadline: Wednesday, February 12
University of Hartford
Fuller Music Center
Room 21
200 Bloomfield Ave
West Hartford, CT 06117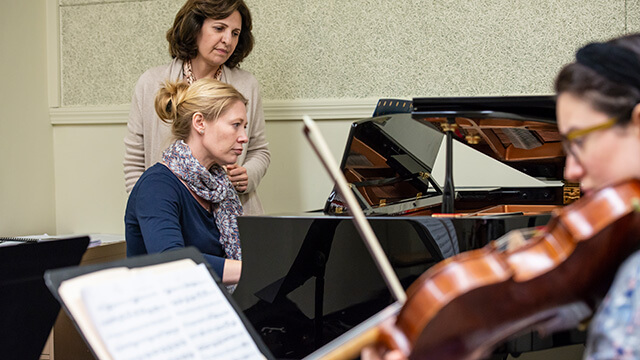 Placement
Participants will be placed in a group that matches their ability and interests. A placement meeting will be scheduled and includes playing for the program coordinator and other chamber music faculty as appropriate.

To schedule a chamber placement meeting, please contact the office at 860.768.4451 or email harttcomm@hartford.edu.
Tuition
| Full-session tuition | 2-members | 3–5 members | 6+ members |
| --- | --- | --- | --- |
| HCD private lesson students | $345 | $270 | $155 |
| All other students | $345 | $345 | $180 |