The Hartt School Community Division offers summer music programs for students of all ages, from infancy to adulthood. 
HCD also offers year-round private music lessons at both our main campus and Simsmore Square locations. Visit the private lessons page to browse our private lesson offerings.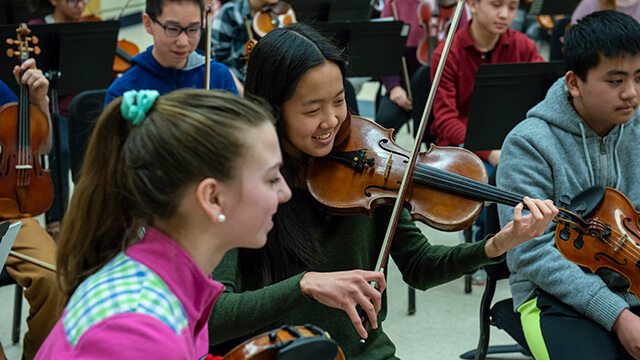 At HCD, we offer the following summer music programs for various age groups: 
Hartt Suzuki Institute: student and teacher programs available 
American Saxophone Academy
Music Industry 
Young Composers Project 
Summer Harp Strum
Learn more about each opportunity below. 
Hartt Suzuki Student Institute
The Hartt Suzuki Student Institute will continue its legacy by offering an exciting in person program for summer 2022 on the University of Hartford's campus, West Hartford, Connecticut. The institute is designed for violin, viola, cello, guitar, and piano students who are currently studying with a Suzuki-trained teacher. Students must be accompanied by a parent/guardian throughout the course of the institute.
American Saxophone Academy
The American Saxophone Academy was designed by five American artist-teachers with the goal of providing an unparalleled experience for advanced saxophonists.
Music Industry
Rising sophomores through recently graduated seniors in high school will engage in a series of workshops that focus on Songwriting, Music Production, Recording Techniques, and Music Business led by Hartt faculty in the Music Production & Technology Department, the Music and Performing Arts Management Department, and our guest artist in residence.
Bach with Kwak Summer Program
Suzuki violinists - come spend four weeks in a group class setting working on various Bach compositions in the Suzuki books both in solo and group format. The session will culminate in two performances of your Bach works at Promisek at Three Rivers Farm and Gardens in Bridgewater, CT.
Young Composers Project: Summer Edition
In Person: July 18-22; 9:30 a.m.–4:30 p.m. 
This intensive program is designed for students in grades 7–12 who are passionate about writing music. Students will learn composition techniques, approaches to media scoring while actively developing music for film, TV, and/or video game scenes. Students will share a sampling of their projects in a presentation for family and friends on the last day of the program.
Summer Harp Strum
In Person: July 25 - 30, 2022; Half or Full Day Options
Join fellow harp students of all ages and levels during this fun half-day or full-day program at Hartt! Summer Harp Strum at Hartt will feature warm-ups; workshops in theory, harp techniques, and harp care; private lesson breakouts; and, best of all, harp ensemble! It is a wonderful way to keep your harp skills fresh and on the move during the summer, all while learning, having fun and making new harp friends. A Saturday morning concert of harp ensemble, chamber pieces and solo performances will round out our week, with goodbyes and a midday departure. The surrounding Farmington Valley region offers non-local families an ideal opportunity to explore this gorgeous part of Connecticut while their harp kids learn in class. Harp instructors Susan Knapp Thomas, Alyssa Hall and Amanda Evans will lead the group in classroom, private and breakout session formats.
Questions?
We encourage you to contact our administrative team with questions by emailing harttcomm@hartford.edu or calling 860-768-4451.