UHart Welcomes the Class of 2023
More Than 1,400 New Students Arrive on Campus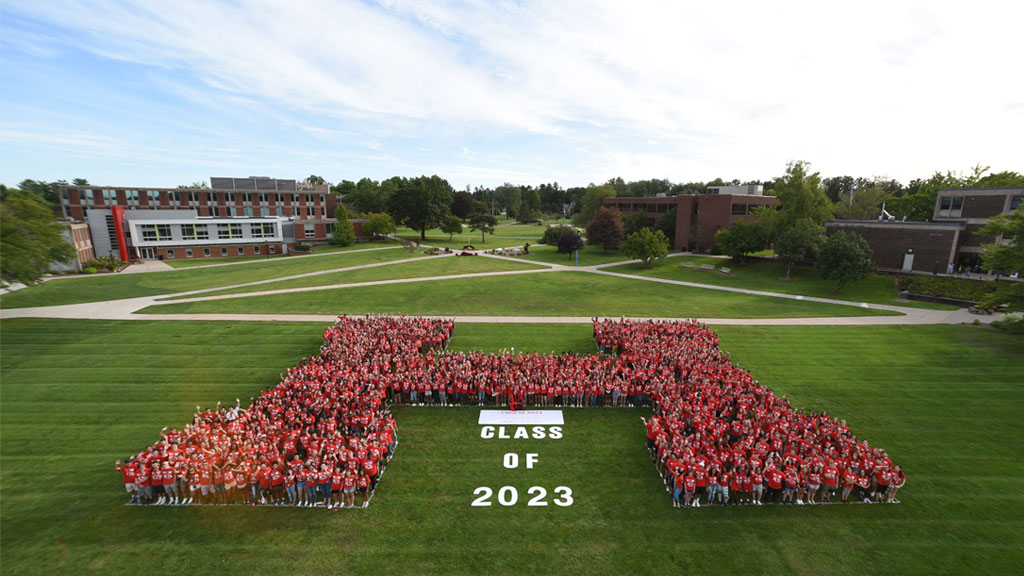 "It's going to be an incredible journey and we are so thrilled you have chosen the University of Hartford!"

That was the message University President Greg Woodward shared with 1,430 new students who filled UHart's Sports Center for their convocation on Saturday, Aug. 31. The ceremony marked the University's official welcome to the Class of 2023. They come from 34 states and 25 countries. Their most popular majors are nursing, psychology, physical therapy, and mechanical engineering.
"We represent hundreds of enthusiastic faculty and staff who are prepared to help you channel your passions, guide your purpose, and most importantly, challenge you to reach your full potential. They will become your teachers and your mentors, and they will have a profound impact on your lives. You will have a profound impact on us as well, by bringing fresh ideas, approaching problems in new ways, asking good questions, and coming together to make the world a better place."
Gregory Woodward, University of Hartford President
Several upper-class students who are already making an impact spoke to their new classmates, sharing advice and lessons from their years at UHart.

Gabriela Gamory '21, a biomedical engineering major in the College of Engineering, Technology, and Architecture, talked about her summer research internship. She contributed to the development of technology to minimize the loss of function after Achilles tendon injuries, and to prevent these injuries from happening in the first place.
"The special thing about UHart is that every single person on this campus wants to see you succeed," Gabriela explained. "Sometimes you may not recognize what you are capable of, but I assure you that your peers and professors will remind you that you have what it takes to be successful."
"Behind every accomplishment during my time at UHart was a professor or advisor that supported me," Olaleye Onikuyide '20 said. "Show up to class, even at 8 a.m., and don't just talk to an advisor when it is time to make your schedule...My professors prepared me to do work in the real world by engaging us intellectually." Olaleye, a double major in economics and politics and government says these connections helped him earn internships at Hinkley and The Hartford.

After Convocation, the Class of 2023 formed a giant H on the campus lawn, completing one of UHart's most beloved traditions.