College of Education, Nursing and Health Professions
BSN in Nursing
Our direct-entry Bachelor of Science in Nursing (BSN) program provides you with the classroom, laboratory and hands-on clinical experience you need to become a highly skilled, compassionate caregiver. After completing the program, you'll be prepared to take the national exam for licensure as a registered nurse (NCLEX-RN).
About the Major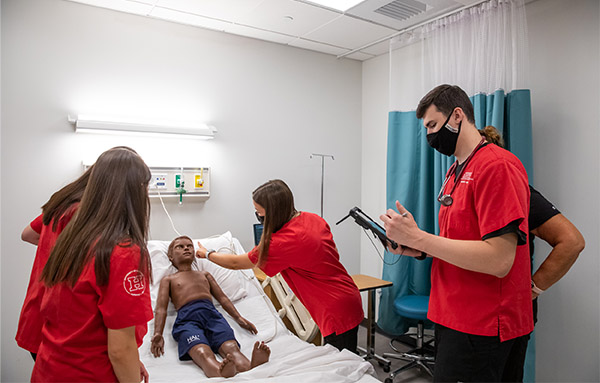 In our four-year bachelor's program, you will:
Work closely with expert nurse educators

 

to learn

 

evidence-based practices

 

in health promotion, illness prevention, disease management, and care coordination.
Strengthen your leadership skills

 

by working with teams across health care disciplines to improve patient care outcomes.
Be prepared to deliver patient care in a

 

compassionate and ethical manner

 

that respects individual differences.
Focused on student success
Our BSN program focuses on student support to prepare future nurse leaders and foster your personal and professional development. Hear from nursing student Gema Granados '23 and our nursing faculty in this short video.
Our new nursing labs
The Francis X. and Nancy Hursey Center for Advanced Engineering and Health Professions opened in Fall 2021 and offers our students exciting simulated patient care experiences in state-of-the-art labs. Take a look at our beautiful new facilities!
The Hursey Center's immersive simulation suite simulates a hospital floor, with four rooms for practicing different health care scenarios - intensive care, obstetric, pediatric and medical/surgical. The suite also has an operational nurse's station and communication system.
Another view of the immersive simulation suite shows our pediatric simulation room at the right. The suite has four adjacent debriefing rooms where faculty and students can review and discuss their simulation activities.
In the simulation rooms, nursing instructors can program our high-fidelity manikins to simulate a variety of realistic health care situations. Functioning headwalls provide oxygen, air and suction. The manikins help students practice their nursing skills, clinical decision making, and critical thinking skills which build confidence in a safe learning environment.
The obstetric simulation room has the industry's best birthing manikin, "Victoria," who gives birth and can simulate different birthing scenarios from simple deliveries to complex, including umbilical cord complications, shoulder dystocia and cesarean section.
The immersive simulation suite includes six outpatient exam rooms that simulate a medical office environment, providing students with opportunities for triaging and handling multiple patients simultaneously.
The bedside skills lab has eight beds and four manikins used to practice skills such as performing a health assessment, monitoring heart rate and blood pressure, inserting IVs, and administering medication.
The bedside skills lab has manikins that breathe, have variable heart rates, measurable blood pressure, and palpable pulses. The manikins also have heart and lung sounds that can be set for any real-life patient presentation.
Task training manikins like these are used for teaching skills such as infusion, withdrawal, care, securement and dressing of a variety of access lines, IVs and catheters.
Students practice administering IVs in the bedside skills lab with pumps that are currently in use in area health care facilities.
The home health care suite includes a working kitchen and a model bathroom. Students practice helping patients with tasks like cooking, doing laundry, and getting in and out of the shower. This suite is used for inter-professional education with our nursing, physical therapy, occupational therapy, and education students.
Clinical Placements
Our program provides clinical placements at the leading hospitals and healthcare facilities in the Greater Hartford area, including:
Hartford Healthcare
Hartford Hospital
Eastern Connecticut Health Network - Manchester Memorial Hospital
Gaylord Specialty Care/Gaylord Hospital
Hospital of Central Connecticut - New Britain General Hospital
McLean Care
Middlesex Hospital
Midstate Medical Center
St. Francis Hospital/Trinity Health of New England
Jillian Caldarola
BS in Nursing, '23
For Jillian, practicing simulations in the Hursey Center labs and her clinical placements have been rewarding experiences in the nursing program. "Working through simulations in the lab has helped me feel prepared to work with patients in the hospitals and increased my confidence in becoming a nurse," she says.
"I knew the University of Hartford was the place for me when I recognized the amazing community the first time I visited. After three years, there continue to be people around campus that make it feel like home."
Career Outlook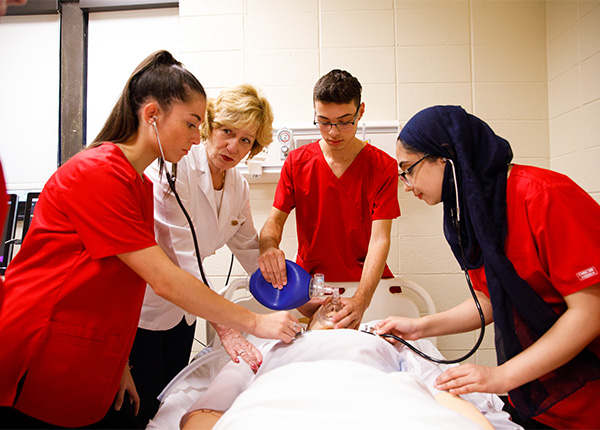 Nurses are in high demand. The Bureau of Labor Statistics projects 200,000 new job openings for registered nurses every year to 2030. In addition, more employers are requiring or strongly preferring nurses with a BSN degree.
Degree Requirements
The BSN is a minimum of 121 credits. A sample of courses is listed below; view the full curriculum and course descriptions in the course catalog.
All first-year nursing students must meet the following requirements to begin nursing coursework in the second year of the nursing curriculum:
Complete the following first-year courses that are pre-requisites to nursing coursework: BIO 122, CH 114, CH 136, BIO 212, and PSY 105, with a grade of C+ or better in each course and earn a minimum cumulative grade point average (GPA) of 2.67.
Students may repeat a single pre-requisite course in the first year of the BSN Major once to achieve the required grade/s of C+ in each course.
Repeated course/s must be taken in the next term offered. No more than two courses can be repeated.
Students must have a cumulative GPA of 2.67 prior to beginning sophomore year.
NUR 201 - Foundations of Nursing Practice - 6 credit(s)
NUR 202 - Nursing: Professionalism & Practice - 2 credit(s)
NUR 205 - Health & Physical Assessment - 4 credit(s)
NUR 210 - Pharmacotherapeutics - 3 credit(s)
NUR 215 -  Pathophysiology -  3 credit(s)
NUR 301 - Adult & Older Adult Health I - 7 credit(s)
NUR 315 - Introduction to Healthcare Informatics - 3 credit(s)
NUR 334W - Seminar in Nursing Research - 3 credit(s)
NUR 360P - Psychosocial Issues in Nursing Practice - 6 credit(s)
NUR 370 - Maternal/Child Nursing - 6 credit(s)
NUR 433P - Population Health Nursing - 5 credit(s)
NUR 455 - Leadership & Management of Care - 6 credit(s)
NUR 465 - Prep for Licensure & Practice - 2 credit(s)
NUR 471 - Adult & Older Adult Health II - 6 credits(s)
NUR 482W - Nursing Capstone Seminar - 2 credit(s)
BIO 122 - Introductory Biology I - 4 credit(s)
BIO 212 - Human Anatomy and Physiology I - 4 credit(s)
BIO 213 - Human Anatomy and Physiology II -  4 credit(s)
CH 114 - Principles of Chemistry I - 4 credit(s)
CH 136 - Principles of Chemistry II - 4 credit(s)
HS 315 - Human Nutrition - 3 credit(s)
UIST University Interdisciplinary Studies: Natural, Scientific, and Technological Exploration elective 3-4 credit(s)
Basic Requirements (13 credits)
WRT 110W - Academic Writing I - 3 credit(s)
WRT 111W - Academic Writing II - 3 credit(s)
HS 111 - Healthcare Concepts - 3 credit(s)
M 114 - Everyday Statistics - 3 credit(s)
US 150 - First Year Success Seminar - 1 credit(s)
Humanities and Arts (9 credits)
CMM 110 - Communication in the Digital Age - 3 credit(s) OR
CMM 111 - Business and Professional Communication - 3 credit(s) OR
CMM 115 - Improving Communication Skills 3 credit(s)
UISA University Interdisciplinary Studies: Artistic and Creative Expression - 3 credit(s)
UISC University Interdisciplinary Studies: Cultural and Historical Interpretation - 3 credit(s)
Social Sciences (9 credits)
PSY 105 - Introduction to Psychology - 3 credit(s)
PSY 132 - Human Development - 3 credit(s)
UISS University Interdisciplinary Studies: Social Context and Change - 3 credit(s)
Admission Requirements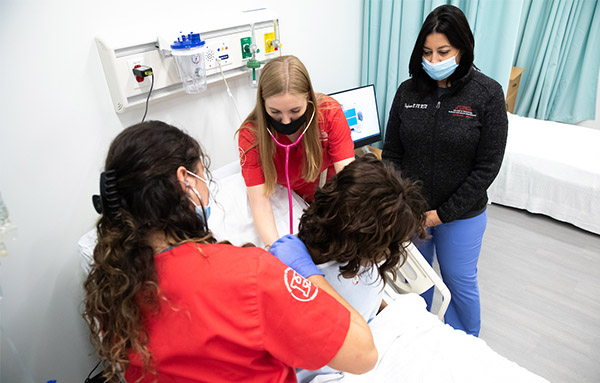 Successful first-year applicants to the BSN program should complete a college prep high school curriculum that includes:
English - 4 years
Social studies - 3 years
Mathematics - 3 years
Foreign language - 2 years
Lab science - 3 years including:
Biology (required)
Chemistry (required)
And one of the following:

Anatomy
Physiology
Earth Science
AP Biology
Submission of SAT or ACT scores is optional.
Applicants should submit at least one letter of recommendation from a teacher or high school counselor.
Transfer Admission
Transfer students are admitted to the University of Hartford Bachelor of Science in Nursing program on a competitive, space-available basis. Minimum criteria include a 3.0 cumulative GPA (on a 4.0 scale) and completed coursework in biology and chemistry. Due to the competitive nature of the program, seats are limited. 
Additional Information
Mission
To prepare future nurse leaders and advance the level of education of registered nurses while fostering their professional and personal development.
 
Philosophy
We emphasize quality teaching complemented by scholarly and creative expression, clinical expertise, dedicated community service, and service to the profession of nursing. We are dedicated to the preparation of persons who enrich the nursing profession by responding flexibly and creatively to both professional and societal issues.
We believe that students seek relevant learning experiences grounded in experiential learning and have a clear commitment to the identity of the professional nurse. We believe that the best learning takes place in an environment of support where students are respected, and their life experiences honored. The ideal education setting is a learning community that allows student to realize their full potential as reflective, active, and life-long learners. Because we are committed to the idea that active involvement is essential to effective learning, we foster an environment of interaction among students and faculty. We expect all students to participate in their own learning and to facilitate the learning of others by participating in collaborative learning groups and partnerships, respecting each other's opinions and questions, and by establishing a commitment to learning and critical and creative thinking. We strive to create a global community of scholarly caring.
At the completion of the program, the students will be able to:
Apply evidence-based nursing knowledge as well as knowledge from other disciplines to inform clinical judgment and practice.
Apply principles of health promotion, disease prevention, and management in diverse settings by providing developmentally and culturally appropriate, respectful, just, compassionate, and holistic care to individuals, families, communities and populations.
Demonstrate interprofessional collegiality to optimize health outcomes for clients across the lifespan.
Exhibit professional values and standards that promote lifelong learning, personal growth, self-reflection and the development of leadership behaviors.
Contribute to a culture of safety by participating in clinical decision-making and the implementation of safe, effective and high-quality nursing care to minimize the risk of harm to clients and providers through both system effectiveness and individual performance.
Utilize principles of information and communication technologies to inform delivery and documentation of care, comply with regulatory standards and drive clinical and organizational decision-making.
Advocate within the complex system of healthcare to address social determinants of health and ethical distribution of resources to provide safe, quality, equitable care to diverse populations.
Click here to read the Core Performance Standards required for the nursing major.
Please visit the Tuition and Fees page for the most up-to-date information on undergraduate tuition and fees.
Nursing students will incur additional fees including but not limited to a clinical program fee, and a fee to support assessment of learning and preparation for the National Council Licensure Exam for Registered Nurses (NCLEX-RN®). The clinical program fee is assessed on a per-semester basis to cover costs related to clinical rotations. Additional expenses specific to the nursing program relate to essential requirements of the program such as clinical uniforms and supplies, health care requirements, immunization, toxicology screening, and criminal background checks.
Accreditation
Our Bachelor of Science in Nursing program is approved by the State of Connecticut Board of Examiners for Nursing.

The baccalaureate and master's degree programs in nursing at the University of Hartford College of Education, Nursing and Health Professions are accredited by the Commission on Collegiate Nursing Education (CCNE), 655 K Street NW, Suite 750, Washington, DC 20001; telephone: 202.887.6791. Information about the accreditation process is available at CCNE.
The BSN Program at the University of Hartford meets the state education requirements for a Registered Nurse license in the state of Connecticut. In accordance with the U.S.. Department of Education's Regulation 34 CFR 688.43(a)(5)(v), please refer to The Board of Nursing Professional Licensure Requirement page here. Select Connecticut on the dropdown menu for full licensure requirements in Connecticut.
The University has not determined if the baccalaureate registered nurse program meets the state education requirements in any other state, any U.S. Territory, or the District of Columbia. Applicants should investigate licensure requirements prior to accepting an offer of admission to the nursing program.
The licensure boards in each state are responsible for establishing the requirements for their state. Students who intend to seek license in any state other than Connecticut need to consult with the state professional licensing board.  The state professional licensing boards make the decision on whether an individual is eligible for licensure based on the rules and regulations in place at the time the individual submits their application for licensure.
Websites for each State Regulatory Agency for Nursing can be found at: www.ncsbn.org/14730