College of Education, Nursing and Health Professions
MSN in Nursing
Open the door to more career opportunities with our Master of Science in Nursing (MSN) program.
The fully online MSN program prepares nurses for advanced roles in nursing education, nursing management, or public health nursing.
The 31-credit MSN is a year-round program, and you can begin study at the start of any session (fall, spring or summer). The majority of our students are working full-time and pursuing their degrees on a part-time basis.
Ranked a "Best Online Master's in Nursing for 2023" by U.S. News and World Report!
Quick Facts
Fully online, asynchronous format
31 credits
Part-time or full-time
Fall, spring, & summer semester start
Share the news! Current Master of Science in Nursing (MSN) students are invited to join our referral program. 
About the Program
The online Master of Science in Nursing program consists of 31 credits. Courses are offered in 7-week sessions during a 14-week Fall/Spring semester. The format is asynchronous, allowing students to learn on their own schedule. Most of our MSN students are able to work full-time while completing their degree on a part-time basis. The entire program can be completed in 24 months.
MSN students can prepare for leadership roles by choosing one of three concentrations: 
Public Health Nursing

Nursing Education

Nursing Management
The MSN program emphasizes quality teaching complemented by scholarly and creative expression, clinical expertise, community service, and service to the nursing profession. Our faculty are dedicated to the development of professionals who enrich the nursing profession by responding flexibly and creatively to both professional and societal issues.
Programs of Study
Our MSN program offers three areas of focus. Through scholarly projects, creative partnerships with faculty, clinical experiences, and selection of relevant elective courses, you have the opportunity to personalize your program of study to meet your individual career goals.
Healthcare reform places a demand for nurse leaders in the area of population health in community and global settings. The program of study includes the science of public health, foundations of public health theory, and healthcare policy and politics. Nurses are prepared to synthesize nursing practice and public health theory to promote and preserve the health of families, aggregates, communities, and populations.  
Graduates assume roles in public health and community settings, including public health departments, community and global health agencies, home care, schools, and occupational health settings.
As the demand for nursing instructors and clinical educators continues, many nurses consider educator roles. They may be interested in teaching in a school of nursing, working in professional development, or focusing on the education of a specific patient/community population.
This curriculum prepares nurses to assume advanced roles as instructors in academic and service settings. Our program focuses on curriculum development and foundational knowledge in theories of teaching and learning, and provides flexible and practical experience in academic and healthcare settings. Graduates assume leadership roles in clinical nursing education, academic faculty appointments, and staff development.
In a rapidly changing healthcare environment, there is a compelling need for nurse leaders in all aspects of healthcare. The nursing management focus centers on principles of leadership and administration. We provide a theoretical and practical approach to prepare you for advanced positions as nurse leaders/managers in acute care, long-term care, and community settings.
Department Faculty & Staff
Admission Requirements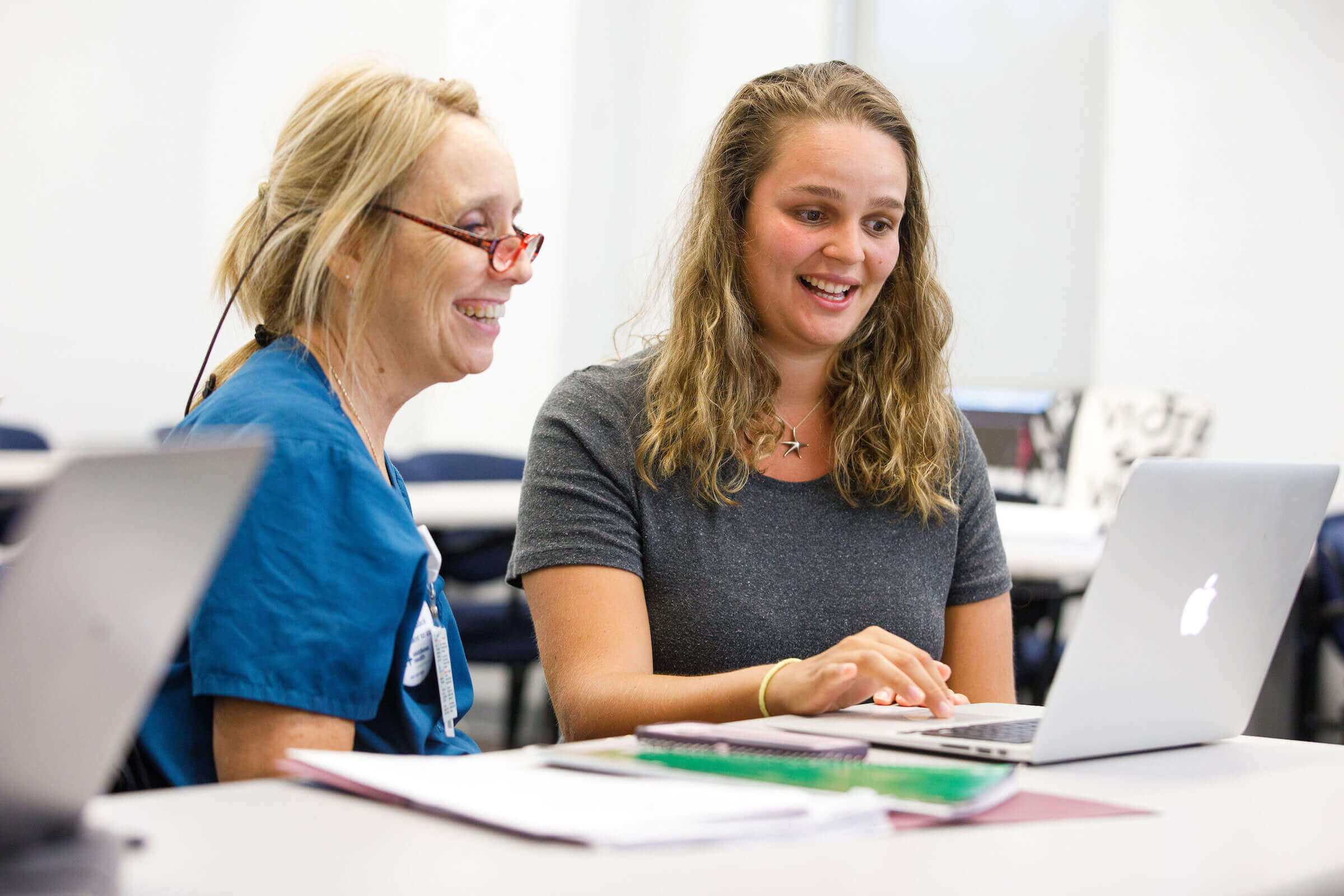 Applications are accepted throughout the year. We offer three start terms (spring, summer, and fall).
Requirements:
Nonrefundable 

application fee of $50

Evidence of current licensure or eligibility for licensure as a registered nurse (RN) in the State of Connecticut. RNs who hold licensure in states other than Connecticut do not need to apply for Connecticut licensure to be admitted.

Bachelor's degree from a nursing program accredited by NLNAC or CCNE. Nurses who hold a bachelor's degree outside the field of nursing may apply.

Undergraduate grade point average of at least 3.0 on a 4.0 scale or completion of 6 credits at the graduate level with a minimum grade point average of 3.3

Minimum of one year of clinical practice

Official transcripts for all college-level work forwarded to the University of Hartford

Two letters of recommendation, preferably one from an academic source and one from a professional source

Letter of intent

Current résumé
University of Hartford Graduates
If you have graduated from the University of Hartford's RN to BSN program in the past three years and have a minimum 3.0 GPA, you may qualify for automatic admission to our master's program in nursing. Please contact Graduate Admission, Center for Adult and Academic Services, at gradstudy@hartford.edu.
Hawk Alumni Scholarship
UHart alumni who have completed a bachelor's degree or RN to BSN degree at the University of Hartford are eligible for a 25% tuition discount through the Hawk Alumni Scholarship. The scholarship will automatically renew until students complete their program of study and maintain satisfactory academic standing.
Additional Information
Mission
To prepare future nurse leaders and advance the level of education of registered nurses while fostering their professional and personal development.
 
Philosophy
We emphasize quality teaching complemented by scholarly and creative expression, clinical expertise, dedicated community service, and service to the profession of nursing. We are dedicated to the preparation of persons who enrich the nursing profession by responding flexibly and creatively to both professional and societal issues.
We believe that students seek relevant learning experiences grounded in experiential learning and have a clear commitment to the identity of the professional nurse. We believe that the best learning takes place in an environment of support where students are respected, and their life experiences honored. The ideal education setting is a learning community that allows student to realize their full potential as reflective, active, and life-long learners. Because we are committed to the idea that active involvement is essential to effective learning, we foster an environment of interaction among students and faculty. We expect all students to participate in their own learning and to facilitate the learning of others by participating in collaborative learning groups and partnerships, respecting each other's opinions and questions, and by establishing a commitment to learning and critical and creative thinking. We strive to create a global community of scholarly caring.
Translate and apply advanced nursing practice to generate and synthesize knowledge to improve health and transform health care.

Integrate principles of quality and safety within complex health systems to provide equitable care to diverse populations.

Develop a professional identity through ongoing participation in professional activities that foster nursing's values and the acquisition of expertise and leadership.

Synthesize informatic processes and technologies to deliver holistic, coordinated, person-centered care.

Collaborate across professions and with patients, families, communities, and other stakeholders in traditional and non-traditional partnerships to deliver improved, equitable health outcomes for diverse populations.

 Create an evidence-based nursing practice change, which is then disseminated to academic and practice communities.  
Tuition


Summer 2023, fall 2023 and spring 2024 tuition rates for the Nursing, MSN program are below:

| | Per Credit Rate |
| --- | --- |
| Nursing, MSN | $706.00 |
Accreditation

The baccalaureate and master's degree programs in nursing at the University of Hartford College of Education, Nursing and Health Professions are accredited by the Commission on Collegiate Nursing Education (CCNE), 655 K Street NW, Suite 750, Washington, DC 20001; telephone: 202.887.6791. Information about the accreditation process is available at CCNE.