Programs in the Department of Nursing prepare students for in-demand careers. About 200,000 new job openings for nurses are projected every year to 2030, according to the Bureau of Labor Statistics.
Whether you're just beginning your nursing education or are seeking advanced study, our nursing programs emphasize quality teaching, clinical expertise, dedicated community service, and service to the profession of nursing. 
We offer clinical placements at major hospitals and health care facilities in Greater Hartford, interprofessional learning with students in a range of health care professions, and community-based experiences.
University of Hartford nursing graduates are employed throughout Connecticut and the region in professional leadership, practice, and education positions.
Doctor of Nursing Practice (DNP)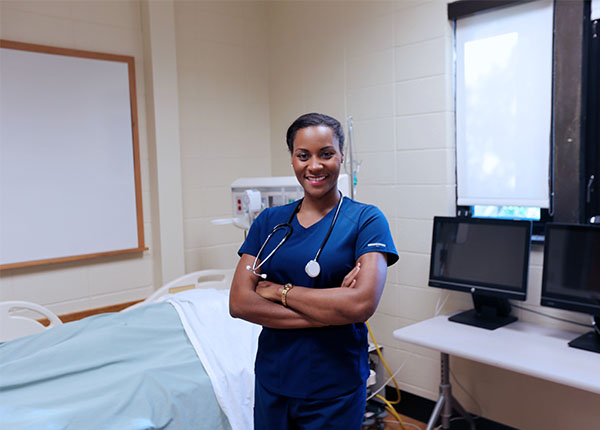 Our new Doctor of Nursing Practice (DNP) is a fully online program that prepares nurses to assume leadership roles in healthcare organizations or contribute to educating future practitioners. The program enables working nurses to complete their degrees while continuing full-time employment. 
On 13 July 2023, the Department of Nursing, in accordance with its Procedures for Accreditation of Baccalaureate and Graduate Nursing Programs, Commission on Collegiate Nursing Education (CCNE) provides the opportunity for program constituents and other interested parties to submit, in writing, comments concerning the program's qualifications for accreditation. Our CCNE Doctor of Nursing Practice (DNP) program initial accreditation visit is 25-27 September 2023. 
Written third-party comments must be received by CCNE 21 days before the scheduled on-site evaluation. Submit written comments by 4 September 2023 to:
Commission on Collegiate Nursing Education
Attn: Third-Party Comments
655 K Street, NW, Suite 750
Washington, DC 20001
or email to: thirdpartycomments@ccneaccreditation.org
The Accreditation process is an opportunity to engage in an in-depth evaluative process leading to the continuous quality improvement of the school's programs. CCNE considers the following standards:
Program Quality: Mission and Governance
Program Quality: Institutional Commitment and Resources
Program Quality: Curriculum and Teaching-Learning Practices
Program Effectiveness: Assessment and Achievement of Program Outcomes
CCNE shares comments with the site visit team, but not with the program. In the interest of offering quality nursing education, the Department of Nursing encourages comments related to its accreditation.
Mission
To prepare future nurse leaders and advance the level of education of registered nurses while fostering their professional and personal development.
Philosophy
We emphasize quality teaching complemented by scholarly and creative expression, clinical expertise, dedicated community service, and service to the profession of nursing. We are dedicated to the preparation of persons who enrich the nursing profession by responding flexibly and creatively to both professional and societal issues.
 We believe that students seek relevant learning experiences grounded in experiential learning and have a clear commitment to the identity of the professional nurse. We believe that the best learning takes place in an environment of support where students are respected, and their life experiences honored. The ideal education setting is a learning community that allows student to realize their full potential as reflective, active, and life-long learners. Because we are committed to the idea that active involvement is essential to effective learning, we foster an environment of interaction among students and faculty. We expect all students to participate in their own learning and to facilitate the learning of others by participating in collaborative learning groups and partnerships, respecting each other's opinions and questions, and by establishing a commitment to learning and critical and creative thinking. We strive to create a global community of scholarly caring.
Organizational Mission:
The mission of the Honor Society of Nursing, Sigma Theta Tau International, is to support the learning, knowledge, and professional development of nurses committed to making a difference in health worldwide. 
Society Vision:
The vision of the Honor Society of Nursing, Sigma Theta Tau International, is to create a global community of nurses who lead in using knowledge, scholarship, service and learning to improve the health of the world's people.
Iota Upsilon Chapter:
The University of Hartford is a member of Iota Upsilon Chapter at Large with the University of Saint Joseph and Central Connecticut State University. Membership is open to undergraduate students (both BSN and RN-BSN) and graduate students (MSN and DNP), who have completed half the nursing curriculum, have a cumulative GPA or 3.0 or higher, and rank in the top 35% of the graduating class. Students must demonstrate academic integrity, achievement and leadership potential. Eligible members are invited early in the fall of each academic year via their school email address. The induction ceremony occurs once per academic year for those students who choose to accept prior to the ceremony, however eligible members have up to one year to accept the invitation to join the society.
Department Faculty & Staff