Programs in the Department of Nursing prepare students for in-demand careers. About 200,000 new job openings for nurses are projected every year to 2030, according to the Bureau of Labor Statistics.
Whether you're just beginning your nursing education or are seeking advanced study, our nursing programs emphasize quality teaching, clinical expertise, dedicated community service, and service to the profession of nursing. 
We offer clinical placements at major hospitals and health care facilities in Greater Hartford, interprofessional learning with students in a range of health care professions, and community-based experiences.
University of Hartford nursing graduates are employed throughout Connecticut and the region in professional leadership, practice, and education positions.
Doctor of Nursing Practice (DNP)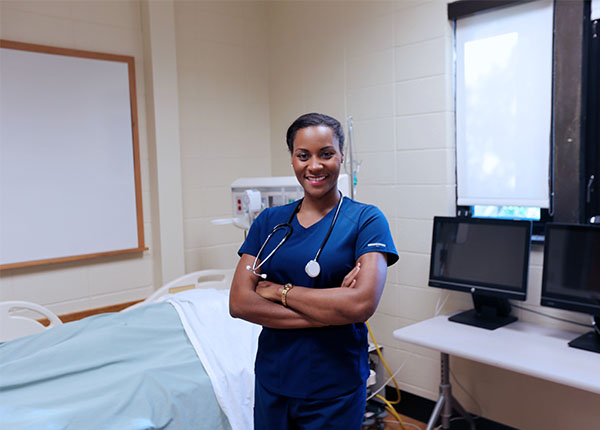 Our new Doctor of Nursing Practice (DNP) is a fully online program that prepares nurses to assume leadership roles in healthcare organizations or contribute to educating future practitioners. The program enables working nurses to complete their degrees while continuing full-time employment. 
Mission
To prepare future nurse leaders and advance the level of education of registered nurses while fostering their professional and personal development.
Philosophy
We emphasize quality teaching complemented by scholarly and creative expression, clinical expertise, dedicated community service, and service to the profession of nursing. We are dedicated to the preparation of persons who enrich the nursing profession by responding flexibly and creatively to both professional and societal issues.
 We believe that students seek relevant learning experiences grounded in experiential learning and have a clear commitment to the identity of the professional nurse. We believe that the best learning takes place in an environment of support where students are respected, and their life experiences honored. The ideal education setting is a learning community that allows student to realize their full potential as reflective, active, and life-long learners. Because we are committed to the idea that active involvement is essential to effective learning, we foster an environment of interaction among students and faculty. We expect all students to participate in their own learning and to facilitate the learning of others by participating in collaborative learning groups and partnerships, respecting each other's opinions and questions, and by establishing a commitment to learning and critical and creative thinking. We strive to create a global community of scholarly caring.
The Iota Upsilon Chapter-at-Large of Sigma Theta Tau, the international honor society of nursing, obtained its charter in 1985 at the University of Hartford. Mary Schulze, who served as a faculty member in nursing from the inception of the nursing program to 1999, attributes the success of starting a University of Hartford chapter to the hard work and dedication of BSN alumna Debra K. Pasquale.   
While the chapter originated on the University of Hartford campus, today it includes the University of Saint Joseph and Central Connecticut State University.
The mission of Sigma Theta Tau International is to advance world health and celebrate nursing excellence in scholarship, leadership, and service.
Iota Upsilon Chapter-at-Large website
Sigma Theta Tau International website
Department Faculty & Staff