University of Hartford December Graduates Asked to Continue Learning and Make the World Better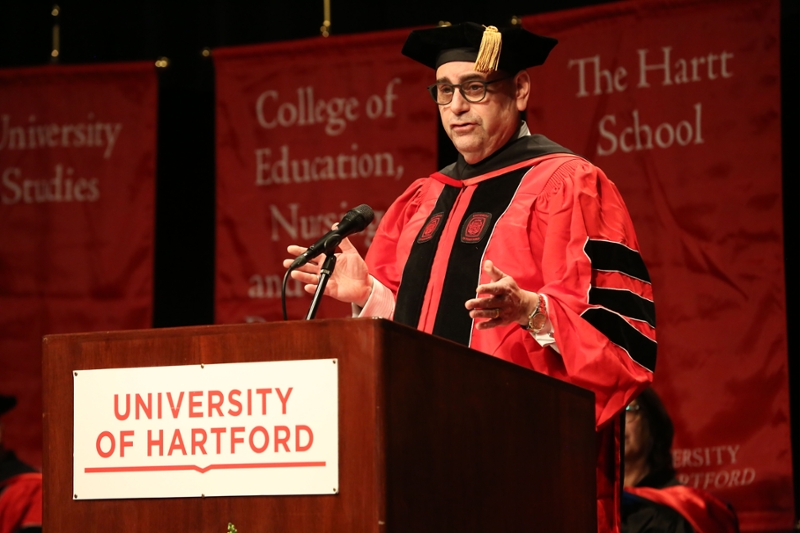 Nearly 300 students graduated during University of Hartford's Fall Commencement Ceremonies on Sunday, December 8. More than 170 graduate students, including 25 who earned doctoral degrees and 45 who earned MBA degrees, participated in a morning ceremony in Lincoln Theater on campus.

Alumnus Mark L. Boxer '83, executive vice president and global chief information officer at Cigna, addressed the graduates and their guests. Boxer is responsible for Cigna's worldwide technology strategy and overseeing the health company's technology operations, digital capabilities, analytics, and ventures.
Boxer earned a Bachelor of Science in Engineering and a Bachelor of Arts in Physics from UHart. In 2013, he was awarded the University of Hartford Alumni Association's highest honor for distinguished alumni, an Anchor Award. Having subsequently earned two master's and two doctoral degrees, Boxer characterizes himself as a lifelong learner. He congratulated the graduates on joining the 13 percent of Americans who have advanced degrees and encouraged them to continue learning.
"In the 36 years since I graduated from this campus, there has never been a year when I have not been in some mode of learning," Boxer said. "Even now, it hasn't stopped.  I'm in a post-doctoral program at the University of Oxford, in the United Kingdom, where I'm one of a few Americans doing research on how to increase medication compliance for children with asthma in underserved communities. Lifelong education provides options--and the opportunity to make a positive impact in the world."
As he concluded his message, Boxer cited the current interest in messages from Mr. Rogers' Neighborhood and tied one of those messages back to his physics degree from UHart. "If you ever want to quote Mr. Rogers, here's a bit of his advice on being successful.  He said, 'There are three ways to ultimate success: The first way is to be kind. The second way is to be kind. The third way is to be kind.' Coming back to my physics education, if you combine that with the power of learning, you have the factors for a winning equation:  Learning plus kindness equals positive changes in the world. With this, you can't go wrong!"
Learning plus kindness equals positive changes in the world. With this, you can't go wrong!"
Mark Boxer '83, 2019 Fall Commencement Speaker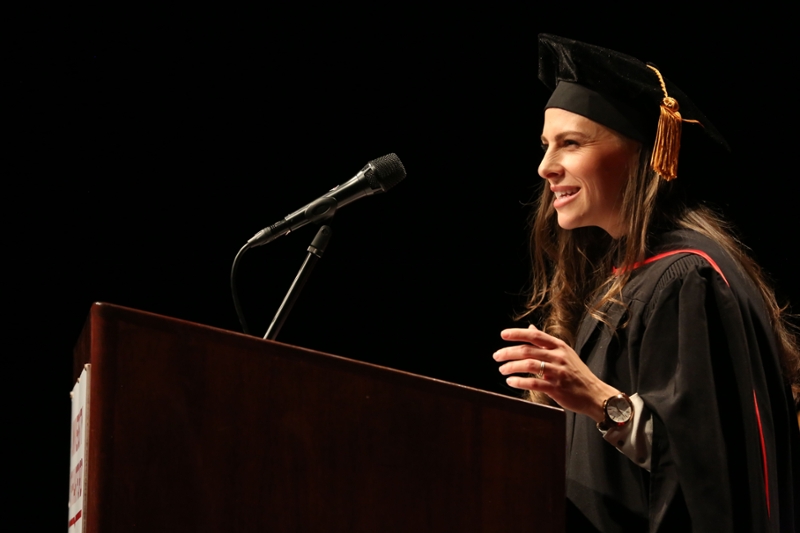 During a second afternoon ceremony in Lincoln Theater, more than 100 students received associate or bachelor's degrees. The University has seven distinct schools and colleges plus University Studies, a degree completion program for adult learners. President Gregory Woodward asked the audience to give special recognition to Anna M. Bowen who returned to college after 43 years and received her Bachelor of Arts degree through University Studies.
Activist and alumna Christiana Lang '12 addressed the undergraduates and their guests. She was a double major in politics & government and sociology.  In the seven years since her graduation, Lang has worked in six countries on a range of issues related to health, youth education, and gender equality. She was awarded an Anchor Award earlier this year.
Lang encouraged the graduates not to be afraid to move from one phase in life to another. She said when one survives and thrives they will be successful. "When I studied at UHart, I created my own email signature bloc quote," she said. "It read, 'Let your greatest achievements be stepping stones.' I wrote this down senior year. It was a reminder to me of where I had come from, what I had accomplished, and how I wanted to approach my next moves. It reminded me to continue."
Lang encouraged the graduates to never stop, but instead, to continue no matter whether they encounter a barrier or achieve a goal. "Use the hardships, the struggles, the triumphs to catapult into whatever is next. Your generation--you--hold the skills, the diversity, the bravery, and the creativity that our world needs desperately."
She continued, "So I hope you choose to stand, or sit, pray, or kneel for the things that matter, speak for the issues, and work toward making the world better, more peaceful, equitable, sustainable, and open."
Several fall 2019 graduates have employment or continued education in their near futures. Leena Alharbi '19, a respiratory therapy major from Saudi Arabia, already has a job at Yale-New Haven Hospital. She is a legacy graduate, one who has a relative who graduated from the University as well. In Alharbi's case, she has nine relatives who are UHart alumni and two additional relatives are in the classes of 2020 and 2021. All of the family members were encouraged to attend UHart by their uncle Abdul Razzag Alharbi who traveled from Saudi Arabia to attend Sunday's ceremony.
Katherine Curran '19 starts a job as an engineering technician in January 2020.
Dominick Lauria '19 earned a master's degree in electrical engineering on Sunday and already is an adjunct faculty member in the College of Engineering, Technology, and Architecture (CETA).
The University holds Commencement ceremonies in December and May of each academic year. The Spring 2020 Commencement will be on Friday, May 15, at 4 p.m. at the XL Center in Hartford.