UHart Helps Community in Fight Against COVID-19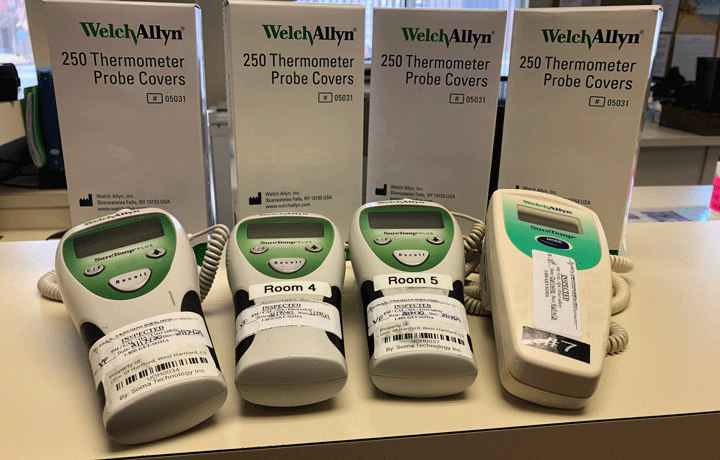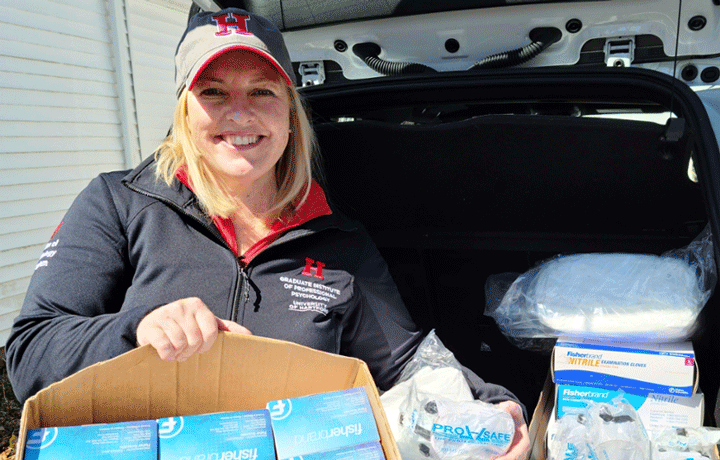 Although students, faculty, and staff are scattered across the world due to COVID-19, the University of Hartford community is committed to giving back. An agreement with the city of Hartford to provide free housing to 200 first responders and essential workers is just one example of this. Here are a few of the other many ways UHart is helping the fight against the pandemic.
Donating Thermometers and Personal Protective Equipment

With the COVID-19 peak exepcted to hit Connecticut over the next few weeks, healthcare facilities across the state are in urgent need of equipment. University Health Services has loaned portable thermometers to Hartford Healthcare until the University starts classes again. Kelly Weber, associate director of UHart's Graduate Institute of Professional Psychology and associate professor of psychology, dropped off a trunk load of Personal Protective Equipment (PPE) to Hartford Hospital. The gloves, eye protection, and more were made available thanks to Associate Professor Eric Mahan in the chemistry department and Jon Larsen, biology lab supervisor in the College of Arts and Sciences.
Many of our students in the doctoral program, our field supervisors, and our alumni are on the front lines assisting with this crisis on the behavioral health side, working in hospitals, community clinics, prisons, and with the military.
Kelly Weber, Associate Director of UHart's Graduate Institute of Professional Psychology and Associate Professor of Psychology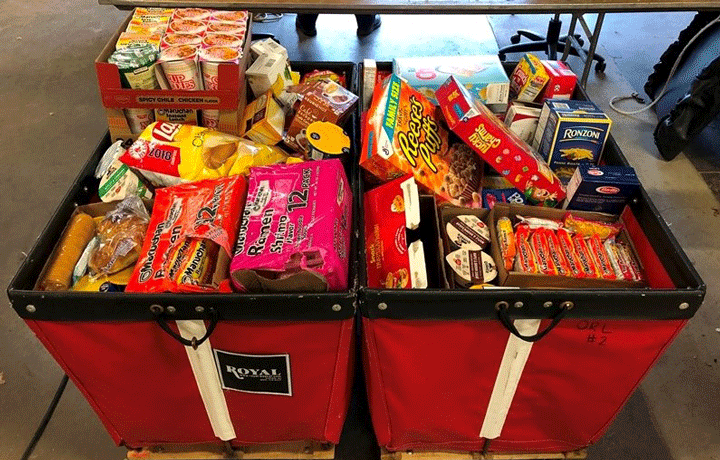 Donating to Foodshare
Food insecurity is growing as more people lose their jobs during the coronavirus outbreak. To combat this issue, the University has made multiple donations to Foodshare, the regional food bank for Hartford and Tolland counties. Students who returned to campus at the end of March to move out of residence halls filled two bins with nonperishable food that they no longer needed. Earlier in the month, UHart Dining sent a catering truck loaded with perishables to Foodshare and volunteered at South Park Inn, feeding clients of the organization.
Providing Phones to Domestic Violence Victims
Unfortunately, there has been a 20-percent increase in domestic abuse calls to Hartford Police ever since residents were told to stay at home because of COVID-19. After learning of this startling statistic, UHart's procurement department donated 43 flip phones and chargers to Hartford's Interval House.

"It is important that older devices be put to good use when possible," said Director of Procurement Services Lisa Condon. "Now phones will give domestic abuse victims the ability to call for help and receive help, support, and resources."
Making Masks
Human Resources Service Partner Dianne Silliman has completed her first batch of masks to help the community. She and her quilting friends began making masks on the weekend of March 28 and she says, "We will continue until our supplies run out!"
Laurie Granstrand, manager of graduate programs for the College of Engineering, Technology, and Architecture (CETA), began a special sewing project to make masks for anyone who might need them because of COVID-19. Granstrand says she will happily continue the project, adding, "it's just a small way one can help" during this time.