Barney Risk Management and Insurance Students Win International Risk Management Competition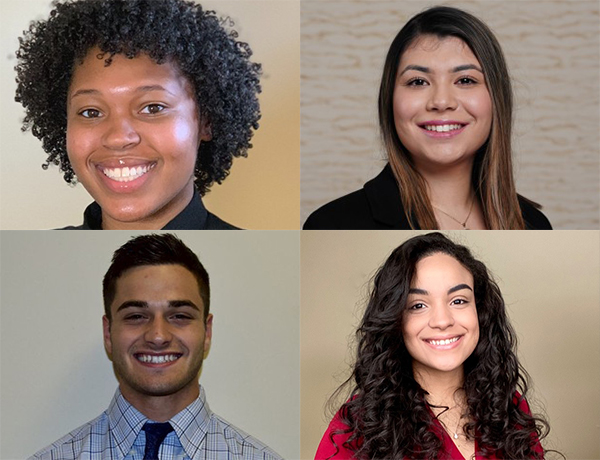 Congratulations to Barney School of Business Students Aliyah Abdullah '22, Semra Boluk '22, Nick Bosio '21, and Yoanny Brito'21 for winning first place at the 2021 Spencer-RIMS Risk Management Challenge!
Our students competed against 18 other universities from around the world and successfully delivered their risk management strategies to leaders in the profession during the RIMS LIVE 2021 virtual Conference. 
"Social issues continue to climb organizations' and municipalities' list of top strategic risks," said RIMS CEO Mary Roth. "With professionalism, creativity, and enthusiasm, this year's university teams shared a range of unique perspectives and solutions that addressed these real-world, socio-economic challenges. Congratulations to our 2021 champion University of Hartford and all of the future risk management leaders who participated in this year's competition."
The top 8 teams for the 2021 Risk Management Challenge are:
Appalachian State University
Butler University
Florida State University
Illinois State University
Indiana State University
Peking University
University of Hartford
University of Wisconsin-Madison
According to Abdullah, an economics and finance major with a risk management and insurance minor:
"I joined the Challenge because I wanted to not only expand my network, but push myself to strengthen my analytical, collaboration, and presentation abilities. I realized that every thought counts, and if you have an idea, say it. It could get you even further towards your career goals and aspirations. Beyond that, I learned that practice makes perfect and weekly meetings to prepare helped us a lot with making it to the finals. Overall, representing the University of Hartford, especially as a Black woman, means showcasing my talents with confidence, dedication, and authenticity. I am honored to be a role model for Barney."
Boluk, one of two juniors in the competition for Barney, and an accounting major with a risk management and insurance minor added the following to Abdullah's thoughts:
I joined the competition to gain more experience working with others on a team and to expand my analytical and communication skills. One key thing I learned is that diversity and uniqueness make you better, bring different aspects to the competition, and allow you to think outside the box. My biggest takeaways are the connections I made and the skills I have learned which I will be applying for the rest of my career. 
Anchoring the team as seniors were Yoanny Brito, a management major and risk management and insurance minor, and the team's Captain, Nick Bosio, a risk management and insurance major and management minor. Brito and Bosio shared the distinction of being two of thirty students from the U.S. and Canada recognized by RIMS as Anita Benedetti scholars.
According to Brito:
"Teamwork makes the dream work. The Challenge was one of the best experiences I've ever had and it was as a result of having like-minded and focused colleagues who brought their own unique talents and strengths to the competition. We got along very well and genuinely enjoyed every step of the way. This allowed us to better utilize our backgrounds in a way that brought personal meaning to the solutions we proposed in our Challenge brief and presentation. Overall, while our Risk Management and Insurance program might be perceived as smaller as compared to larger institutions, we view it as mighty! We are sincerely honored that our team's work continues to pave the way for our program to be recognized for the great faculty and staff who provide the support and learning experiences students need to succeed in the real world." 
Adding to Brito's comments, Bosio suggested the following: 
I originally joined the Spencer-RIMS Challenge as a great way to work on a case study provided by risk management and insurance professionals with varying perspectives. After not making it past the briefing round in 2019/20, we knew that our team could learn from our earlier efforts and utilize the outcome as a catalyst to perform even better in 2020/21. We wanted to prove ourselves and apply our educational experiences in a practical environment. Not surprisingly, we not only learned about Risk Management and Insurance, the importance of DEI initiatives, and how to strategically think of new ways to approach real-world scenarios, but the biggest takeaway for me personally was reliability and the importance of working together strategically to trust one another. This allowed us to realize shared success and it was truly amazing to represent the Barney School. Overall, I could not be more proud of our team's effort and success!
Overall, representing the University of Hartford, especially as a Black woman, means showcasing my talents with confidence, dedication, and authenticity. I am honored to be a role model for Barney.
Aliyah Abdullah '22, an economics and finance major with a risk management and insurance minor, Barney School of Business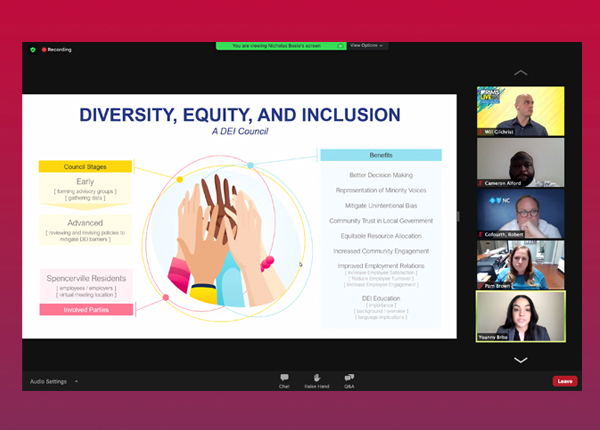 Lastly, Professor Ken Goldstein, a Clinical Instructor of Risk Management and Insurance at Barney, and the team's advisor noted:
"Our students sincerely appreciated the opportunity to participate in this year's Challenge. It supports the development of robust, practical acumen outside of the classroom and the opportunity to engage with seasoned risk managers from across the globe. We were also honored for the chance to compete with nationally recognized Risk Management and Insurance Programs, especially Appalachian State University and the University of Wisconsin-Madison. The depth that both teams demonstrated was exceptional and their students did a superb job of executing upon their respective Case Challenge recommendations. 
From Day 1 in the Competition, our Barney-contingent gelled together naturally. They brought a level of effort, energy, intellectual curiosity, and enthusiasm that any business professional would welcome and applaud. Having a blend of backgrounds, experiences, and academic levels significantly strengthened the team's resolve and commitment to working hard and smart throughout each round of the Challenge. What impressed me the most was the team's substantive depth, playfulness, ability to think on their feet and manage tough questions, and their ultimate resolve to keep pushing and come away being even more Career Ready. We are so very proud of them and look forward to supporting their future successes!"
About the Spencer-RIMS Challenge:
The Challenge is an eight-month-long battle where international university teams compete to develop and present the most comprehensive risk management program based on a proprietary case study. This year, the Challenge was hosted by the RIMS Diversity and Inclusion Council and concerned Spencerville, a fictitious American city based on civic and demographic data from real U.S. cities provided by public sector risk managers. Due to the Covid-19 pandemic, Spencerville faced a substantial reduction in revenues, and consequently, needed to manage the shortfall with DEI and union negotiations in mind. The teams were required to make strategic recommendations around budget cuts while accounting for potential impacts to employees and citizens locally. They also needed to consider top risks and opportunities for the health of Spencerville moving forward. Learn more.
About the Barney School of Business:
The Barney School of Business is recognized nationally and internationally for its ever-evolving curriculum, tangible learning opportunities, and innovative Career Ready program. The School has been ranked as one of the top business schools in the country by both Bloomberg Business and The Princeton Review and our accreditation by the Association to Advance Collegiate Schools of Business places the Barney School among the top five percent of business schools in the world. Learn more.