Barney Students Secure Summer Internships Through CVS Health Sponsored Learning Project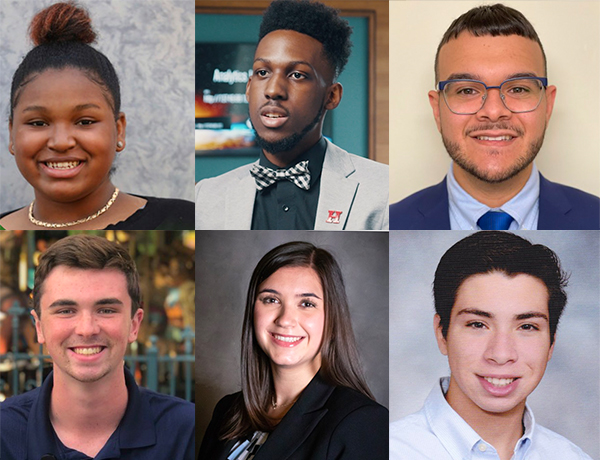 The University of Hartford's Barney School of Business has partnered with CVS Health as the company seeks out new ways to increase its pipeline of strong student talent into its General Management Talent Programs.
For this year's pilot project, the inaugural team of students from the Barney School was asked to conduct research and participate in a case competition style course.
Student members of the pilot project included: 
The course required students to assess the needs and opportunities (cost, quality, access, equity, and population health) associated with providing health-care programs to minority and women-owned businesses in underserved communities in a post-pandemic world. The students met once a week as a class to hear guest speakers and subject-matter experts in health care, gaining knowledge of the state of the industry and its challenges. The students focused on innovative solutions for Hartford-area small business owners in underserved communities who are facing economic and social inequities. During the 14 weeks, students were asked to create case studies while suggesting innovative ideas to combat these societal issues.
Brielle Tolli '22 and David Freitas '21 won the case competition by presenting the concept of neighborhood vans that would disseminate information about positive health from nutrition to dental care to fitness. They called their solution the "CVS Heart of Hope Van."  Congratulations, David and Brielle!
As a result of this case competition, Autumn Collins '23, Sam Coates '23, Sean Cooney '22 and Brielle Tolli '22 will be going on to summer internships in the CVS Health General Management Corporate Internship Program (GMCIP). 
Going forward, the University of Hartford and CVS will continue this partnership and build upon the great work that was accomplished this year! 
This pilot learning project was an incredible opportunity for the participating students who rose to the challenge. I found working with them and Dr. Lofink, inspirational. The project showcased Barney students and their competencies in developing innovative solutions for market opportunities and social impact. As important, this project marked the successful deployment of a new experiential learning platform, which not only delivered outcomes that impressed CVS Health, it provided a framework for Barney School to facilitate many more, similar learning projects with external businesses and organizations.
John Thomson, Project Academic Advisor & Insurance Executive in Residence, Barney School of Business