UHart Receives $1.2 Million State Grant for Nursing Program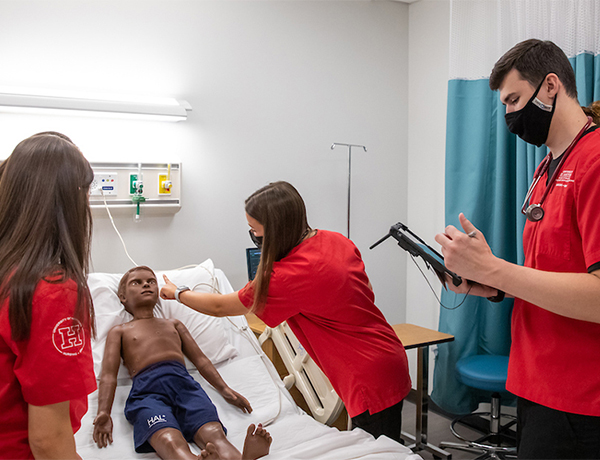 As interest in undergraduate nursing soars at the University of Hartford, students will soon benefit from additional scholarships and faculty support through a $1.2 million state grant.
UHart's College of Education, Nursing and Health Professions received the funding through the CT Health Horizons Grant Program, a new initiative aiming to make an impact on the statewide workforce shortage in nursing and social work, with assistance from local colleges and universities.
It's an issue UHart has also been targeting on its own—ENHP launched the undergraduate nursing program (BSN) in 2019, and then a graduate-level doctor of nursing practice degree in 2022 as a means of preparing more nurses for advanced roles, such as teaching in nursing programs.
While UHart's first class of BSN students will graduate this spring, a large group of students will continue in their footsteps—nursing is by far the largest major of new students across UHart for this academic year. 
"UHart is wonderfully positioned to make its mark on the health-care system in Connecticut and contribute to the pressing need for a larger and more diverse workforce. Even before this grant, our undergraduate nursing program was steadily growing, enrolling a diverse population, with a majority of students who are Connecticut residents. Now with this funding, we can make a more robust impact," says Cesarina Thompson, dean of ENHP.
"This will also give us additional opportunities to enhance the diversity of our cohorts of nursing students, which means the healthcare workforce will be more representative of the patients being served, contributing to better health outcomes."
The state grant funding will be used at UHart in two ways. A portion of funding will go toward tuition scholarships for students—up to 100 students over the course of the grant— who are pursuing a Bachelor of Science in nursing and are eligible for federal Pell Grants or come from a Connecticut Alliance School District. Pell Grants are awarded to students who display exceptional financial need, while alliance districts are designated by the state as high-needs and requiring additional resources and intervention.
Another portion of the Health Horizons grant will allow for additional faculty in UHart's Bachelor of Science in nursing program, professional development, and more immersive clinical experiences for students through UHart's partnerships with Trinity Health Of New England and Hartford HealthCare.
The state Office of Workforce Strategy and Connecticut State Colleges and Universities will oversee the three-year Health Horizons effort, and announced the official implementation of the grant with UHart and other higher education institutions across the state at a press conference March 1 in New Haven.
Jobs in health care are recession-proof, provide families with living wages, and have ample opportunity for advancement, said Kelli Vallieres, chief workforce officer at the Office of Workforce Strategy. There are more than 19,000 openings in Connecticut for registered nursing and mental health roles, she added.
While the Health Horizons initiative will work to grow and diversify student populations in nursing majors and expand partnerships with health-care providers, a major goal is also to keep nursing graduates in Connecticut.