About the Program
The Esports program at the University of Hartford works with and develops exceptional students to succeed in today's constantly changing environment. The program is housed underneath the Athletics department. Stay engaged through an extensive structure that encourages and creates positive experiences, which ultimately provides an avenue toward your own personal growth and development throughout your college career.
The program is designed to facilitate and work with your educational aspirations and career goals. It is unique in that there is no limit to the number of students that can be involved, and there are opportunities to be involved in so many ways—even outside of the competitive structure itself.
Ultimately, UHart's Esports is designed for students; you are our focus and after completing your time with us, we are certain that you will have gained something that will benefit you.
Note, we have a zero-tolerance policy for toxicity and negativity, the two most damaging aspects of competitive gaming to both students and the larger community.
Sponsored Games
If you are interested in forming a team for a game that is not a part of our sponsored list, or joining in a supporting role for Esports, please reach out to cookepoli@hartford.edu.
Player
Jacob Torman
Display Name: nascarfan11
Car Number: #31
Staff
Derek Torress
Manager of Esports
Display Name: Dusty
Adam Culver
Coach of Esports
Display Name: Arch Yeomen
Players
Leroy Ayettey
Captain of Esports
Support
Display Name: BLACKOUT
Sean Issac
Support
Display Name: Revan1982

Joseph Chung
Damage
Display Name: Orimuru
Jason Baganha
Damage
Display Name: Cranky
Arlo Ashton
Damage
Display Name: Vice Yeomen
Jack Pepin
Tank
Display Name: Trueblade16
Staff
Daniel Mathieu
Coach of Esports
Display Name: ZolloKaptain
Braden Koba
Broadcaster for Esports

Andrew Seipold
Broadcaster for Esports

Players
Alex Cooke-Politikos
Manager and President of Esports
Octane
Display Name: Astro
Aidan Engels
Captain of Esports
Fennec
Display Name: spy
Tucker Rice
Fennec
Display Name: Kat Kitzu
Mitchell Hart
Dominus
Display Name: The0Leaf
Players
Jacob St.Cyr
Captain of Esports
Display Name: mjFEAR
Main Character: Donkey Kong

Matthew Bach
Manager of Esports
Display Name: Hyper
Main Character: Greninja

Jabari Domingo
Display Name: NiP
Main Character: GnW

Justin Quang
Display Name: bbroz_justin
Main Character: R.O.B.
Jaden Eubanks
Display Name: Joe E. Measles
Main Character: Ridley
Dmitri Mitchell
Display Name: Purge
Main Character: Kirby
Competitive Play and Student-Athlete Experience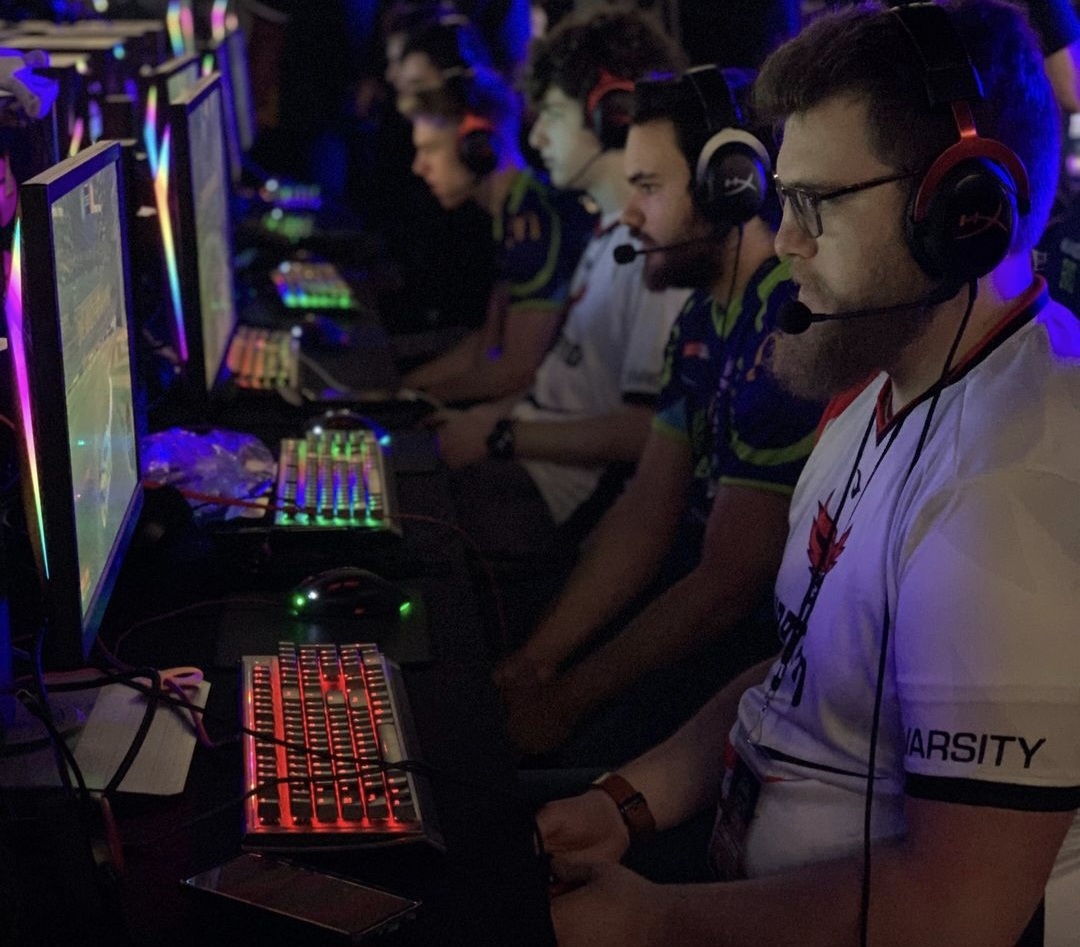 Academic Expectations
This program understands that you are a student first. You will never have a practice during class, and we will do everything in our power to ensure competitive matches do not conflict with your class schedule.
Year-Long Season
This program is designed to adapt to the ever-changing world of competitive gaming, and because of that, we allow teams to be formed at any time, for any game that has an established, competitive gaming structure (league, conference, tournaments, etc). Students are given an opportunity to prove themselves, in their game of choice, to bring that into our sponsored category.
Esports Equipment
The University has 12 high-end gaming setups, a high-end stream setup, five Nintendo Switch's, and two Xbox Ones's in a brand-new facility located within the Reich Family Pavilion (Sports Center). Learn about the specs of our setups below.
Alienware Aurora R11
10th Gen Intel Core i9 10900K (10-Core, 20MB Cache)
NVIDIA GeForce RTX 3080 10GB
32GB Dual Channel HyperX(FM) FURY DDR4 XMP
1TB SSD
1TB HDD
High-Performance CPU Liquid Cooling with 1000W Power Supply
Alienware 25'' Gaming Monitor
IPS Panel
Alienware Low Profile RGB Mechanical Keyboard
Alienware Wired/Wireless Mouse
Alienware 7.1 Gaming Headset
Dell Computer
10th Gen Intel Core i9 10900k
32GB DDR4
Three Dell 32" monitors
Additional Opportunities to Join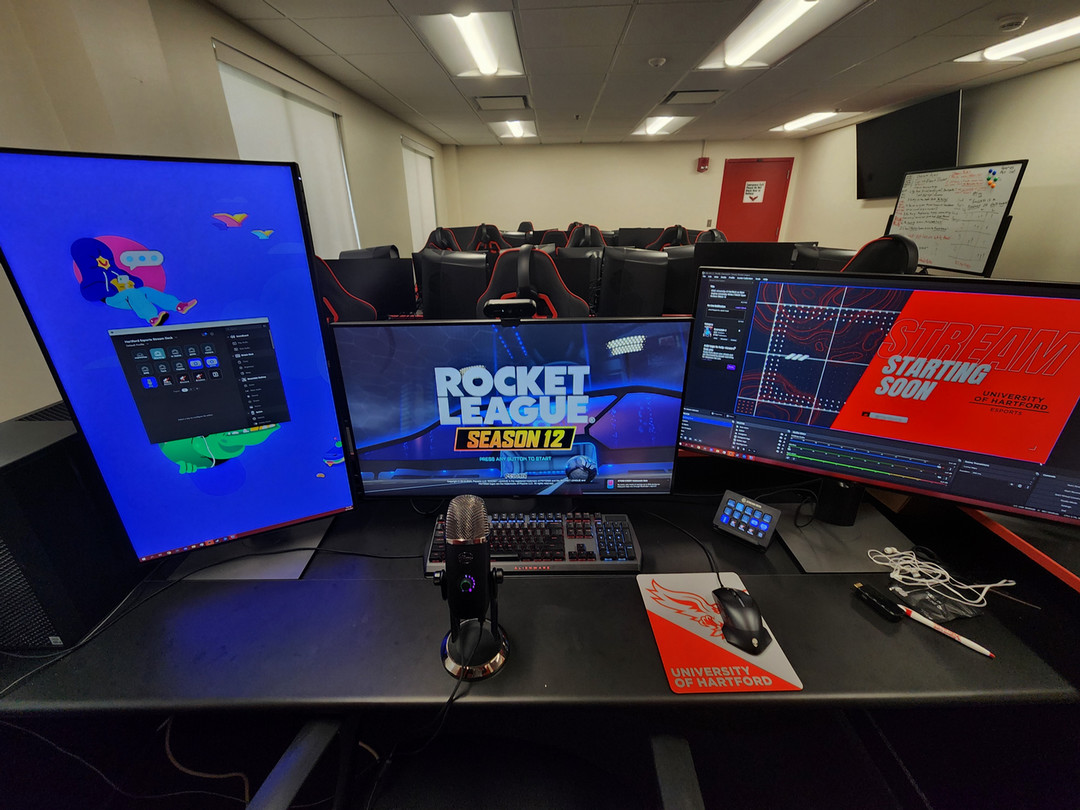 Did you know the program has its own streaming and production team that broadcasts, captures, and edits our video content, and is entirely student-led and organized? We are actively looking for additional students who are interested in assisting with our broadcasts, being a shoutcaster for competitive play, serving as video editors for our streamed content, and graphic designers who help stage our streams. We also are recruiting for our social media and analytics teams.
Contact Us
Interested in joining a team or learning more about our club? Email our President or check out the UHart Hub!