Navy veteran Lee Page '21 moves into new career in radiologic technology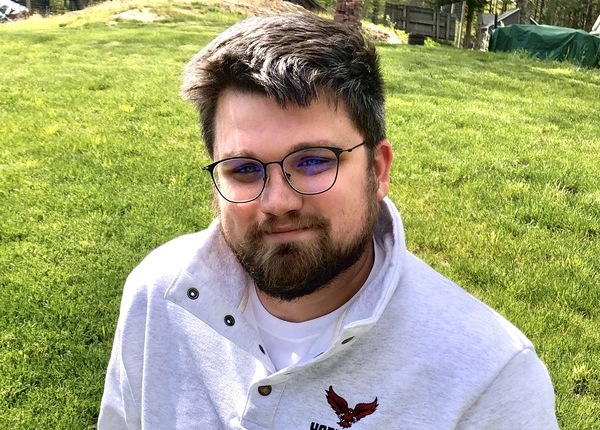 After graduating with a bachelor's degree in Radiologic Technology, Lee Page '21 is working at Manchester Memorial Hospital as a radiologic technologist after receiving three competitive job offers. He is also planning to pursue a master's degree in education with the goal of teaching in the radiologic sciences.
Lee came to the University after serving in the U.S. Navy for eight years, including five years as a sonar technician on nuclear submarines. He says he has been blessed with a technical background, and being able to leverage that knowledge in a health care setting such as radiologic technology is the "opportunity of a lifetime."
"I have never felt more at home than I do at the University of Hartford," he said. His favorite things about UHart are the tight knit community and humanitarian focus.
Lee credits his multiple clinical experiences in the program with helping him land his job, as Manchester Memorial Hospital was one of his clinical placements. The Radiologic Technology program in the College of Education, Nursing and Health Professions provides students with more than 1,300 hours of clinical experience, while connecting students with potential employers.
Along with teaching the clinical skills students need to work as x-ray technologists, UHart's program also enables students to earn a bachelor's degree and a second credential in advanced imaging, such as sonography, MRI or CT. 
While Lee worked closely with most of his professors, he is especially grateful to Assistant Professor Lucy Richard, who is retiring this year.  "I would like to extend my warmest congratulations to Professor Richard on her retirement and three decades of service to the UHart community," he said. "She has truly helped shape the face of our profession in Connecticut."
When asked for his advice to other students, Lee said, "Work hard – every clinical day is a job interview." He added, "Be true to your moral compass and care about others and you will make it far!"
Work hard – every clinical day is a job interview. Be true to your moral compass and care about others and you will make it far!"
Lee Page '21, BS in Radiologic Technology