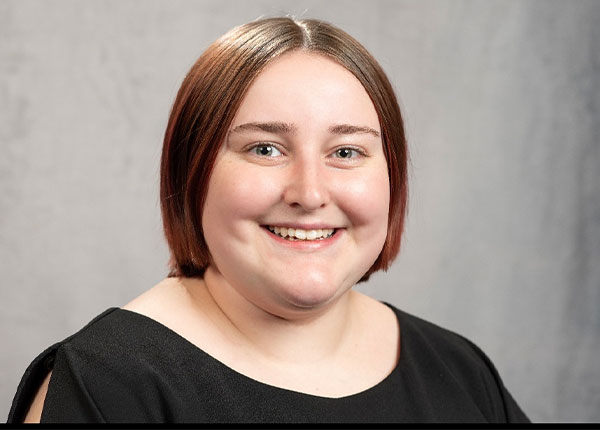 Lizzy Ladegard '23 is a risk management and insurance student on track to complete a four-year degree in only three years! Through the Barney School's 3+1 accelerated business program, she will graduate with both her bachelor's and master's degrees by 2024. As well as excelling in the classroom, she holds a student working position in the Office of Institutional Advancement, is a student philanthropy ambassador, and is the president of Alpha Lambda Delta honor society on campus.
CVS Health Learning Project
Ladegard was delighted with the opportunity to work in the CVS Health Learning Project, which is being led by Professor Thomson and Dr. Lofink. Their current goal for this project is to make health care more accessible for the LGBTQ+ community. Through this practicum experience, Ladegard realized how critical it is to stand up for those struggling with inclusivity in a changing business world. She continues, "It has also shown me the depth that goes into solving problems that aren't easy and the amount of work it takes to make a difference." This opportunity has clarified for Ladegard that this area of work is her passion. She explains, "It has given me the knowledge and real-life application to see myself working in this industry after college."
Ladegard and her teammate Ethan Cashman won the case competition, which is a part of the learning project, with their "CVS Ready" solution of the "subscription monthly box" customized to LGBTQ+ needs/interests. Recently Ladegard accepted an internship with CVS health in their General Management Corporate Internship Program. She was excited that the CVS learning project helped her get her foot in the door!
Networking
Ladegard credits her ability to obtain this CVS practicum opportunity to the variety of events that Barney offers to prepare their students. Events such as Mocktails, Norgaard Networking Night, and the etiquette dinner prepared her for the position she holds today. "I attended the etiquette dinner last semester and the networking part of the event made me more confident in my professional skills." How did this assist her professionally? "I was able to use those networking skills to make a good impression on the people with CVS Health and to better present myself as a rising young professional."
Professor Dedication
The Barney School of Business hires professors who are also industry professionals, which means they have the real-life expertise to guide determined students like Ladegard. The professor who is most helpful in shaping her experience is Professor John Thomson. "He is a strong advocate for experiential learning and has pushed me to participate in the CVS project and other professional events at Barney that have helped me grow professionally," she says. "Professor Thomson isn't just a professor. He makes an effort to know every one of his students on a personal level and his door is always open for his students. He knows that students are more than just learners. Personally, I find it extremely motivating and rewarding to work with him because of his dedication to Barney students." Professors like John Thomson guide students personally and professionally, which is why students like Ladegard have seen so much success.
What does she advise incoming students to do? "Work on becoming self-disciplined. You get so much freedom in college, and no one is going to force you to show up to class or do your work. You have to be motivated and disciplined in order to get the most out of school."
Working with the people from CVS Health has shown me how important it is to show up authentically and stand for something in the world of business, as well as how the world is changing to be more inclusive and personalized.
Lizzy Ladegard '23, The Barney School