New Academic Building On Track for a Fall 2021 Opening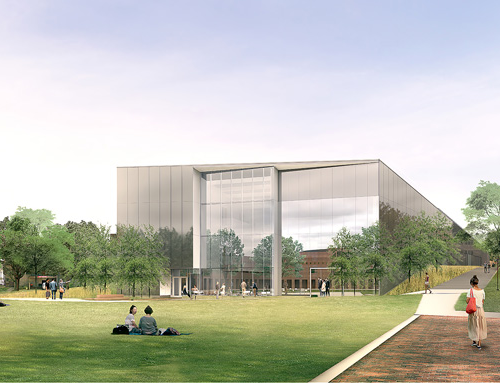 Students, faculty and staff returning to campus this fall were struck by the transformation of the construction site for the new academic building. When the University moved to remote instruction in March, the site in the center of campus consisted of little more than piles of dirt. Now, the steel frame is up and the outline of the building is quickly taking shape.
The 60,000-square-foot building is on track to open in Fall 2021 and will contain state-of-the-art labs and learning spaces for programs in the College of Engineering, Technology and Architecture and the College of Education, Nursing and Health Professions.
Since the spring, crews from Whiting-Turner construction company have relocated the underground utilities, built the foundation wall, and are now erecting the steel frame. Notable to our campus community, was the necessary removal of the trees originally planted in memory of alumni who lost their lives in the 9/11 attack on the World Trade Center. The architects and administration have thoughtfully considered many options to create a space that honors the lives that were lost in 2001. The new memorial, located in the Gray Center Quad, will feature a gathering space with subtle, sculptural seating. The area will be anchored by dark granite that is shaped to emerge from the ground and illuminate at night; featuring the etched names of our alumni. It is intended to be a visible and reflective space that will be utilized by the campus community for many years to come. The area will be formally dedicated on the 20-year anniversary of 9/11 next year.
What's next?
Over the next two to three months, crews will be working on the exterior "envelope," finishing the building's exterior cladding, siding and roofing. "The goal is to get the exterior weather-tight by December so that work can begin on the interior over the winter," said Chris Dupuis, assistant vice president for capital planning and management in Facilities.
The overall project also includes renovations to Dana Hall and United Technologies Hall. That work is out for bidding now, and construction is expected to start in the summer or fall of 2021. Dupuis explained that much of the lab equipment will need to be moved out of Dana and UT to the new building before renovations can begin.
New space for growing programs
The new academic building will provide space for growing programs in CETA and ENHP.  With the renovations to Dana and UT, the project will also provide more classroom space for general education courses offered through the College of Arts and Sciences.
ENHP, for example, has recently started new programs in nursing, occupational therapy and exercise science and is expanding its physical therapy program. Students will have access to specialized equipment and technology-rich simulation labs, including:
A 2,900 sq. ft. bedside skills lab that simulates a hospital nursing environment
An outpatient exam suite
A home health suite with a kitchen and bathroom
A 2,100 sq. ft. human performance lab
A 2,200 sq. ft. motion analysis and kinesiology lab
An exercise and weight training lab
Occupational therapy skills lab
Physical therapy skills labs
Prosthetics and orthotics research lab
In CETA, the new building will support enrollment growth and alleviate current space constraints. Students and faculty will benefit from expanded research space for projects, including a 2,000 sq. ft. high bay space. Additional facilities include:
Robotics lab
Makerspace
Mechatronics lab
3D printing lab
Internet of things lab
Concrete/civil engineering lab
Turbomachinery lab
Once the renovations of Dana Hall and United Technologies Hall are completed, students will have access to improved facilities, including:
Biomedical tissue engineering lab
Expanded metrology lab
Expanded audio lab
Automatic systems lab
Senior research/project space
Arts & Sciences teaching and research labs
The new academic building and associated renovation projects will help meet the needs of the University for years to come, and graduate more students with advanced skills in high-growth industries ranging from aerospace to nursing to robotics and physical therapy.