Graduates from Past Two Years Celebrated at Weekend Ceremonies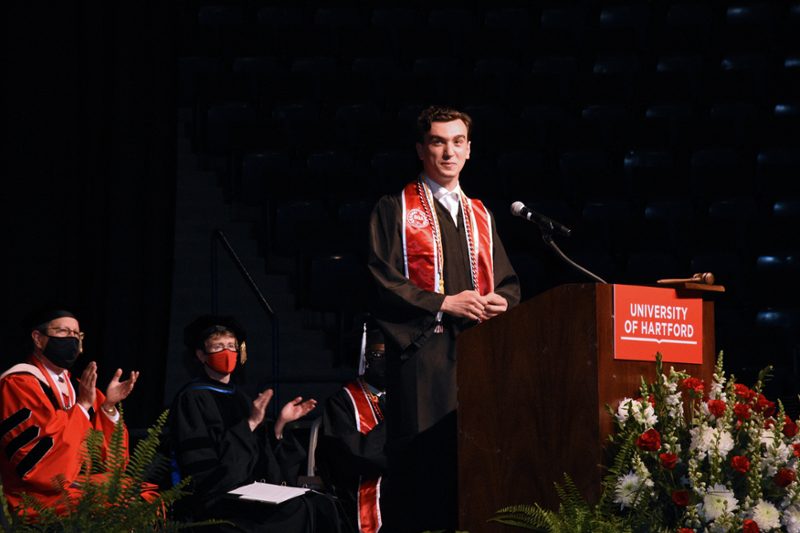 More than 2,300 University of Hartford students from the Classes of 2020 and 2021 celebrated the completion of their degrees in person or virtually during the University's Commencement Weekend this past Saturday and Sunday.
Five separate ceremonies took place at downtown Hartford's XL Center, each limited in the number of graduates and guests to allow for social distancing. All ceremonies were livestreamed.
"The challenge of adulthood is not to make it on your own. It is to understand you don't have to," Juli Dajci '21 stated in his charge to the graduating classes. "When one understands this important lesson, it suddenly makes sense why there is always a hand on the other side reaching for us, ready to lift us up. It also explains the desire we find within us to help others when they need a lending hand. Because while education has surely made us smarter, and made us work harder, and sleep less, you all have shown me what makes us kinder and better people."
Dajci, who left Albania four years ago to seek an education in the United States, became the first international student ever to become president of UHart's Student Government Association. He graduated from the University's College of Arts and Sciences with a double major in politics & government and psychology.
UHart President Gregory Woodward spoke of special qualities this weekend's graduating students possess including persistence and determination; the grace and desire to accept and understand others; and a belief to unite in the common good in a more socially just and equitable way than ever before. "This generation has had some challenges, but there's so much promise in the future that you helped to define and create," he added. "Today, you cross a milestone that calls and prepares you to contribute to your families, your communities, and the world."

The ceremonies also honored student and faculty award winners from 2020 and from this current year.
Classes of 2021 and 2020 at a Glance
Class of 2021
840 undergraduate students and 382 graduate students
Undergraduates represent 12 countries and 35 states
Nearly 50% of undergraduates are from Connecticut
Most popular undergraduate programs include psychology, marketing, health science, and mechanical engineering
Class of 2020
768 undergraduate students and 348 graduate students
Undergrads represent 15 countries and 29 states
Approximately 40% of undergraduates are from Connecticut
Most popular undergraduate programs include psychology, mechanical engineering, communication, and management