Announcing: New Academic Building
Home for Innovation. Room to Grow.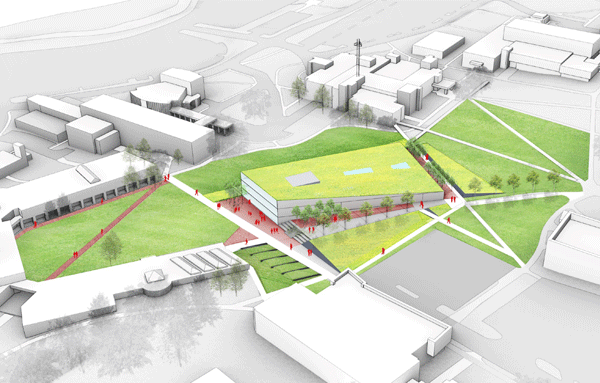 The University of Hartford is unveiling plans for a new academic building that will transform the campus and meet the needs of high-caliber, dedicated, and deserving students for years to come.
The centerpiece of the project is a 60,000-square-foot academic building in the academic quad. The building will house new, specialized, and technology-rich facilities for our growing programs in the College of Engineering, Technology, and Architecture; and the College of Education, Nursing and Health Professions.
The project includes renovations to two existing spaces—Dana and UTC Halls—and will also account for the increased need of classroom space for many general education courses offered through the College of Arts and Sciences.
The placement of the building will intentionally create a series of gathering spaces around the building and across the quad, which is so large that we rarely seize the opportunity to utilize this space. A green roof will aesthetically blend the building with the surrounding environment, while showcasing the many environmentally friendly features contained within. Construction is set to begin this winter, with the goal of opening the building by the fall of 2021.
A State-of-the-Art Facility
New Learning Spaces for In-Demand Programs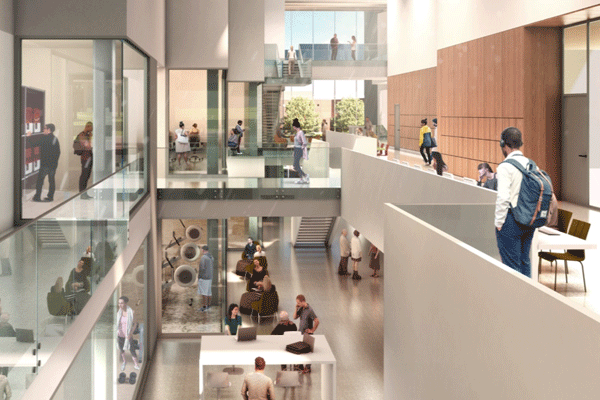 The new facility, which will house classrooms and labs to advance our engineering and health sciences programs, will include a health simulation suite and spaces dedicated to preparing future health professionals to assess, diagnose, and treat a myriad of conditions in new labs designed for:
motion analysis
human performance
strength and conditioning
health and physical assessment
functional and physical rehabilitation
Engineering and technology-focused labs like robotics, 3D-printing, high-bay mechanical engineering, and cybersecurity labs, as well as research and maker spaces, will prepare our students for in-demand careers in expanding industries while fostering an environment where impactful teaching and learning can best take place.
Building Features Include:
| | |
| --- | --- |
| Human Performance Lab | Mechatronics Lab |
| Kinesiology Lab | Turbomachinery Lab |
| 3D Printing Lab | Cybersecurity Lab |
| Immersive Simulation Suite | Internet of Things Lab |
| Outpatient Exam Skills Suite | Concrete Lab |
| Bedside Skills Suite | 3D Printing Lab |
| OT Skills/Integration Lab | CNC Machine Lab |
| Makerspace | Active Learning Classrooms |
| High Bay Space | Research Labs |
| Robotics Lab | Teaching Labs |
United Technologies Hall Renovations
In addition to the new building, labs in United Technologies Hall will be renovated and expanded. Features include:
Center for Manufacturing and Metrology
Acoustics Lab
Audio Lab
Energy Engineering Laboratory
Automation Laboratory
Biomedical Instrumentation Lab
Structure and Transportation Engineering Lab
Soil Lab