A New Space for In-Demand Programs
Advancing Engineering and Health in Connecticut and Beyond
The University of Hartford's Francis  X. and Nancy Hursey Center for Advanced Engineering and Health Professions opened for classes at the start of the Fall 2021 semester.
The 60,000-square-foot academic building situated in the center of campus is designed to meet the needs of high-caliber, dedicated, and deserving students, while improving the health and well-being of the greater community. 
Frank and Nancy Hursey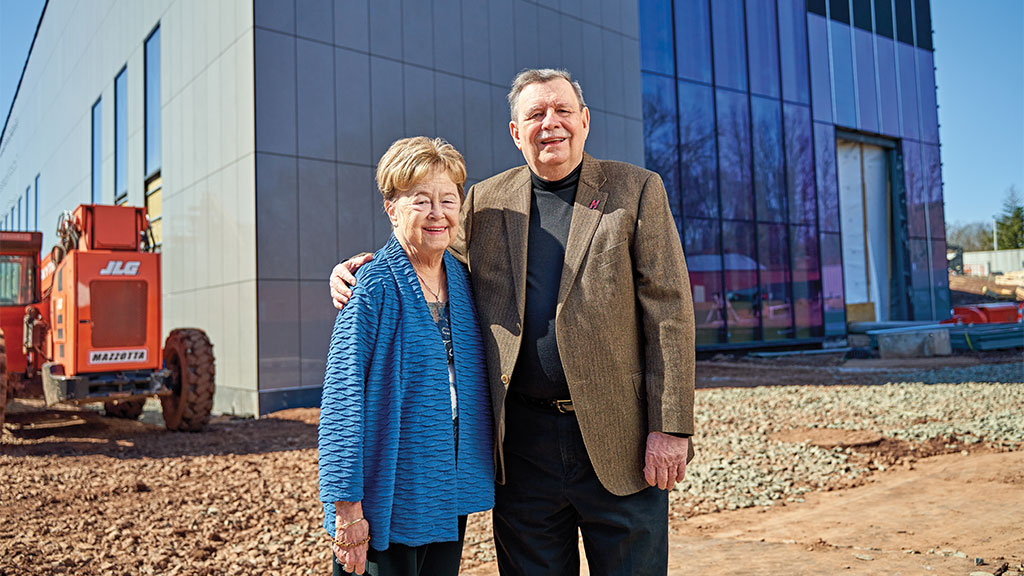 Named in honor of alumnus Francis "Frank" Hursey and his wife, Nancy, the Hursey Center houses new, specialized facilities for programs in the College of Engineering, Technology, and Architecture and the College of Education, Nursing and Health Professions, combining the Hurseys' lifelong passions of nursing and engineering. Nancy Hursey is a retired registered nurse. Frank Hursey is a recognized pioneer in pressure swing adsorption oxygen technology, was on the breathing air team of NASA's Apollo Program, and currently holds about a dozen patents from his research and development efforts.
The University of Hartford is deeply honored to recognize both Nancy and Frank Hursey—their generosity is forging a pathway for the next generation of engineers and health-care professionals at UHart. 
New Academic Building Final Beam Raising Video
A State-of-the-Art Facility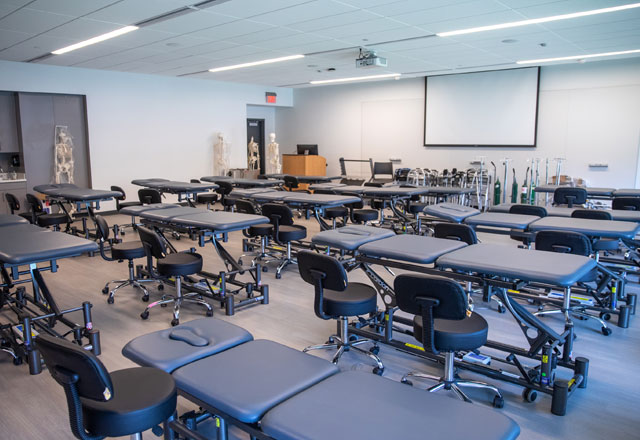 The academic building is home to many laboratories and classrooms, including a health simulation suite and spaces dedicated to preparing future health professionals to assess, diagnose, and treat a myriad of conditions in new labs designed for:
motion analysis
human performance
strength and conditioning
health and physical assessment
functional and physical rehabilitation
Engineering and technology-focused labs like robotics, 3D-printing, high-bay mechanical engineering, and cybersecurity labs, as well as research and maker spaces, prepare our students for in-demand careers in expanding industries while fostering an environment where impactful teaching and learning can best take place.
Building Features Include: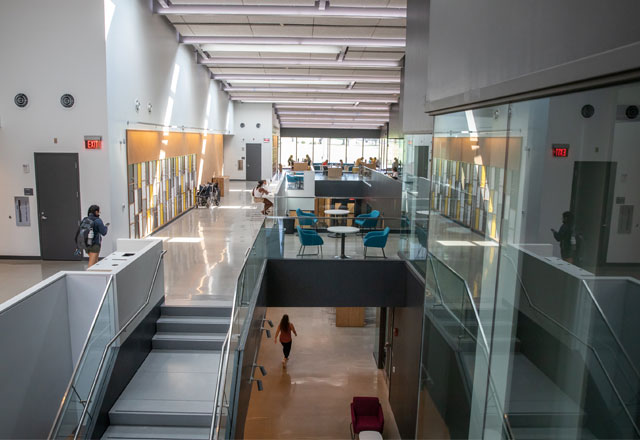 Human Performance Lab
Kinesiology Lab
3D Printing Lab
Immersive Simulation Suite
Outpatient Exam Skills Suite
Occupational Therapy Skills/Integration Lab
Makerspace
High-Bay Structural Engineering Lab
Robotics Lab
Mechatronics Lab
Aerospace and Turbomachinery Labs
Cybersecurity Lab
Internet of Things Lab
Concrete and Surveying Lab
3D Printing Lab
CNC Machine Lab
The Hursey Center also includes active learning classrooms, research labs, and teaching labs for hands-on learning.
A New Memorial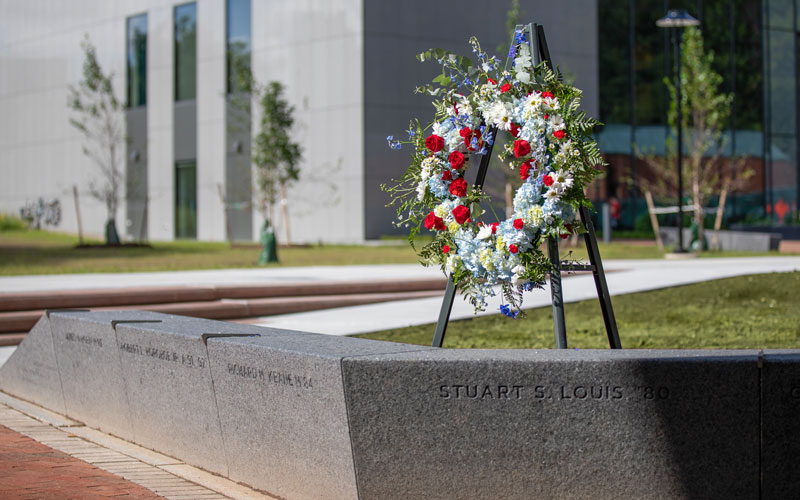 Notable to our campus community was the necessary removal of the trees during construction. These trees were originally planted in memory of alumni who lost their lives in the 9/11 attack on the World Trade Center. The architects and administration have thoughtfully considered many options to create a space that honors the lives that were lost in 2001.
The new memorial, located in the Gray Center Quad, is inscribed with the names of the six alumni we lost on 9/11. The memorial bench, which will be formally dedicated during Hawktober Weekend 2021, is a visible and reflective space that will be utilized by the campus community for many years to come.  
Connecticut Focused. Global Results.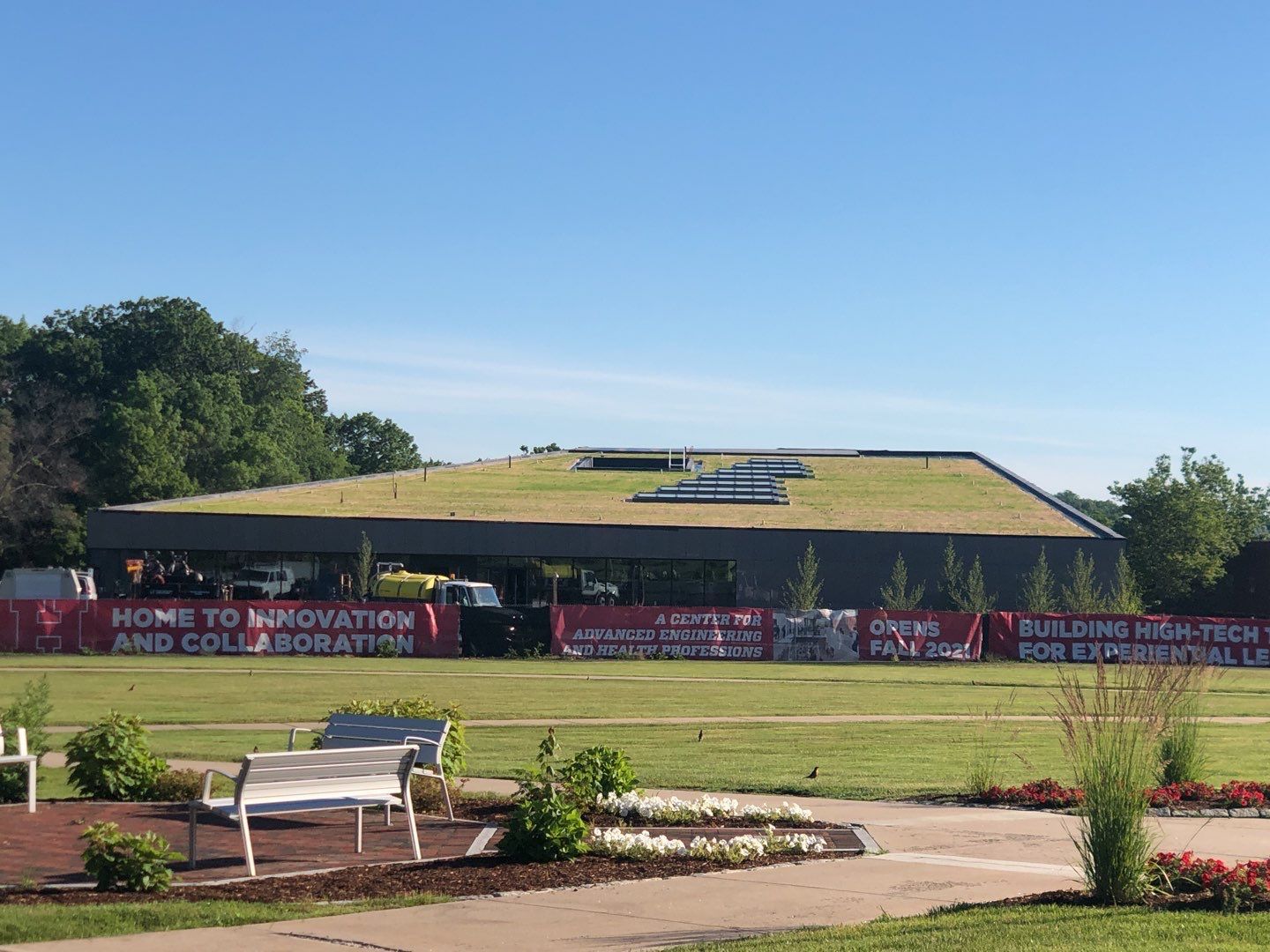 This interdisciplinary facility will offer new and unique opportunities for collaboration and innovation between the health and engineering disciplines—meeting the demand for highly skilled professionals right here in Connecticut, across the country, and around the world.
College of Engineering, Technology, and Architecture
CETA's engineering program is nationally renowned for preparing exceptional engineers, architects, and STEM professionals. That's largely because CETA students are able to build relationships with industry partners while completing their degrees. Many work with United Technologies Research Center engineers in UHart's turbomachinery lab; intern with the Connecticut Center for Advanced Technologies (CCAT) or with the 250+ high-tech engineering, manufacturing, acoustics, and aerospace companies through the Connecticut Technology Council (CTC). Partner companies—Pratt & Whitney, Eversource, Carrier, Otis, Stanley Black & Decker, Sikorsky, Loctite Corporation (Henkel KGaA), Westinghouse Electric, and many others—work with CETA faculty and students to develop cross-discipline solutions.
This is a great opportunity—a dream in the making for the College of Engineering, Technology, and Architecture. There are many new spaces that will enhance the daily activities of our students in areas such as robotics, mechatronics, cybersecurity, and turbomachinery. More importantly, we will have a makerspace for students to collaborate and innovate.
Hisham Alnajjar, Dean, College of Engineering, Technology, and Architecture
College Of Education, Nursing And Health Professions
With programs ranging from nursing to respiratory therapy, radiographic technology to physical therapy, and prosthetics and orthotics to exercise science, ENHP has a proven track record of graduating multi-dimensional, ethical, and compassionate health-care professionals. As part of their degree programs, students complete multiple supervised clinical experiences. Our ENHP students train at top medical centers, including Hartford Healthcare, Connecticut Children's Medical Center, Trinity Health of New England, and Hanger Clinic.
This new building will accommodate our new nursing program, our new exercise science program, and our developing occupational therapy programs—all of which will have their own dedicated learning spaces within the building, but also be able to engage in exciting, simulated patient care experiences in our state-of-the-art immersive simulation labs.
Cesarina Thompson, Dean, College of Education, Nursing and Health Professions